"Switch On" Shines Light on Energy Poverty
November 27, 2019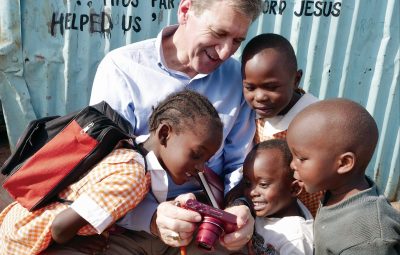 One billion people around the world live without electricity. Billions more live "under the grid" unable to afford access to a reliable supply of energy. And there are about 2 billion people — primarily women — who cook indoors using wood, coal or dung, a practice that exposes them to harmful soot and smoke day after day, with particulate matter
killing some 3 million people a year, more than malaria and AIDS combined.
This lack of access to dependable and safe energy is known as "energy poverty." In the new film "Switch On," Scott Tinker, the director of the Jackson School of Geosciences Bureau of Economic Geology and professor in the Department of Geological Sciences, explores how it affects the lives of people around the world and examines different strategies that can help communities overcome it.
"We're so used to energy in our life. But for one-third of the world, it's not like that," Tinker said. "That has impacts on all of us in areas like education, health and human services, immigration and migration, and much more."
Tinker has spent the past two years filming "Switch On," with the project taking him to the crowded streets of Kenya and Vietnam, to rural villages in Ethiopia, Nepal and Colombia, among other places, to witness how
energy poverty affects communities in different ways.
In the case of the small Colombian village of Gunchukwa, Tinker and the rest of the "Switch On" crew were able to bring first electricity to the village. The leaders in the community invited the small solar microgrid — and the lights, fans and refrigerators they powered — that was installed by the team, who then taught residents of the village how to run and maintain it.
"Switch On" is a follow-on to "Switch," a film produced by Tinker and director Harry Lynch that explores the costs and benefits of different energy sources. "Switch" has been viewed in more than 50 countries by more than 15 million people and still plays in thousands of universities and high schools. "Switch On" is a production of the Switch Energy Alliance, a 501(c)(3) nonprofit started by Tinker to promote energy education and public engagement through videos and educator training.
Tinker said that "Switch On" is in the final stages of production and should be ready for debut in October 2019. However, that's hardly the end of filming for Tinker. He and Lynch are currently working on two other movies: One is "Making the Switch," which explores how different energy economies are navigating the current energy landscape. The other is a short movie for museum exhibits, including the Wiess Energy Hall in the Houston Museum of Natural Science, about the role of energy in everyday life.
"These films are my books and they reach millions," Tinker said. "It takes a team to make this happen, and I would like to acknowledge all the companies, individuals and foundations for their support, the remarkable folks at the Switch Energy Alliance, Dean Mosher, and people at the bureau who cover for me while filming. Without them, this doesn't happen."
Lear more at: https://switchon.org/