Research Hits the Art Gallery
November 21, 2019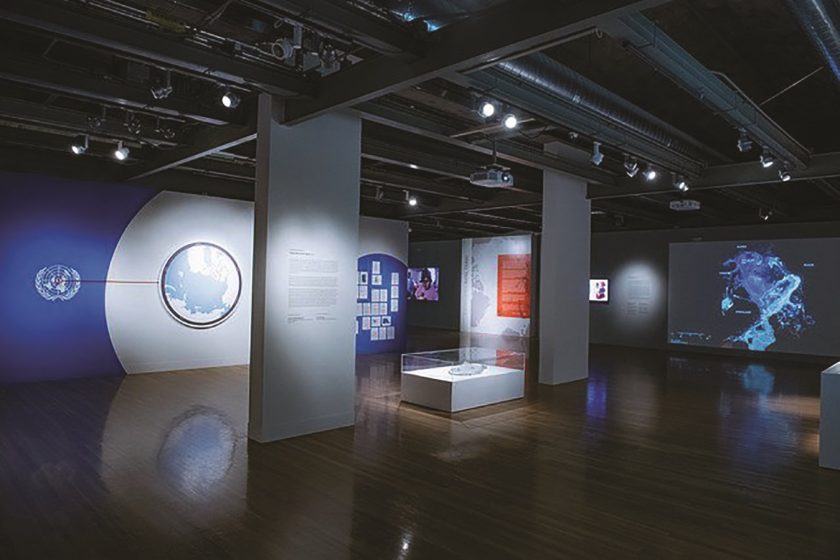 Climate science led by the Jackson School of Geosciences' Patrick Heimbach was turned into a work of art for an exhibit at The University of Visual Arts Center.
The exhibit, "Exploring the Arctic Ocean," centered around a data visualization created by Heimbach, an associate professor in the Department of Geological Sciences and a research professor at the University of Texas Institute for Geophysics; and An T. Nguyen, a research scientist at UT's Oden Institute for Computational Engineering and Sciences, where Heimbach is also a faculty member.
Heimbach's research focuses on the role of ocean circulation and how it affects polar ice sheets and the Earth's climate as a whole. The visualization displayed in the gallery used observational data and numerical models to show the process of "Arctic Atlantification" — or how the Arctic Ocean is coming to resemble the Atlantic because of the influx of warm water flowing into it from the subtropical Atlantic. The visualization illuminates the pathways by which the phenomenon is affecting the Arctic environment — including shrinking sea ice — and how it is spreading throughout the Arctic Ocean.
The visualization won the Scientific Visualization and Data Analytics Award at the International Supercomputing Conference in 2018. In the gallery, it was displayed alongside other works of art inspired by the Arctic Ocean and its changing landscape. The exhibit ran Sept. 21–Dec. 7, 2018. During that time, Heimbach, Nguyen and others participated in a number of community outreach events that explained how data visualization and art can work together to communicate important concepts in science.