Martindale Awarded NSF CAREER Grant for Paleontological Research and Education
July 1, 2019
The National Science Foundation has awarded a CAREER grant to Jackson School of Geosciences Assistant Professor Rowan Martindale to research how marine communities responded to rapid global change millions of years ago. It also supports the development of a novel teaching tool – a board game geared toward helping students understand the science of evolution and extinction.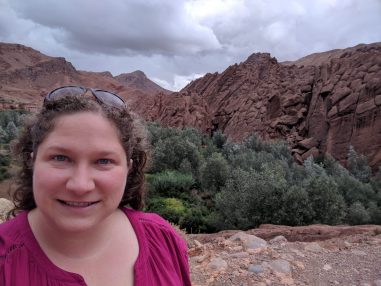 Martindale's research will focus on an ocean ecosystem collapse that occurred during the Early Jurassic (about 183 million years ago) and is recorded in great detail in the Moroccan High Atlas Mountains. This event is similar to the changes that ocean environments are experiencing in present day, so the research could provide insight into how ecosystems can best survive under modern climate change.
"The Moroccan localities are breathtaking," Martindale said. "The thick packages of sedimentary rock make this the ideal place to study how extinction and recovery of marine communities unfolded in the Jurassic. We see multiple phases of community collapse as well as rapid recoveries in shallow and deeper-water communities."
The prestigious award is from the National Science Foundation Faculty Early Career Development Program. It is given to candidates who are judged to have potential to serve as academic role models in research and education. The five-year award will total more than $570,000 and support research and education/outreach in equal parts.
Martindale's primary research questions are:
When precisely does ecosystem collapse occur and was it synchronous across ecosystem types?
What kill mechanism(s) (e.g., anoxia, acidification) caused biotic collapse and are they linked to large igneous province emplacement?
What were the timing and tempo of recovery for marine communities?
As part of the project, Martindale is developing a board game that educates players about Jurassic reefs, evolution and extinction in the face of extreme environmental change. This game will be integrated into middle school, high school and college-level educational modules. Plans also call for producing the game in several languages and making it available to the general public. Martindale has used a board game as an educational tool before and said it is a good way to engage people about potentially complicated scientific subjects and interactions.
"Games make it easier to understand difficult concepts," she said. "People like board games. The goal is that a student might like the game and bring it home to their family, and then you have families learning as well. Now, more than ever science education is so important. I wanted to make something that would be fun, accessible, and educational."