Training Arctic Geologists
December 5, 2018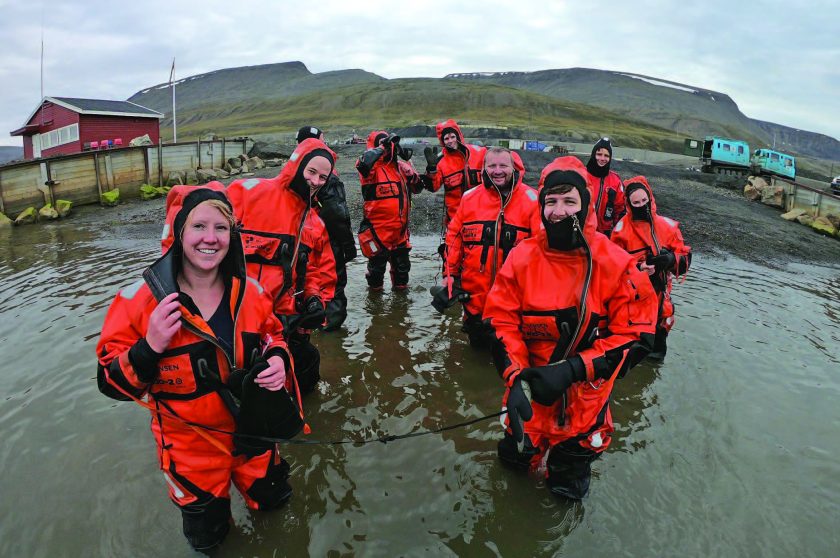 During the short Arctic summer of 2018, four graduate students traveled to Svalbard and Far Eastern Siberia with Professor Daniel Stockli, principal investigator of a Norwegian-Russian-North American collaboration funded by the Norwegian Science Foundation to promote international circum-Arctic collaboration, research and education in Arctic and High Artic regions, and training of the next generation of Arctic geologists.
A major focus of the collaboration is to connect researchers and expose students to tectonics under the midnight sun. In early August, graduate students Margo Odlum and Cullen Kortyna traveled to Svalbard, a remote Arctic archipelago off Norway and Greenland at 78N for a week-long short course and field trip co-taught by Stockli. The course included classes on the tectonic, volcanic and stratigraphic evolution of the High Arctic since the Paleozoi as well as field safety and survival training for working at the top of the world amongst polar bears and in frigid conditions. An unexpected highlight: meeting the king and queen of Norway at the University of Svalbard.
During the second half of August and early September, Stockli and a colleague from the Yakutsk Geological Institute took two UT graduate students, Megan Flansburg and Sam Robbins, and three Russian students and a U.S. post doc from Norway on a three-week field trip through the Verkhoyansk fold-and-thrust belt. After crossing the mighty Lena and Aldan Rivers, the expedition followed the Kolyma "highway," constructed by GULAG forced labor, for 1,000 km from the foreland, through the fold and thrust belt, to the magmatic arc. The field work in eastern Siberia exposed the students to extremely difficult working conditions in the Taiga with its swampy bogs, dense forests, permafrost, mosquitos and Siberian brown bears, and to truly amazing geology in one of the most-remote regions of the world, the coldest city on the planet, and semi-abandoned Soviet mining towns. The trip's unrivaled highlight was a four-day float trip down the Indigirka River to  investigate the transition from the fold-and-thrust belt to the magmatic arc.
The NOR-R-AM initiative plans will offer future field opportunities to UT graduate students in Svalbard, Russia, and Alaska over the next couple of years and also have students and researchers from the partner countries visit laboratories at UT.
Daniel Stockli
Professor, Department of Geological Sciences