Tomography for Scientific Advancement Symposium (ToScA)
November 20, 2017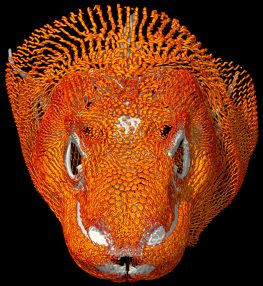 For the past 20 years, The University of Texas at Austin's High-Resolution X-ray Computed Tomography Facility, or UTCT, has been hard at work in the Jackson School of Geosciences, giving researchers a nondestructive look inside specimens ranging from dinosaur eggs to ancient meteorites.
On June 6–8, 2017, the far-reaching research facilitated by UTCT and other CT-scanning facilities was on display at the Jackson School of Geosciences for the first North American meeting of ToScA, the Tomography for Scientific Advancement Symposium. Hosted by UTCT and the Jackson School, and managed by the Royal Microscopical Society, the event brought together about 70 attendees from 31 different academic institutions and companies, and four countries, all united by a common research interest in CT-scanning.
Farah Ahmed, the head of imaging and analysis at the Natural History Museum London and ToScA founder, suggested the Jackson School as the site of the first North American meeting, said UTCT research scientist associate and facility manager Jessie Maisano, who co-chaired the meeting with Ahmed.
"She approached us because we've been doing this for 20 years, and we were the first academic research lab in the United States to provide this kind of technology to academic researchers, as far as we know," Maisano said. "The program has been amazingly strong,
especially for a first meeting."
The program included lectures on scanning and analysis techniques, as well as on how the technology was being applied in different scientific areas, including geology, materials science, and medical and biological science.
The UTCT lab got its first CT scanner in 1997. Before that, researchers had to rely on military or medical contacts to scan specimens, said UTCT Director Richard Ketcham.
By scanning specimens for all sorts of research ends, the UTCT lab has developed a broad expertise,and developed relationships with scientists across disciplines.