UTCT Hosts First North American ToScA Symposium
June 14, 2017
For the past 20 years, The University of Texas at Austin's High-Resolution X-ray Computed Tomography Facility, or UTCT, has been hard at work in the Jackson School of Geosciences, giving researchers a nondestructive look inside specimens ranging from dinosaur eggs, to ancient meteorites, to 3-D printed materials.
On June 6-June 8, 2017, the far-reaching research facilitated by UTCT and other CT-scanning facilities was on display at the Jackson School for the first North American meeting of ToScA, the Tomography for Scientific Advancement Symposium. Hosted by UTCT and the Jackson School, and managed by the Royal Microscopical Society, symposium attendees came from 31 different academic institutions and companies, all united by a common use of CT scanning as an investigative tool.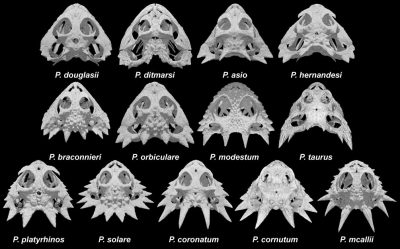 Farah Ahmed, the head of imaging and analysis at the Natural History Museum London and ToScA founder, suggested the Jackson School of Geosciences as the site of the first North American meeting because of its expertise and notoriety, said UTCT research scientist associate and facility manager Jessie Maisano, who co-chaired the meeting with Ahmed.
"She approached us because we've been doing this for 20 years, and we were the first academic research lab in the United States to provide this kind of technology to academic researchers, as far as we know," Maisano said. "So it was a logical starting place to have the first meeting."
Annual ToScA symposiums have been held in the United Kingdom since 2013.
Ahmed said that the broad attendance of the symposium—which included engineers, biologists, material scientists, and even an artist—is a sign of success.
"My vision for ToScA in the U.S. has been fulfilled because it brought together different scientific disciplines," Ahmed said. "That fulfilled what we set out to do."
The program included lectures on scanning and analysis techniques, as well as on how the technology was being applied in different scientific areas, including geology, materials science, and medical and biological science. In addition to lecture sessions, the symposium included a poster session, and two pre-conference workshops on using software to analyze and visualize CT data. There were no concurrent talks, a meeting design that promotes cross-disciplinary learning among attendees, Maisano said.
"I as a vertebrate paleontologist, have to listen to the material scientist, and they have to listen to the geological scientist," Maisano said. "And having industry be a part of it, they get to interact with potential clients and learn what we need from the hardware and the software that they produce."
Andria Salas, a UT graduate student studying how fish may be able to detect sound waves through their swim bladders, said that the symposium's focus on CT technology, rather than a specific scientific discipline, was a unique experience.
"I've never been to a conference before where there are so many different questions being asked that are centered on the method being used," Salas said.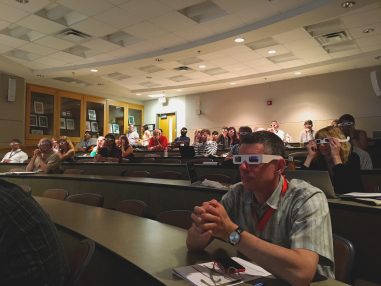 The UTCT lab got its first CT scanner in 1997. Before that, researchers had to rely on military or medical contacts to scan specimens in machines that weren't specifically designed for diverse specimens, said UTCT Director Richard Ketcham. By scanning specimens for all sorts of research ends, the UTCT lab has developed a broad expertise on how to most effectively scan different materials, as well as developed relationships with scientists across disciplines.
The applications of CT scanning are only continuing to grow, Maisano said. Its nondestructive nature makes it the ideal technique for studying rare and delicate specimens, as well as the intricate inner workings of materials. That's why it was used to scan Lucy, possibly the world's most famous fossil, and the Apollo moon rocks, and why it's being used to reveal the internal structure of biological specimens and 3-D printed materials alike.
Maisano said that the symposium was a great opportunity to spread knowledge and expertise, and that it benefited from having so many CT-scanning experts as part of the Jackson School community.
"The program has been amazingly strong, especially for a first meeting, by virtue of the fact that our keynotes are from here, or have been clients of ours from day one," Maisano said. "We have people who have been doing this the longest and have the most experience with it."