Daniella Rempe: Tracking Water in the Critical Zone
May 8, 2017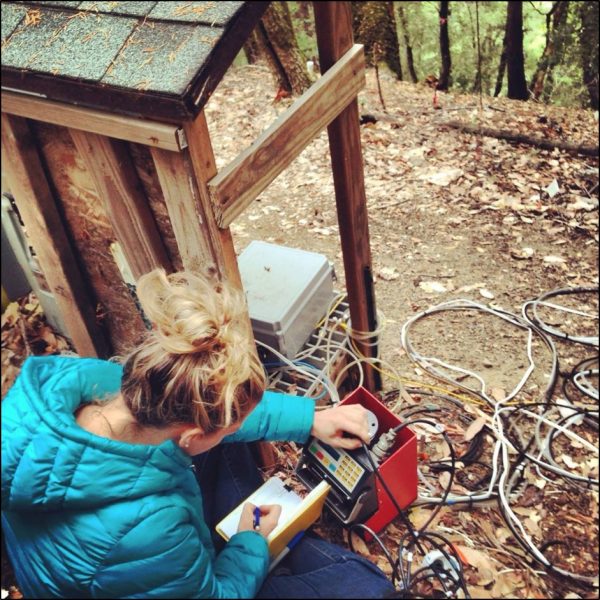 By Anton Caputo and Monica Kortsha
Somewhere between the ground we walk on and the bedrock below lies a murky area that's not quite soil and not quite rock. It's a zone that remains elusive to hydrologists, but one that is critical for determining how water will ultimately runoff into the streams, rivers and lakes that we all depend on.
This zone is the focus of the Jackson School's newest hydrology faculty member, Daniella Rempe, who returned home to Texas in September after earning her Ph.D. from the University of California at Berkeley. Rempe earned her B.S. at The University of Texas at Austin in Geosystems Engineering and Hydrogeology, a degree offered by the Cockrell School of Engineering in partnership with the Jackson School. She said she's excited to be back in a Texas, a state that's so heavily focused on water, to strengthen the already strong cadre of water experts at the Jackson School.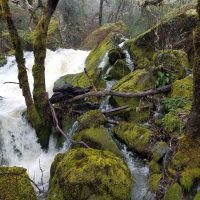 "Texas is increasingly water stressed," she said. "It's empowering to be in a place where people care deeply about water resources."
The critical zone, the term used to describe the area in which Rempe's research focuses, controls the fate of rainwater — determining where it's kept, where it flows, and what chemical changes it undergoes. But meters underground in the transition space where soil ends and bedrock begins, is a difficult spot to measure the rock-water interactions that make the zone so influential.
It's Rempe's goal to understand the critical zone by developing methods that can measure its properties, both in the field and the lab, and track its influence on water resources.
"I'm trying to find new ways to characterize near surface material [from the critical zone] that's not quite soil and not quite rock," Rempe said. "My research goal is to understand how water influences and is influenced by its transit through the subsurface."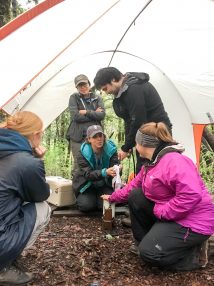 Water in the critical zone is tapped by tree roots, undergoes chemical reactions with minerals in the surrounding rock, and flows through cracks and fractures to aquifers and surface water alike. During these processes, it also changes the composition and integrity of the surrounding rock. The diversity of interactions between water and the landscape that happen in the critical zone sets the stage for research of all kinds, Rempe said, a fact that's evident from the array of research conducted by her four graduate students.
Student research ranges from near surface geophysics and rock mechanics to fluvial geomorphology, to the role of fractures on microbial processes and gas exchange with the atmosphere, to the impact of deep water sources on tree nutrients.
Alison Tune, a first year graduate student studying interactions between rock, water and microorganisms, said that the unknown nature of these interactions in the critical zone is what brings the diverse group of students together.
"We all have different interests within the subsurface, and the critical zone is the unifying theme," Tune said. "It's very collaborative. Daniella also has a strong network of collaborators. She's interested in her students and how they grow as geoscientists, and is very generous with her time and experience, so these things make her a wonderful advisor."
One of Rempe's focuses at the Jackson School is to build a critical zone
petrophysics lab where she and fellow researchers can develop techniques to more accurately measure porosity, change in water content, and microbial processes happening inside the rock.
Knowing more about the properties of the critical zone can help scientists interpret measurements covering large areas, such as satellite observations, which is another aspect of Rempe's research.
Currently her research focuses on sites in Northern California along the Eel River, where trees were seemingly unaffected by the recent drought. She is actively studying how water storage in the critical zone influenced their survival, despite the loss of over 100 million trees in California over the last decade.
Rempe is also learning about water within the critical zone at her study sites by drilling core samples, seismically imaging the subsurface, and taking borehole readings that collect data about the surrounding rock. One of her favorite borehole tools is a 70s era neutron probe, a device that
measures the rock's water content with radioactive ions. The machine isn't user friendly, and its radioactive components come with regulatory red tape, but Rempe says that the data she receives from it makes the troubles more than worth it.
"I consider battling with this instrument one of my life's greatest accomplishments," Rempe said. "Right now it's not possible to
quantitatively measure the amount of water that's stored in this kind of complex material without this tool."
A new addition to Rempe's arsenal is an inclined borehole at her field site that was designed to provide direct access to the water flowing through the critical zone. As water moves through the critical zone, it interacts with minerals in the fractured rock, Rempe said, which can have impacts on water quality and rock composition alike. Understanding how and why water changes its composition along its flowpath is challenging to study without real time access to the water, so Rempe, along with an international team of collaborators, have been sampling and analyzing the water for the last year.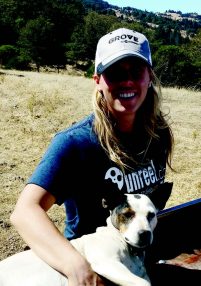 Both the neutron probe and novel water sampling techniques have already led to important insights into the critical zone. Using the probe, Rempe found that fractured rock can store a significant amount of water that is available to trees, buffering them from drought. Regular sampling of her inclined borehole at two week intervals is already adding insight into chemical processes happening between the water and the rock. This work will also help determine the frequency different chemical variables need to be monitored in future experiments.
In addition to her research, Rempe is also teaching introductory hydrogeology to undergraduates. She said the Jackson School's hydrogeology degree option is a testament to the value the school puts on training future environmental scientists, and she's excited about developing the school's core undergraduate classes to help students outside of the major get early exposure to the topic.
Only a semester into teaching, Rempe said that students in her course regularly ask her how to switch their major to hydrogeology.
"It's amazing to hear that," Rempe said. "Within the Jackson School, we're already strong in water and we're only getting stronger."
Jack Sharp, the Jackson School's Carlton Professor of Geology, was Rempe's undergraduate hydrogeology professor.
He oversaw research she conducted in a hydrogeology field methods class and presented at the GSA annual meeting, and wrote her a recommendation letter for graduate school. He said her research into the critical zone is breaking new scientific ground, and he's excited to see where it leads.
"Her research has evolved, and like all really good Ph.D.'s she's doing her own thing," Sharp said. "She does very good research on slopes and water movement on hillsides, and it probably won't be the only thing she is doing in the next five or ten years."