Jackson School Puts Student Research First at Sixth Annual Research Symposium
February 8, 2017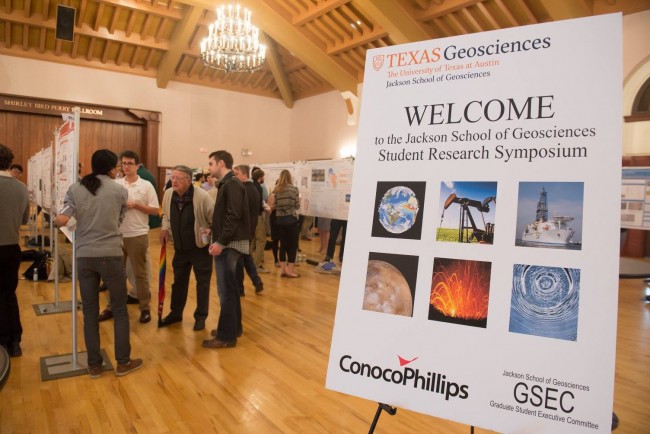 By Monica Kortsha
Beneath the glowing chandeliers of The University of Texas at Austin's Union ballroom, people and ideas mixed among research posters. The sound of presentations and discussions, questions and anecdotes, advice and encouragement, created an amiable buzz that kept up throughout the Jackson School's Sixth Annual Research Symposium, an event organized by the Graduate Student Executive Committee.
The research symposium, sponsored by ConocoPhillips and held this year on Saturday Feb. 4, is a chance for the entire Jackson School community to come together and learn about research across the school. And for presenting students— from undergraduates to doctoral candidates— it's an opportunity to stand shoulder-to-shoulder and explain their work to a diverse audience ranging from rank novices to world-class experts.
"One of the challenges of the Jackson School is that it's so big," said Richard Chuchla, a judge at the event and the director of the school's Energy and Earth Resources graduate program. "This event is the best opportunity students have to see what their fellow students are doing across the school. And to benefit from their feedback."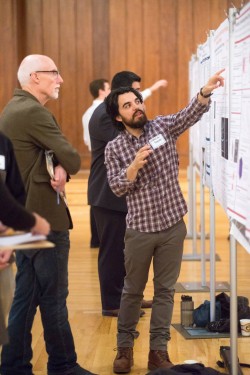 It's also an opportunity to hone communications skills across a variety of audiences. For the non-experts that stopped by their posters, many of the students drew on descriptive analogies or references to help the uninitiated visualize and understand unfamiliar research.
Thomas Etzel, a second year Ph.D. student, described chemically analyzing grains of garnet to learn about mountain building like "cutting into a sequoia and reading growth rings." Scott Eckley, a master's student, spoke about the hardest mineral on Earth, a variety of black diamond, as being a "fossil of a mineral" because it preserves the structure of the scaffold mineral it grew around. And undergraduate Blake Chapman prefaced his presentation on Mosasaur fossil classification with a question about a movie: "You've seen Jurassic World, right?"
Charles Kerans, the Chair of the Department of Geological Sciences, said that the breadth of research gives the symposium an international feel, with fieldwork findings from Svalbard, Norway to the Andes being presented in posters. While Jackson School Dean Sharon Mosher said that judges were impressed by students' ability to be guided by a scientific question, instead of framing research to fit the equipment.
"The judges all remarked on the breadth and depth of the research and how articulate the students were," Mosher said. "But they were particularly impressed by how they found techniques that fit a question instead of the other way around."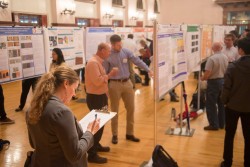 A total of 115 students participated in the event, with a record of 21 undergraduates presenting their research. Nataleigh Perez, a Jackson School alumna (M.S. 2013) and first time judge representing BHP Billiton said she was impressed with the quality of the undergraduate presentations and posters.
"The undergraduate research here is going strong," Perez said. "It's also a good way to get to know students before we come back for recruiting in the fall."
Presenting your work for critique can be nerve-wracking, though, especially if it's a new experience, said Pamela Speciale, a Ph.D. student. As a Jackson School undergraduate presenting at her first symposium, she said her feelings leading up to the event were dominated by anxiety and dread. But every year since then her confidence has grown.
"Participating in research symposiums over and over has helped me build confidence, has provided me with friendly useful feedback, and helped with public speaking," Speciale said. "Now I get excited and I can't wait to be here."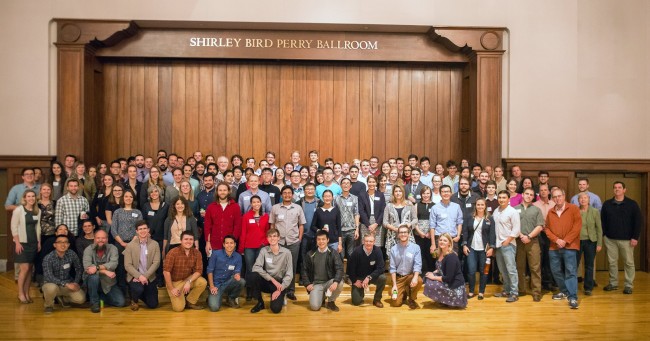 JSG Research Symposium Prize Winners
Undergraduate
1st place:  Emilie Bowman (Solid Earth & Tectonic Processes):  Investigating Magma Chamber Evolution using Mafic Enclaves and Plagioclase Zoning: Grasberg Igneous Complex, Papua, Indonesia
2nd place:  Cole Speed (Marine Geosciences):  Late Quaternary Paleochannel Systems of the East Texas Inner Continental Shelf
Honorable Mention:  Cody Draper (Solid Earth & Tectonic Processes):  Trace Elements and Oxygen Isotope Zoning of the Sidewinder Skarn
Early Career Graduate Student
1st place:    Allison Lawman (Climate, Carbon & Geobiology):  A Coral-based Reconstruction of Interannual Climate Variability at Vanuatu during the Medieval Climate Anomaly (950-1250 CE)
2nd place:   Kelly Thomson (Solid Earth & Tectonic Processes):  Tracing Environmental Signals from Source to Sink: Zircon (U-Th)/(He-Pb) Double Dating Applied to the Foreland Basins of the South Central Pyrenees, Spain
Honorable Mention:  Brandon Shuck (Marine Geosciences):  Evolution of the Upper Lithosphere in the ENAM Area from 3-D Wide-Angle Seismic Data
Late Career Masters Student
1st place:    Nicholas Ettinger (Climate, Carbon & Geobiology):  A Multiproxy record of the Toarcian Oceanic Anoxic Event in Shallow-Water Carbonates from the Adriatic Carbonate Platform
2nd place:    Reinaldo Sabbagh Maciel (Climate, Carbon & Geobiology):  Sensitivity analysis of Lower Miocene sandstones to CO2 saturation in the inner continental shelf of the Texas Gulf of Mexico
Honorable Mention:  Juan Munoz (Solid Earth & Tectonic Processes):  Holocene Geologic Slip Rate for the Mission Creek Strand of the southern San Andreas fault, Indio Hills, CA
Late Career PhD Student
1st place:    Douglas Barber (Solid Earth & Tectonic Processes):  Linkages between orogenic plateau build-up, fold-thrust shortening, and foreland basin evolution in the Cenozoic Zagros (Iran-Iraq)
2nd place:    Tomas Capaldi (Solid Earth & Tectonic Processes):  Neogene foreland basin evolution during a shift to flat-slab subduction in Argentina (30.5°S)
Honorable Mention:  Margaret Odlum (Solid Earth & Tectonic Processes):  Detrital zircon (U-Th)/(He-Pb) double dating of Southern Pyrenees foreland basin fill: implications for sediment routing during tectonic inversion and orogenesis
Best Represented Research Group
1st place:  Whitney Behr's research group
2nd place:  Sergey Fomel research group
For more information, contact: Anton Caputo, Jackson School of Geosciences, 512-232-9623; Monica Kortsha, Jackson School of Geosciences, 512-471-2241.