Walter Geology Library Looking to the Future
November 2, 2015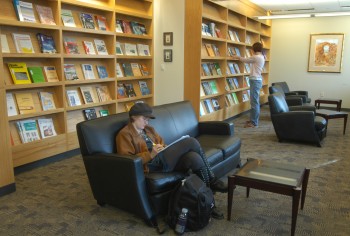 This year, the first children born in the 21st century turn 15 years old. Soon they will be on campus, bringing a decisive break with the 20th century. How they seek and use information, and when and why and how they do so, will drive a lot of changes in libraries (and classrooms) in the coming years.
Our younger users are not native print users; for most of them it is an artifact or last resort. Thus it is imperative to have a print and digital collection that closely reflects their real needs. It's also important to develop strategies for introducing them to the existence of print resources and the methodologies for interacting with them. Breaking down their assumptions about print is not a trivial exercise, but without those skills, their full education as geoscientists will be shortchanged.
To that end, this past year has been full of back-office projects, with plenty more to come, as we deal with encroaching space and access issues, funding for collections and services and evolving tech­nology. We outsourced about 1,000 items for processing, allowing us to eliminate 18 shelves of partially cataloged items in our collec­tion and much of our gift backlog. We also did a complete rebuild of the library's web pages (www.lib.utexas.edu/ geology) to make them more consistent and consolidated, as well as to improve maintenance, and make room for some new features. Next year we will complete a rebuild of the UT geology thesis index to integrate the several files and improve their utility. You can also now find us on Facebook.
The UT Libraries hired its first ever map cataloger, who we are hoping will also help lead us into Geographic Information Services. We put in storage most of our United States Geological Society print holdings, since the USGS Publications Warehouse now offers about 90 percent of them in digital formats. The 200-plus shelves freed up by that major decision give us several years of growth space. Ultimately, we will be reducing the total amount of material on site by storing little-used resources and print journals with reliable digital access, and removing duplicates within and between collections.
Looking ahead, the UT libraries have been approved for a new library storage facility at the university's J.J. Pickle Research Campus, LSF-3. And we are already planning for LSF-4, as more and more of the physical collections are being moved to storage, creating space for new materials and new opportunities for interaction, collaboration, and online user space. Most journals are now in online-only formats, or "E-formats," and we are increasingly acquiring E-books, though the platforms and business models are still maturing.
On other fronts, Virtual Landscapes of Texas and our thesis scanning project both continue to grow. We also were caught up in the building closure when the old wing of the Jackson Geological Sciences Building got a complete HVAC and power supply overhaul. Since most of the building was closed, the library was not open to the public this summer. But we ensured continued collection access by camping on folding tables in the entrance areas and handling material requests by scanning pages, and offering delivery of books to other libraries for pickup. Special thanks to the Jackson School for providing temporary air condi­tioning and humidity control for the collection during this project, and working with us to ensure continued services!
In staff news, Calla Smith-Dowling got married in April and has resigned to pursue other opportunities just shy of her seventh anniversary. She has been replaced by Stacy Ogilvie, formerly evening supervisor in the Life Sciences Library. Best wishes to Calla and welcome to Stacy! Six student workers graduated this year, Shakera Guidry, Hannah Johnson, Taylor Brunner, Laura Mattys, Madeline Guy and Sandra Ogenche. This year's winners of the Guion Service Award were Graduate Research Assistant Laura Mattys and Amanda Lancaster from the cataloging department. They were recognized with the award for all their work on our big cataloging project. Dennis Trom­batore attended the Geological Society of America meeting in Vancouver, the American Institute of Archeology meeting in New Orleans, and continued to serve as chair of the American Geosciences Institute GeoRef advisory committee. He joined with a classics faculty member to do a demonstration on clay technology and clay tablets in the ancient word for Explore UT.
-Dennis Trombatore, Librarian