Top Chinese Expert on Fighting Climate Change to Speak at The University of Texas at Austin
November 9, 2015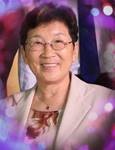 As part of the burgeoning cooperation between the United States and China over climate change, The University of Texas at Austin will host one of China's top experts on carbon sequestration, a method to store carbon dioxide and fight climate change.
Di Zhou of the the South China Sea Institute of Oceanology, Chinese Academy of Sciences, will be speaking at the Bureau of Economic Geology on Nov. 13. Her presentation, "Towards China's First Offshore CO2 Storage Demonstration," starts at 9 a.m. in the bureau's Main Conference Room in the J.J Pickle Research Campus (map and directions. Go to building 130, BEG). It is free and open to the public.
Carbon sequestration typically entails pumping carbon dioxide underground or under the seafloor into geological formations that can hold the greenhouse gas so it is not released into the atmosphere. The University of Texas at Austin has become an international leader in the developing technology. Last year it received a $12 million research grant for the technology and hosted the world's leading conference on carbon capture and storage research.
Zhou has been honored by the U.S. Department of Energy, which annually presents awards to two distinguished Chinese scholars and champions for the development of technologies related to pollution control and carbon management.
She will speak about China's first offshore carbon sequestration project, which is being conducted in the Pearl River Mouth Basin of the South China Sea off the Guandong Province. The project is part of the U.S.-China Working Group on Climate Change, an agreement launched in 2013 by U.S. Secretary of State John Kerry and Chinese State Councilor Yang Jiechi with the goal of reducing greenhouse gas emissions and air pollution.
"We are honored to have Dr. Zhou as our guest," said Susan Hovorka, principal investigator at the bureau's Gulf Coast Carbon Center. "This is a tremendous opportunity to exchange information on projects in the Gulf of Mexico and the South China Sea and discuss how we can work together."
The bureau's Gulf Coast Carbon Center has a history of research exchanges with China over the issue. The bureau is a research unit of the University of Texas Jackson School of Geosciences.
For more information contact: Anton Caputo, UT Jackson School of Geosciences communications director, 512-232-9623.