Scientist Profile: Daniella Rempe
November 2, 2015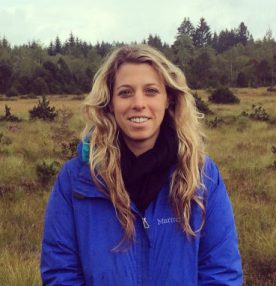 By Mark Wangrin
Daniella Rempe brought more than a towel and sunscreen on her visits to Barton Springs when she was an undergraduate at The University of Texas at Austin.
She brought her curiosity.
"It's an exciting place to hang out, but it just isn't relaxing for me. I'm consumed with where the water comes from," she said of the afternoons spent at the revered, spring-fed Austin swim­ming hole.
There she came to terms with her obsession with water. How it travels through rock. What it picks up along the way. How it transforms the environment around it.
Rempe has spent her academic career seeking answers for those types of questions, a quest she'll continue in September 2016 when she joins the Jackson School of Geosciences as an assistant professor of water science in the Department of Geological Sciences. Rempe comes from the University of California at Berkeley where she is a Ph.D. candidate in Earth and planetary sciences. She also earned her master's degree in environmental engineering from UC Berkeley.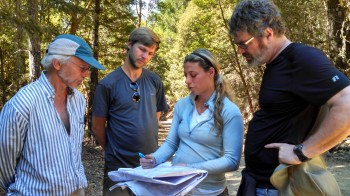 Rempe's research focuses on how landscapes store water in the shallow subsurface. Much of the Earth's hilly regions are mantled with weathered and fractured rock. Beneath the soil, this rock can sustain forest ecosystems and influence how much water is available to fish in streams. Rempe said her research increases understanding of hydrologic dynamics in the context of landscape evolution and weathering.
She focuses on characterizing weathered rock at the land­scape scale and monitoring the water dynamics within it. She has used a variety of geophysical tools and hydrological moni­toring instruments to document the hydrology of fractured rock in hillslopes in Northern California.
"It is an incredibly exciting time to study how water, rock and life interact," Rempe said. "Recently, the weathered bedrock zone, along with the overlying soil and vegetation, have been named the critical zone. There is an international, highly interdisciplinary effort underway to understand how physical, chemical, and biological processes within the critical zone influence how water is routed within landscapes."
A native Texan, Rempe makes her long-awaited return to the Jackson School, where she earned her bachelor's in
geosystems and hydrogeology in 2008. Her interest in hydrogeology was kindled by fieldwork and course projects during her stay at the Jackson School.
"I'm very excited to join the Jackson School because it's a school that I deeply care about," Rempe said. "Students and researchers have access to opportunities unlike anywhere else. I had such an enriching experience at UT Austin, and I'm very pleased that several students that I worked with at Berkeley chose to pursue graduate degrees at the Jackson School."
California and Texas have been hit hard by severe drought. While recent rains have relieved the drought in Texas, California remains in the throes
of a record-setting dry spell.
Recently, Rempe has been involved with the Critical Zone Observatories program with the U.S. National Science Foundation. She is part of an interdisciplinary team that is tackling the question of how the critical zone evolves. At the Eel River Critical Zone Observatory, she studied the hillslope to link water in the rock to the atmo­sphere, rivers, watersheds, oceans, and terrestrial and aquatic ecosystems.
"Often times the indirect observations that we rely on as hydrologists leave us wondering about what pathway water takes," she said of her work at the Eel River. "But by drilling into the hillslope, we were able to access the rock directly to quantify what we call 'rock moisture,' a term that describes seasonally dynamic moisture in rock and the fractures within it. Through long-term moni­toring of both the water and the vegetation, we've shown that the vegetation rely on rock moisture in this seasonally dry climate."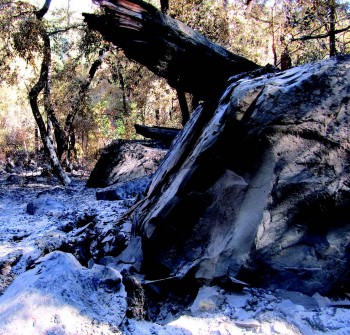 In Texas, Rempe will have a prime opportunity to continue her research on the impacts of water transport in the near surface, but with a local twist. Rempe said, she'll be trading California's actively deforming, steep coastal ranges for the Central Texas carbonate Hill Country.
"New technologies make this work fun and exciting," Rempe said. "We are starting to understand how observations we make on the ground at the pore scale relate to the kilo­meter scale observations we make from space."
At the Jackson School, she'll be able to tap into the school's relationship with NASA's Soil Moisture Active Passive (SMAP) project to study soil moisture, attempting to extend that capability further into the fractures of the bedrock below. More than 30 of the proj­ect's sensors are located around Fredericksburg, providing easy access.
"As hydrologists, we try to account for every drop of water," she said. "In Northern California, the streams and the ecosystems are competing with people, grapes and other agriculture. In Texas, and other places impacted by long droughts, understanding how vegetation and land use interface with hydrology is critical to developing effective water resource management strategies. Researchers at the Jackson School have paved the way, and I'm looking forward to joining their team."
Rempe expects to work with Jack Sharp, Carlton Professor of Geology, and associate professor M. Bayani Cardenas in the hydrology group; professor David Mohrig and assistant professor Joel P. Johnson in the earth surface processes group; and Michael Young, associate director of environmental services at the Bureau of Economic Geology, and Todd Caldwell, a geomorphologist at the bureau
"Coming to UT is a dream," Rempe said. "Not only because I'll have the opportunity to share the mysteries of Barton Springs with my students. I'll be surrounded by researchers with a diverse set of expertise and dig deeper into landscapes to understand how water moves through them."