President Obama Honors Jackson School of Geosciences Mentoring Program
November 2, 2015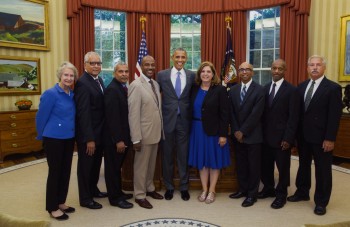 In March 2015 president Barack Obama honored the university of Texas at Austin's GeoForce Texas program with the Presidential Award For Excellence In Science, Mathematics And Engineering Mentoring, the highest such honor from the United States government.
GeoFORCE Texas, an outreach program of the Jackson School of Geosciences, takes high school students from inner-city Houston and rural Southwest Texas on field trips each summer to geologically significant sites across the country for four years. As a result, potential geoscientists are introduced to the profession, and students from disadvantaged areas find a path to college and rewarding careers.
"We are thrilled that the president has honored the program," said Dean Sharon Mosher. "GeoFORCE plays such an important role in shaping and improving young lives, particularly from underserved populations. There is nothing more fulfilling for an educator than helping young people achieve their full academic and personal potential. GeoFORCE is a wonderful example of a program doing just that."
GeoFORCE was the only organization to be recognized with an award. The 14 other recipients were individuals.
GeoFORCE Director Samuel Moore and former Director Doug Ratcliff accepted the award at a dinner hosted by the National Science Foundation on June 17, 2015. The award winners also met with President Obama in the Oval Office.
The White House presents the award to individuals and organizations that mentor academic and personal development of students studying science and engineering — particularly those who belong to groups that are underrepresented in these fields. It also includes $10,000 in support from the National Science Foundation.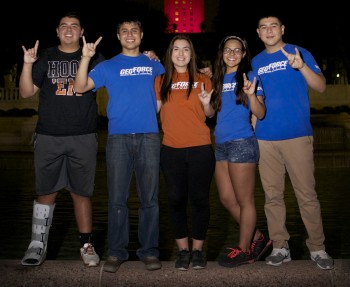 Eighty percent of GeoFORCE partici­pants are members of minority groups. Since its inception in 2005, GeoFORCE has been a robust success. It's served more than 1,500 students with 100 percent of students graduating from high school; 96 percent going on to college; and 16 percent majoring in geoscience — more than 50 times the national average.
"These educators are helping to culti­vate America's future scientists, engi­neers and mathematicians," President Obama said in a press release honoring all of this year's recipients. "They open new worlds to their students and give them the encouragement they need to learn, discover and innovate. That's transforming those students' futures, and our nation's future, too."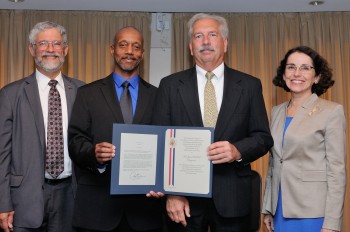 The program also supports high school students with SAT and ACT preparation, and guidance in applying for college. It has also awarded more than $2 million in scholarships. After high school, GeoFORCE continues to mentor students through college, into internships and the workforce.