Alumni Notes 2014-2015
November 2, 2015
1940s
Howard Lowe (B.S. '48) writes, "Spending my retirement years researching climate change. Have written two books – The Sky Will NOT Fall – Unmasking the Green Revolution (an e-book – Amazon, Barnes & Noble) and the recent one not yet submitted for publication – Beyond Our Control – Debunking Manmade Global Warming. Make a lot of use of geology to prove my points. Recently I was invited to become a team member of The Right Climate Stuff Research Team, a group of about 50 retired NASA engineers and scientists. The Team is involved in very sophisti­cated research on climate change. Much of their high-powered physics and math is over my head, so I think I am getting a lot more than I am giving. However the education is great. I hope to arrange for a Forum at the Jackson School for some of the Team members to address students. We have our 15 grandkids and 15 great grandkids + one more due in October. Wife & I stay busy just keeping track of all of them. Plan to make the 75th reunion of the Texas NROTC in Austin in November. I was in the first class."
Jule Jacobson Moon (B.A. '40, M.A. '41) was an instructor in Inver­tebrate Paleontology from 1947-49. She also earned a Masters in Social Work from UT. She worked as a Psychiatric Social Worker with the State of Texas Mental Health and Mental Retardation Department until retirement in 1992. She is still writing short stories and poems and published "Sherds a Memoire" in 2011. In addition, she contributed to Fairhope Anthology: A Collected Works by the Fairhope Writers' Group in 2011 and Fairhope Anthology: Second in a Series in 2013.
1950s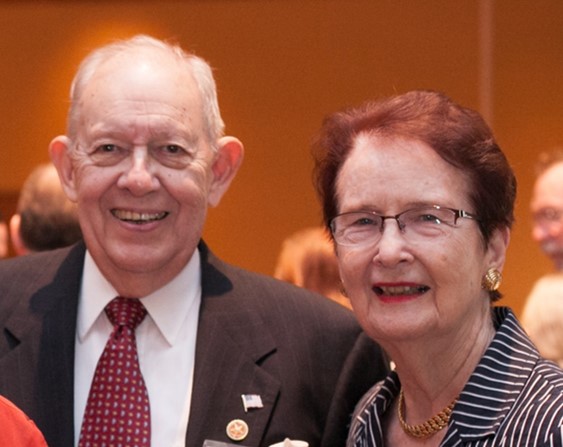 Walter V. Boyle (B.S. '54, MA '55) shares, "in fall 2014, Vada and I continued our world travels with a three-week Tauck land tour of Central Europe to Poland, Hungary, Austria and the Czech Republic. This summer, we completed another three-week Crystal Cruise to Iceland, Russia, Norway and Great Britain. One of the highlights of this cruise was to actually see the Mid- Atlantic ridge exposed at the surface in Iceland and observe rocks from the North American Plate and the Eurasian Plate. Walt stays active attending his investment club meetings, men's book club sessions, church group studies and working in the yard and garden. Vada continues her second year as president of the North Harris County American Association of University Women, and serving as a member of the Board of Directors of the Houston Symphony League. We continue to enjoy attending the Jackson School of Geosciences functions and dinners and seeing old classmates and friends, and attending the University of Texas Leader­ship Society luncheons. Another high­light of 2015 for Vada and me was being inducted into the Flawn Circle of Excel­lence and the Katie Society at the Jackson School of Geosciences dinner in March 2015. And finally, we wish continued success to Dean Sharon Mosher and her staff for another great year leading the Jackson School of Geosciences."
Philip Braithwaite (M.A. '58) shares, "Barbara and I are still enjoying retire­ment in Dallas but have cut back on our travelling these last couple of years. I still do part time consulting for a geophysical company contributing my depositional facies experience."
Leon G. Byerley (B.S. '52) says, "I'm enjoying my retirement while my son runs the family partnership."
Dean L. Callender (B.S. '56) continues to work in the financial industry but says that his heart never left the oil patch. He can be reached at deancallender@comcast.net.
Jack Cleveland Cartwright (B.S. '51, M.A. '55) writes, "Year 2015 marks the 60th year anniversary of several events that occurred in the lives of Jack and Barbara (Wells) Cartwright. Barbara and I met when I returned to UT in the fall of 1953 to start work on my Masters degree. She was this cute girl working in the Geology Library that fall. The spring of 1954 was a busy time that included class work, teaching labs and starting work on my thesis and romancing the girl I fell in love with. After an interrup­tion to our romance, we were engaged soon after I completed my Graduate work in January of 1955. We were married that June and have had a blessed life for the past sixty years. I am so thankful for the great education that the University provided me and also for the love of my life that was there at the right time. Barbara and I were given a family of four children, nine grandchildren and as of now eleven great-grandchildren. We both have very fond memories of our time at UT."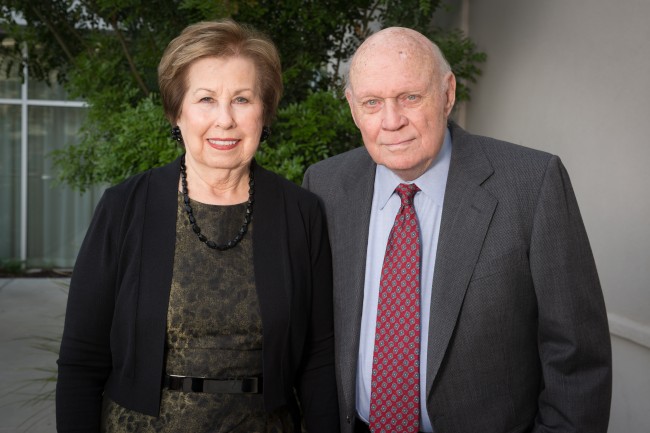 Connie Mayes Dyer (B.A. '58) shares, "Hello to all! We are still in Houston and hanging in there. Our grandchildren are no longer chil­dren, except for the 18 month old son of our youngest son John (35), who just finished an MBA at U of H. I must add that our latest proud grandparent moment came this May, when our granddaughter Sheridan Gabrisch graduated from TCU Summa Cum Laude (4.0!). A couple of weeks later she was notified that she is the recipient of a Fulbright Grant and will be living and teaching in Malaysia for 11 months in 2016. They are all making me proud, but this was pretty special! Byron is doing reasonably well, consid­ering the limitations placed on him by Alzheimer's. Our family is thankful that in his case, progression of the disease has been slow and steady, and he maintains a calm demeanor and a biting sense of humor! I was honored to be awarded Life Member status this June with the Houston Methodist Hospital System Board, so I will not be active as a board member, but will remain on a few committees, as well as the Advisory Council for the Houston Methodist Debakey Heart and Vascular Center. I have enjoyed my service on the Jackson School Advisory Council these past few years, and I'm so proud of our College and all we are doing for the entire field of Geological Sciences. Thanks for the privilege of being a small part of that initiative. Keep in touch, we love to hear from old friends. I'm at connied36@yahoo.com."
Jack Q. Frizzell (B.S. '50) writes, "After attaining the age of 92 years last June 24th, I am pleased to report that I am in good health and enjoying my prac­tice of geological exploration for new oil and gas findings on a daily basis. Still involved with my son, Allan Douglas, in managing our drilling and produc­tion company, Enrich Oil Company, and having better than average success in developing new reserves, thanks largely to Allan's expertise in 3-D seismic inter­pretation of the ever elusive Strawn-age reef anomalies residing in our main target area. My wife Pat and I and our family are mourning the loss of our beloved younger son Lane Patrick earlier this year after a five year battle with Alzheimers disease. We are blessed with our growing family of seven grand­children and four great-grandchildren. Best wishes to my still standing geology buddies and 1950's grads."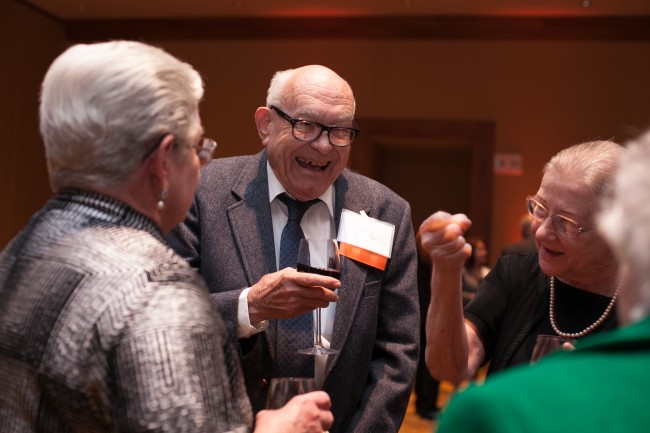 Ernest Lundelius (B.S. '50) writes, "I now spend most of my time at the Vertebrate Paleontology Laboratory at the Pickle Research Campus and continue to work on changes in the faunas of both North America, primarily Texas, and Australia over the last one or two million years. We are still finding new additions to the Pleistocene fauna of Texas. I also continue to participate in GeoFORCE. I find it very rewarding to see the interest of very intelligent young people in geology and science in general." Ernie can be reached at erniel@utexas.edu.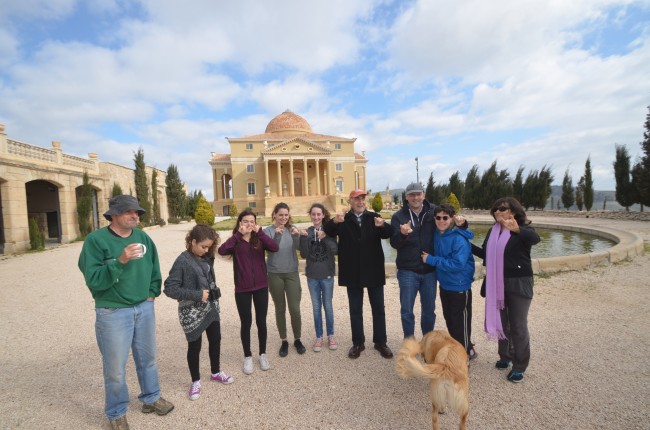 Munib Masri (B.A. '55) lives in Nablus, West Bank, Palestine and is active with philanthropic efforts in the educa­tion, healthcare, culture, and civil society sectors. He was recently recognized by the Jackson School of Geosciences with induction into the Hall of Distinction. He continues to work toward peace and a two state solution in the Holy Land.
Wayne D. Miller (M.A. '57) shares, "Still continuing to consult in the oil business after going independent 35 years ago. With the industry slow down, I have done the same but am keeping as busy as I want to and enjoy keeping active. Family doing fine and am looking forward to the upcoming Newsletter."
Jerry Pitts (B.S. '54) writes, "The Wolfcamp-Spraberry Horizontal plays are extremely exciting. Fun to be a part of it. Amazing we have been drilling through it for years. Have set pipe and attempted completions with very little success prior to advanced technology."
Jimmie Russell (B.A. '52, M.A. '54) writes, "Immediately upon graduating from UT in 1954, I commenced with Stanolind in Midland as a Junior Geolo­gist. After six months, I was drafted and spent two years in the Army — mostly in the infantry, stateside and Korea. Basic Training, and then Advanced Infantry were at Fort Carson, Colorado Springs, CO in the winter. From there, I was sent to Detroit to be a Radar Operator in Anti-Aircraft Artillery. Thence I was sent back to Infantry on a troop ship in Korea. When Honorably Discharged, I returned to the petroleum industry, both domestic and foreign — Venezuela, Argentina, Trinidad, and the Spanish Sahara. Next came a lengthy period with the State of Texas water agencies. There I made directives regarding groundwater protection. Also, I conducted studies of aquifers and testified in hearings. Lastly, I was working in public educa­tion in Manor and Round Rock, Texas. I taught bilingual English-Spanish and assisted with special needs students and emotionally disturbed middle and high school students. I began to suffer lower back problems affecting my legs. That and balance difficulties cause mobility to be a major problem. Not being able to meet some of the physical requirements of my position, I retired in May 2013 from the Round Rock (Texas) ISD. For the same reasons, we sold our 2-story home and bought a 1-story townhouse only five miles away, still in Austin. Rita and I celebrated our fiftieth wedding anniversary on a one-week cruise in the Caribbean. The accommodations were much more enjoyable than my only other "cruises" aboard the General Mitchel, a troop ship out of Seattle to Korea and back a year later, both times at Christmas. Since retiring, I have volunteered a few times at local schools. Hopefully more stints of volunteering and more cruises await me.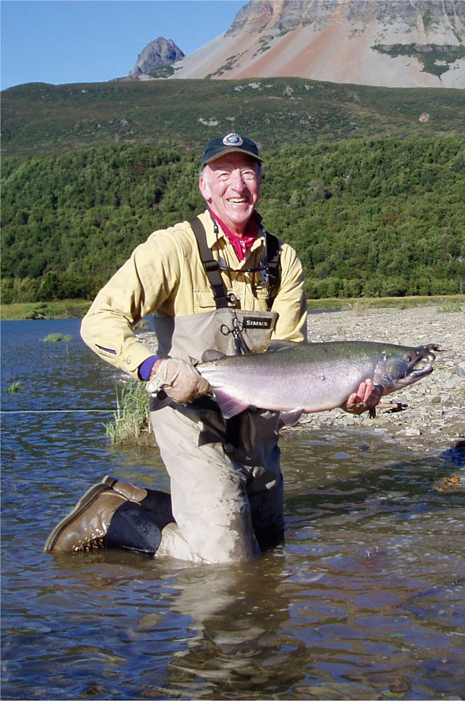 Floyd Sabins (B.S. '52) shares, "Demand for remote sensing explora­tion projects for oil and minerals is at a stand-still. Therefore I have expanded my fly-fishing ventures with trips to: Owen's River, California for trout; Espiritu Santos Bay, Mexico for bonefish and tarpon; Twin Bridges, Montana for trout; Kvichak River, Alaska for salmon and big rainbows. Tough work but somebody has to do it. Tight Lines!!"
Jack Steele Sanders (B.S. '57) continues to appreciate field geology, albeit now from roads and ships. He writes, "The messages from ice core research related to global warming need worldwide acceptance without political overprints. I trust that geosciences at UT continues to flourish. I am so fortunate to have graduated with a B.S. and to have been able to pursue field geology. Maybe my small contribution can provide a beer and hamburger for a student."
Eugene Patrick Scott (B.S. '57) is still a consulting Petroleum Geologist in Corpus Christi, TX.
Daniel L. Smith (B.S. '58) is continuing as an explorationist drilling wells, although he says that the oil price plunge is hurting.
Theodore Stanzel (B.S. '56) shares, "In retirement, thinking about a destina­tion we would like to see and planning for that dream trip is important. To that end Wanda and I spent two weeks on the Alaska venture with Texas Exes in July. First on the Alaska Railroad through Denali National Park and a week on the Admiralty Dream cruising the inland waterways of Southeast Alaska."
Bernie Ward (B.A. '55) still goes to his office nearly every day. Business for him is not as swift as it once was. Family is all well. Oldest grandson graduated from UT in 2014 with a B.S. in Biology and is attending medical school at Texas Tech.
Bill D. Watson (B.S. '58) shares, "Jean and I are still enjoying our retirements and our grand children and great grand­children. We welcomed our third great this last November, Paisley Rae. She is a bundle of joy! I still play my trumpet and play golf as often as I can. The Longhorn Network is great! We never lose! I never thought I would celebrate 30 years of retirement. God is good." He can be reached at bdjewatson1930@gmail.com.
Leslie Pittman White (B.S. '56) writes, "Dianne and I are continuing along in that "no news is good news" phase of life. We are enjoying a little travel and watching the grandchildren grow up. My affection for JSG takes two paths: one, the pride and pleasure of watching it grow and excel; and two, the treasured memories of a chapter of my life spent there."
1960s
Charles A. Caughey (B.S. '69, M.A. '73) writes, " Took advantage of a layoff at Noble Energy to retire (again). Busier than ever, enjoying the freedom, and staying active as co-chair of the AAPG Imperial Barrel Award and working with a couple of other committees."
Jon Philip Jones (B.S. '64) writes, "Greetings from OK. This year has passed quickly. It seems that happens as I age. Since retirement in June 2012, my wife Marilyn and I have had opportu­nity to travel. With grandkids in NY state, we have greatly enjoyed visiting the many wonders of upstate NY and its scenery. After 8 years working from Bassett Hospital in Cooperstown, Kevin, Rebecca, Jake (11), Allie (9), Katie (7), and Emily (5) have now made the trek from NY to OK to warmer climates. Kevin will be working as a PA from Guthrie, OK. Currently, all (including 1 dog and 2 cats) are living with us in Edmond, OK. We are having great fun with the kids and grandkids getting settled in different schools and making new friends. If you know of anyone seeking a large home on 13 acres near Richfield Springs, please have them checkout Zillow. The prop­erty lies close by the Adirondack park and the Catskills. The scenery is world class and filled with geology. If you have opportunity to visit the area, please take advantage of such an opportunity. Visits are recommended for the summer months as winters provide snow and more snow. Beautiful but cold. I've had opportunity also to visit my brother and much fishing last summer. He lives in Gallatin Gateway, close to Bozeman. Nearby is the wonderful Gallatin River, Yellowstone NP and Jackson Hole, not to mention nearby Idaho with excellent fishing everywhere. With kids attending Baylor University, we have had several trips there to admire the new stadium and updated campus. The stadium can be seen upclose and personal from I-35. Congratulation to Dr. Robert Folk on his 90th birthday. Best regards to you all, and if you get as far north as OKC or Edmond, OK, call me at (405) 607-2866 or send me an e-mail at philj1@cox.net."
Joe N. Meadows (B.A. '62) writes, "My bride of forty-nine years has Alzheimer's, but I am still blessed. Love the 'Horns and the LHN helps keep me some what abreast of what's going on."
Tom Patty (M.A. '68) writes, "Since retiring from full-time with Wiss Janney Elstner Associates Inc, after 30 plus years, I still go by the Tom S. Patty Petrographic Laboratory and assist the other petrographer when needed for concrete and aggregate petrography as an Affiliated Consultant. In addi­tion to providing 24/7 care-giving to my wife JoAnn, going on 56 years of marriage, I am able to do some part-time consulting for aggregate producers in the Central Texas area. Our three grown children live in the Austin area and we enjoy being with our eight grandkids every chance we get. My collection of UT Austin yearbooks "The Cactus" has now grown to 73 volumes dating from 1920, and my collection of UT Geology Newsletters dating from the early 1960s continue to increase each year." Tom can be reached at tspgeorock@gmail.com or tpatty@wje.com.
Peter D. Rowley (Ph.D. '68) writes, "I continue as a consulting geolo­gist, mostly doing geologic mapping (www.geologicmappinginc.com). With colleagues, I found the world's largest gravity slide, in SW Utah. See by googling "Markagunt gravity slides." My wife Dawna and grown kids are fine."
Rubin Amos Schultz, Jr. (B.S. '61) shares, "Not a lot new. Still enjoying retirement. Spent some time in Utah this spring visiting relatives and enjoying mountain air in Park City. Went to grandson's wedding in March. Planning a trip to Branson, MO this fall to enjoy some fall weather and colors."
Carlton Sheffield (B.S. '63) shares, "Still traveling in our RV throughout this great country of ours. Enjoying your updates on our alumni. Hope to see some of you at the annual get together next year. My golf game here in the Woodlands, TX could stand some improvement. Any advice would be helpful."
Herbert Samuel Travis (B.S. '60) shares, "Currently I'm retired, however, I still work on my Mobile Home and RV Park located in Gun Barrel City, Texas. My web page is lutherlanervpark.com."
Mark John Valencia (M.A. '68) writes, "ALOHA!! I am semi-retired living in Hawaii. I still travel to Asia for conferences on maritime security issues 4-5 times a year. I also write frequent opinion pieces on Asian maritime affairs in Asian newspapers, particu­larly regarding the South China and East China seas. Otherwise we — my Malaysian wife Shabariah of nearly 40 years and I — take care of our grand­children several times a week — and just enjoy life — separately — and together. So far so good!!"
Richard B. Waitt (B.S. '66, M.A. '70) shares, "After nearly 35 years of intermittent work, my book on Mount St. Helens' 1980 told through survivors and other witnesses was published January 2015. Though crafted by a scientist, it's intended as a literary work of first-person stories. The imposed maintitle is schlock, inside much better. "In the Path of Destruction — Eyewit­ness Chronicles of Mount St. Helens" published by Washington State Univer­sity Press. In about 1966 at UT, I took Fred Bullard's course Volcanology. Among its still-memorable elements are the first-person stories of St. Pierre survivors of 1902, stories Bullard had reproduced in his book "Volcanoes" (UT Press, 1962). I'm still employed by the U.S. Geological Survey, Cascades Volcano Observatory in Vancouver, Wash. Still researching (mainly in the field, mainly in Pacific Northwest), still publishing papers and occasional maps. An annual pig roast at our place commemorates such a deed done in August 1980, the oven then having been the still-hot ashflows on Mount St. Helens' north flank. Wife Cynthia doing very well, as is daughter Kristin in Seattle and her three daughters — our grandkids."
William Feathergail Wilson (B.S. '60, M.A. '62) writes, "Oil and gas consulting slowing considerably due to low oil prices. Still working steadily in groundwater. UT Geology graduate sons (Clayton & Doug) working in London and Denver."
1970s
Royce Carr (B.S. '76) writes, "I am still actively working West Texas in the Wolfcamp plays and the Eagle Ford in southeast Texas. Deborah and I have recently moved to the lake and I work from there a few days a week and from the office a few days a week."
Patricia Wood Dickerson (B.A. '70, Ph.D. '95) shares, "GSA in Vancouver, amidst brilliant birch, beech and maple trees, was a fine occasion for rousing conversations with many of you. It was a relief that no one threw over-ripe produce during my talk. A geo-archaeology field trip helped to fuel a fascinating new study in Big Bend that's grounded in my ongoing tectonics research. Winter projects included petro­graphic and lab work on our samples from Mariscal Canyon and Mountain (Big Bend), though no sleeping-bag-on-bedrock time. Even wrestling grant deadlines has been pleasurable, in collaboration with colleagues/ friends in JSG, at TCU and at Texas Tech — reassembling then sundering the venerable Rodinia supercontinent. This spring stood in high contrast to last — exploring the old stone bones of the Scottish Highlands took the place of April field work in Big Bend. Close colleagues in JSG led an excursion for geology honors undergraduate students and invited me to participate. Great group, magnificent geology, and beau­tiful country! Rugged cliffs, lovely lochs and streams down the valleys, here and there a rocky headland extending into a loch, with castle ruins sitting on the point… The Isle of Skye was windswept and rugged, though its contours had been somewhat softened by Pleistocene ice, then covered by thick moss. Focusing forward now — Smithsonian has asked me to act as study leader for tours to Patagonia, to Chile-Argentina-Brazil, and back to Iceland, so I'm revamping instructional materials. We launch for Patagonia from Buenos Aires — my plan is to arrive there before the group does, to study tango and to dance. Mean­while, here in River City I continue to enjoy GeoRef work for AGI (constantly learning!), as well as volunteering for Austin Classical Guitar, and dancing both tango and blues."
Marvin "Jack" Droddy (Ph.D. '78) writes, "After 28 years at Baker Hughes, I took the early retirement offer. It looks like a few "down" years are in store for our industry, so I thought it a good time to exit. I brought my petrographic microscope home; my daughter (16) was amazed to see what thin sections of granite, basalt, etc. look like in polarized light. Maybe she will change interest to petrography from fashion design!"
Al W. Erxleben (M.A. '74) and wife Charlotte are retired and enjoying living on their ranch west of Crockett, Texas. They also recently purchased a ranch near Comanche, Texas, and are working and having fun there as well. Al says, "Our time is divided between ranching, children and grandchildren, traveling, hunting, and just simply loafing! Every day is Saturday!! We highly recommend retirement—as early as possible!"
Murray Felsher (Ph.D. '71) writes, "Since leaving NASA HQ as Chief, Geological and Energy Applications, in 1980, I've been consulting for the govern­ment and the private sector primarily in fields related to satellite remote sensing of the Earth. At the same time I had maintained an office in the National Press Building in D.C. from which I published three different newsletters. The most "popular" was the "Washington Remote Sensing Letter" (WRSL), which was published from 1981 through 2013 – Volume 1, Number 1 appeared in July, 1981 and Volume 32, Number 42 was published in December, 2013. WRSL — 4 pages per issue — was mailed out four times per month, except in January and August when the federal government goes into slumber here in DC and we published only 1 issue per month; hence the odd number (42) of issues per year. We finally closed the door on WRSL in 2013. When I say "we" that's the "editor" in me speaking — actually I've been "Working Alone" all these years — and hence the title of a book I wrote that was published by Berkley Press (N.Y.) in 1994 — Working Alone: Words of Wisdom for the Self-Employed. It's now out-of-print, but still available from places like Amazon.com. (Note: I get no royalties from these secondary and tertiary sales, of course, but it's good to also note that I still get letters from current readers of the book.) I still am very involved in the consulting business, and have active contracts now mainly with the govern­ment and larger aerospace/systems integration companies. It's now 54 years since we arrived in Austin in September, 1961 as newlyweds; two of our children are native Austinites. As the years go by I am constantly reminded of those UTexas years, the friendships we made there, and the thorough and superb educa­tion I received at the hands of a willing and worthy faculty. It's a pleasure to see the continuing growth, literally and figuratively, of the department and the Jackson School. My best wishes continue to you all."
Grant Fergeson (B.S. '78) currently resides in Houston and can be reached at grantfergeson@mertzenergy.com.
Edwin "Win" Goter (M.A. '74) shares, "I'm still working full time. Now with PanAtlantic Exploration Co. exploring for oil and gas and drilling wells in onshore Colombia and off shore Romania. Left Shell after 32 years in 2010 and flunked retirement. We have two daughters, both married and living in San Antonio. First grandchild will soon be here. We are all in good health and doing fine. I still feel fortunate to have attended a great geology depart­ment at a really good university. Over 40 years ago, whew!"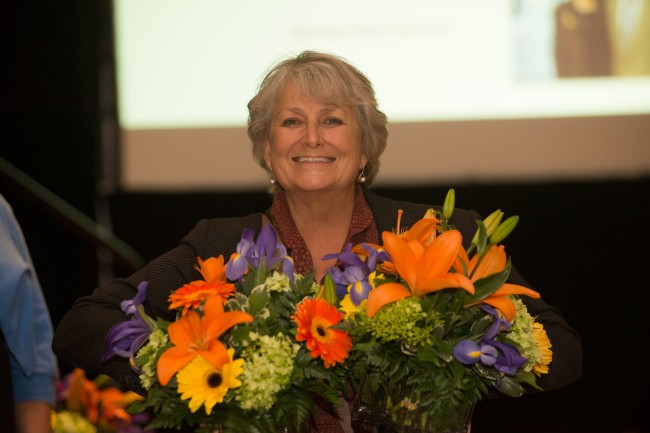 Robbie Gries (M.A. '70) writes, "My fun project, working with AAPG Prowess Committee, is research on the History of Women in Petroleum Geology (1918-1988). Amazing stories! Lots of UT women to be proud of! I hope a book can be derived of this work."
John C. Griffiths (B.S. '75) says, "Hard to believe it has been 40 years since I was sitting at Posse East having a beer after Dr. Muehlberger's struc­tural final. If memory serves, I think I was sharing a pitcher with Charley Greene. I left UT and went to work for TXO in Houston. Moved to Lakeway, west of Austin, in 2008. Still having fun looking for places to drill wells in which my company can participate. It's a little different than it used to be. Amazing changes in technology. It has gone from taking a week or more to get hard copy logs, production data and scout tickets to build hand drawn and colored maps to downloading digital data into Petra and Kingdom and generating maps and cross sections in minutes. I have enjoyed doing consulting work with an international engineering group that allowed me the opportunity to see some of the geology of northern Mexico, the Gulf of Thailand and Abu Dhabi, among other places. Let's just say Abu Dhabi is a little different than working the East Texas Basin. Wishing the best of health to my classmates from 1974-1975." John can be reached at jgriff@calvinre­sources.com.
Paul F. Hoffman (B.S. '75) writes, "Hard to believe it's been 40 years since my days at UT! Now 7 years at the helm of Allen-Hoffman Exploration. Drilling serious wildcats lately — some dry, some great, all interesting, and many with other UT alums! Never imagined 40 years back what a remarkable journey it would be — or that we'd have 9 grand­children, none yet older than 5! Married 40 years, too, and writing this with Tina beside me and a view of the coast of British Columbia to starboard. Lots to be thankful for!"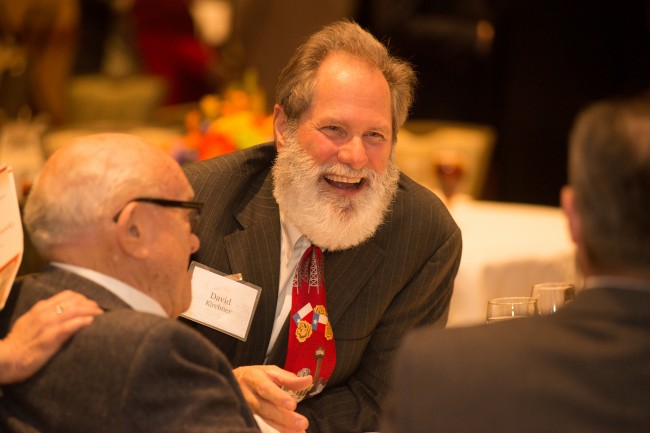 David Lee Kirchner (B.S. '74) writes, "Hello fellow Longhorns! I am living in Phoenix, Arizona, where I am working as a consultant for BASIN & RANGE HYDROGEOLOGISTS, INC. (since 1987). My wife, Kathy, is a retired geologist and our two sons have graduated from college. Our oldest, Kory, graduated with his masters degree in Geology from the University of Texas at Austin. Kody graduated from Northern Arizona University with a bachelor's degree in mechanical engineering. I try my best to make it to Austin twice a year to partici­pate in Advisory Council meetings of the Geology Foundation. Please give me us a call whenever you are visiting Arizona. (602) 840-3333 or kirchner@basin-and-range.com."
Dave Lehman (Ph.D. '74) writes, "Patsy and I spent a good part of the past year in Colorado. Our daughter Lisa lives in Denver full time now. I'm still active in the business — sold my second start-up company last year and am getting ready to reload for a third go at it. With oil below $40 at the moment it might be a good time to buy! Hook 'em Horns!"
Ray Leonard (M.A. '77) writes, "I continue to face the challenges of deep-water exploration in a low oil price environment as the President and CEO of Hyperdynamics. We hope to finally test the Fatala Prospect offshore Guinea in early 2016. My family is well, and I welcomed my 5th grandchild this past year."
Mark W. Longman (Ph.D. '76) reports, "2014 was a particularly good year as I finally completed editing and preparing AAPG Memoir #107 on the giant Pinedale gas field in the Green River Basin of Wyoming. The book's 15 chapters total over 500 pages in length and contain abundant color figures that nicely document the geology and reservoir models developed for this important tight-gas sandstone reser­voir. The field will eventually produce over 30 TCF of gas, which places it among the top 5 gas fields in the US, and it provides a useful model for how to optimize drilling and production in an environmentally sensitive area." Independently of the memoir, Mark was honored by AAPG with the Asso­ciation's Distinguished Service Award for his many contributions to the organization since 1971, most notably his 30+ years of work as an Associate Editor for the AAPG Bulletin. He also entered his 10th year of working with QEP Resources in Denver on all aspects of hydrocarbon reservoirs in the Rocky Mountain region.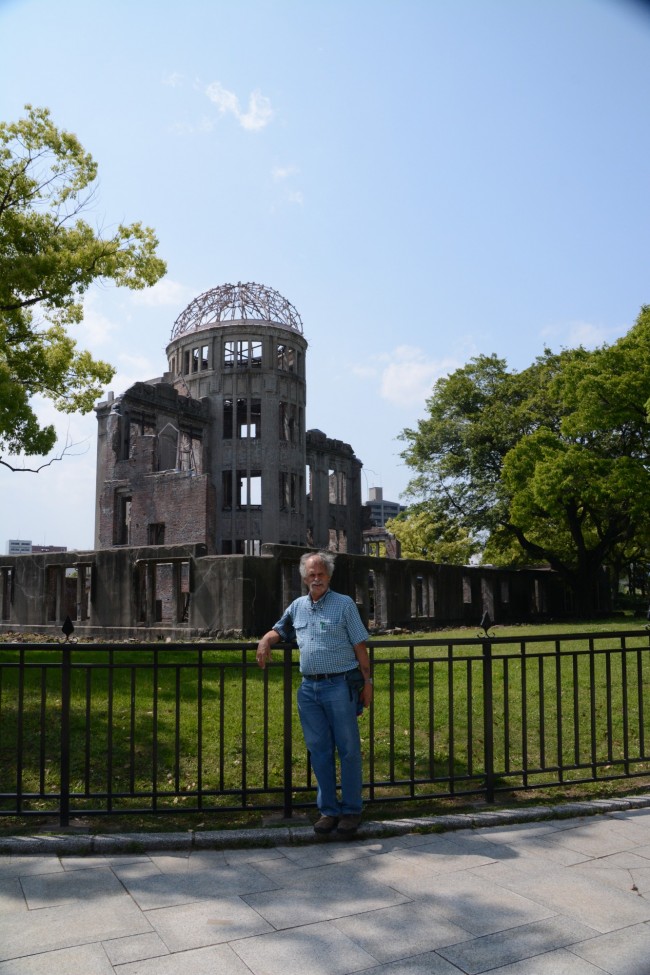 Bob Merrill (Ph.D. '74) shares, "Recently returned from Japan, with a special side trip to Sendai and examina­tion of the impact of the 2011 tsunami zone. Being on the ground was impres­sive, especially after reviewing many of the videos of the tsunami and debris as it swept inland. Faculty help from Tohoku Univ. was much appreciated. September will find Diane and I in Newfoundland and Nova Scotia, hoping to examine some of the connections to Scotland that I saw with Ian Dalziel in 2014. I continue doing geoarchaeology work and chal­lenging California politicians on water, drought, and climate change issues. Also find time to spend with grandson, Tyce and his dad, Than Merrill." Bob can be reached at geolbob@gmail.com.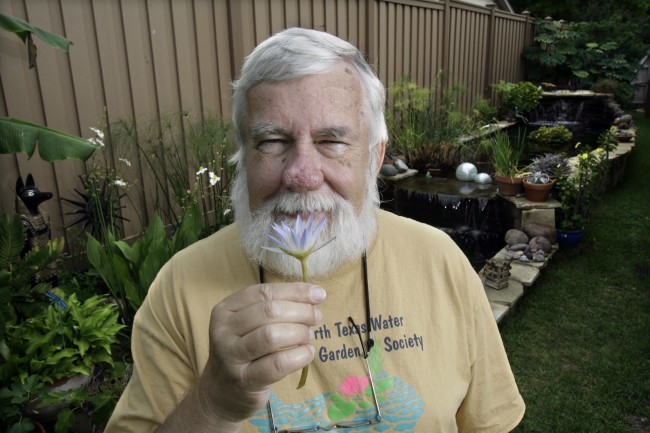 Clair Ossian (Ph.D. '74) shares, "As I approach the age of 75, retirement still suits me well. Life is very comfortable, and I use my days with my gardens and my koi ponds. While I will never see the results, I tend a bonsai tree garden, as well. I'll need to live to at least 150 to finish their growth stage to grand trees. Who knows, maybe I will? I have also developed an unusual style of pottery, which sells well! We have three grandchildren now, both of my chil­dren married well and are settled. My daughter is a TV Producer, and my son is an upper level manager in an Austin software company. Eleanor, my wife, still suffers from the accident she received over a year ago. A simple broken tibia turned into horrible infections, and 8 surgeries…so far. She's a tough one, and slowly is recovering. All in all, life is good. We come to Austin frequently and often go to the Geology Building to walk the halls and reminisce. My years at UT were a great gift!"
Stephen L. Shaw (B.S. '71, M.A. '74) shares, "I have moved Firstview Resources office to San Angelo where Nancy and I now live on the banks of Spring Creek. I am still active pros­pecting and consulting. Nancy and I do most of our travel to visit grandkids (well, and our kids too…) in Austin and Cameron Park (north-central) California. Our best to all." He can be reached at sshaw99@yahoo.com.
Bren Sidereas (B.S. '74) writes, "Retired May 2014 after 40 years of working strictly onshore Gulf Coast geology without ever having to move to Houston. Something to be said for that great achievement. Retired life is keeping up with 4 grandkids and more trips to Austin for sporting and music events. Most of all, retired life is easy. Not so for my wife as she is still working faithfully. She enjoys that. We take one "family" vacation and one much more restful vacation (just us) per year now. That seems to work well." Bren can be reached at bren.sidereas@icloud.com.
Cindy Elliott Swinbank (B.S. '71) writes, "Tom and I still live in George­town, TX, with 3 of our kids nearby in Austin, one in Houston and one in Seattle. We have a good time visiting and babysitting for them. Tom still works a couple of days a week, consulting in San Antonio, usually. We were greatly saddened to see the passing of Richard Smith. He was a big brother to me and I have countless good memories of him. Hope you other guys are doing well. We had a great class!"
1980s
Ann Keating Ardis (B.S. '83) worked for the USGS Water Resources Divi­sion in Austin for 28 years. She writes, "Currently retired, and thoroughly enjoying our personal 40 acres (& Long­horns). God is good."
Linda R. Balcom (B.S. '87) shares, "The environmental consulting arena continues to be interesting and chal­lenging; currently overseeing Weston's DOD BRAC program and expanding into the DOE asset management program. With a sophomore in college and two in high school, life continues to be jam-packed but blessed in every way. Hope all is well with my fellow grads from '87." She can be reached at linda. balcom@westonsolutions.com.
Fred Herbert Becker (B.S. '83) and Teresa Harkrader Becker (B.S. '82) share, "Fred and I are enjoying our home on the lake in Marble Falls. I am retired and Fred is still working for Shell (but not enjoying the weekly drive to Houston). We have a Viking river cruise planned in October and snow skiing in Colorado with the girls in November. I volunteer one day a week with an Alzheimer's respite group. I also play Mah Jongg, work out at the YMCA and read. We would love to hear from any of our classmates!"
Mark Joseph Berlinger (B.S. '82) currently resides in League City, TX and can be contacted at mb.1305.cb@gmail.com.
Julie Ann Bonner (B.S. '83) writes, "Still working in Houston at Chevron as a Drilling & Completions Team Lead and Drilling Advisor for our Southern Angola Business Unit."
Steven Michael Carlson (M.A. '84) resides in Houston, TX and can be reached at steve.carlson@wind­stream.net.
Richard F. Carroll (B.S. '80) shares, "I have changed jobs again and just in time for oil prices to fall. I am now working for Caza Petroleum in The Woodlands, Texas, much closer to home. Most of the properties I am now working are in the Permian Basin, but I do still get to do some Gulf Coast geology as well. On the home front, my oldest son, Ian, just graduated from UT Austin with a degree in Marketing and is now working in New York City for a large marketing firm, and my youngest, Austin, is on his way to Colorado to attend school. Hope everyone makes it through this downturn okay." Richard can be contacted at rcarroll@cazapetro.com.
Stephen Chung (B.S. '84) shares, "I am an Associate General Counsel – US Pipelines for TransCanada now and have responsibility for environmental, land, litigation supply chain, pipeline safety and legal operations. We are still trying to get the Keystone Pipeline permit­ting approved, but it is a long legal and political process, and I'll leave it at that. I keep in touch with some in my class through Facebook, LinkedIn and industry activities but am generally busy working and doing my best to raise two teenage girls." Stephen can be contacted at stephen_chung@transcanada.com.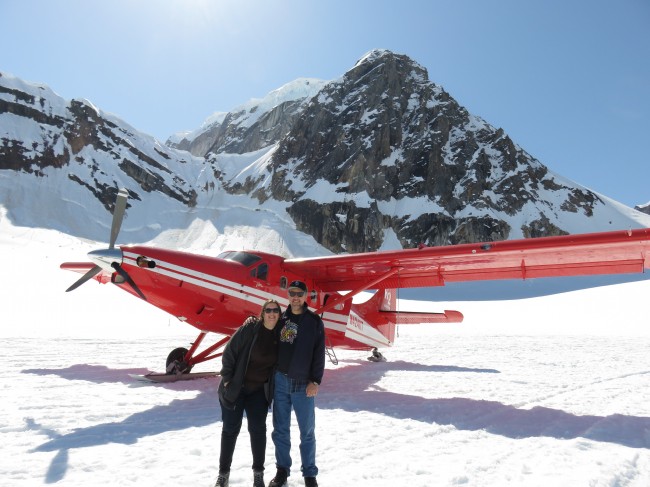 Michael Jamison Clark (B.A. '89) writes, "Finally checked out Alaska early this summer. It is a geologists dream land! Of course, landing on a glacier in an airplane next to Mt. McKinley was priceless."
Joel Mark Coffman (B.S. '84) shares, "Still at US EPA Region 9 in San Francisco but made a major change in jobs a couple years ago. I am now working in the Underground Injection Control Section of the Drinking Water Office, within the Water Division. I issue injection well permits for Class I injection wells in California and oversee the programs on Navajo Lands and in Hawaii. After 20 years working on underground tank issues, it is nice to be back home in the world of deep geology and reservoir engineering. Susan and I are doing great and still in Vacaville, California. We are back to Texas fairly often as we have farm and ranch land in Cochran and Yoakum Counties to see about and the in-laws live in Morton. Our daughters are both also doing great. Shaina is a social worker at the Atlanta Children's Hospital where she works with Cystic Fibrosis patients. Amber is in Los Angeles putting finishing touches on her solo album due out this fall. For a taste of her style, look up Amber Coffman – Get Free. If any class of '82-'85 graduates are in the area, look us up!" He can be reached at longhornrock­hound@yahoo.com or coffman.joel@epa.gov.
Alyson Headle Cooper (B.S. '86) currently resides in Juneau, AK and can be reached at alysoncooperak@gmail.com.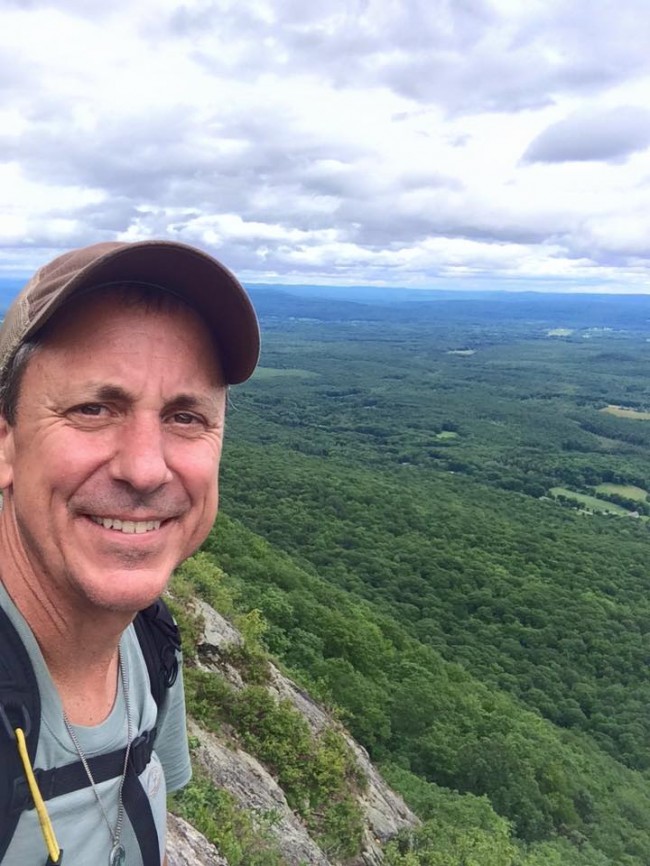 Fred Crawford (B.S. '83) writes, "I am retired! After 25 years with the Lower Colorado River Authority, I took my pension and hit the easy button. In May, I embarked on my childhood dream of hiking the Appalachian Trail. I completed 500 miles before an injury sidelined me. I'll be back on the trail in entire 2,200 miles by 2016. Sending all my best to the class of '83."
Donald Wayne Downey (B.A. '82) worked 27 years for Gulf and Chevron international exploration and research. He writes, "I retired from Chevron in 2010 and now work with local Pearl Harbor Survivors and other WWII Veterans to capture their life history in video and book form. My sister, Julie Garvin, runs our family-owned oil company, Roxanna Oil, in Houston. Thanks to all the wonderful profes­sors and BEG staff that started me on a wonderful career after graduating with a BA-Geology in 1982!"
Philip Duggan (B.S. '82) writes, "I'm not dead yet….."
Roy E. Easley (B.S. '80) says, "Having a blast living in Fort Worth and enjoying working the Delaware Basin." He can be reached at eeasley@basspet.com.
Charles A. Goebel (B.S. '80) shares, "At this writing WTI is below $43/bbl. Hope the PUF is well diversified! Still Chief Geologist at Banner Resources, and Principal of Santa Rita Energy. Youngest daughter is a Senior at UT Austin this fall; her big brother and sister are already UT Austin grads. Lots of changes at UT and in Austin, but at least the Posse East is still not a fru-fru place!"
Paul Aaron Hardwick (B.S. '83) works at Smith Energy Operating Company in Houston exploring in the Northern Midland Basin. He shares, "Just celebrated 31 years of marriage to Laurie (Waters) Hardwick (B.J. '82) as empty nesters. Our oldest daughter Grace is in her junior year at Trinity University in San Antonio and our second daughter Claire just began her freshman semester on the 40 acres. Hoping to get back up to the Hill Country more this year." Paul can be reached at paulhardwick@earthlink.net.
Jonathan Charles Herwig (M.A. '82) shares, "Annyonghaseyo from the Land of the Morning Calm. Still living 50 miles south of Seoul, part of the program management team constructing the new U.S. base in Pyeongtaek. A little environmental geology and geotechnical, and a lot of facilitating the relationship between one military primarily inter­ested in cost savings (ROK) and the other in quality (US). Always a challenge, but interesting and fun to navigate between two such different cultures. Can read, write, and order beer and soju in Korean, so I have the essentials down. Come visit if you get to this side of the world!" He can be reached at jon.herwig@ch2m.com.
Christoph Heubeck (M.A. '88) has left the Freie Universität Berlin and is now the Professor of General and Historical Geology at the University of Jena, Germany. He is neck-deep in the usual academic activities. His favorite pastime is field work in the Archean strata of the Barberton Greenstone Belt, South Africa; aside, he is still dabbling in petroleum geology. Christoph can be reached at christoph.heubeck@uni-jena.de.
Daniel C. Huston (M.A. '87) shares, "Holly and I are still doing geophysics in Houston but looking forward to spending more time on our boat in Alaska soon. Both daughters are at Purdue University so we have more time to focus on boating, Bonsai, books, backpacking and chilling-out."
Charles Graham Johnson (B.S. '83) says, "Like everyone else, we are adjusting, sometimes painfully, to the lower price environment. We are thank­fully not involved in resource plays, but as operators of high water-cut wells, our lease operating costs are not cheap. Most of the revenue lost is profit. We do realize, however, that when there is blood in the streets, there lies oppor­tunity. I continue as chief geologist and acquisitions manager for this large independent producer of crude oil based out of Jackson, Mississippi, and I am constantly evaluating acquisi­tion targets. Our niche is extremely narrow, so most deals do not fit our modus operandi, but I continue looking under rocks, pun intended. Last year, we cracked the top 100 privately-held oil producers. We realize that rankings are not important. I would rather be a profitable number 101 than a money-loser in the top 10. I now officially have two college graduates in biology, one more due to graduate in December 2015 and another on track for 2017. Of course, with my youngest in 5th grade, I will be pulling this plow for a number of years further. Having seen $10 oil twice since graduating UT in 1983, I can say that it has been an interesting, sometimes bumpy, but exciting and rewarding thirty-plus year ride. I hope I get another thirty! Big shout-out to my summer '83 GEO 660 crew members. I have lots of great memories of that last big step at UT Austin! Love to go back to Austin whenever I can, even if just to testify at the RRC. I can't say that it was fun watching the Ole Miss Rebels whoop up on us in 2013, but it was just payback for drubbing them in Oxford in 2012. I would love to see that develop into a new rivalry. We have a lot in common with UM, including a general hatred of Maroon and White, for some reason."
Bill Layton (B.S. '81) shares, "Currently Senior Geologist, Abraxas Petroleum in San Antonio, TX. Jordan and Jessica each gave us a grand­daughter in the last year, Nola and Emma. KC and I are well, and adjusting to empty nest life….(really well – Ha!) Big hello to all my 660 buds and remember….the Phantom rules!"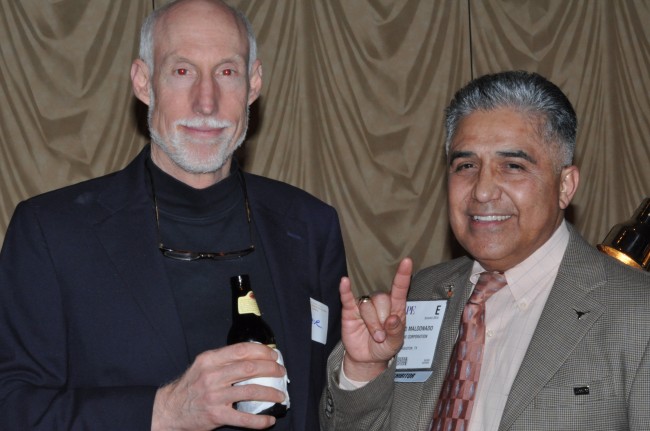 Bruno Maldonado (B.S. '82) shares, "Hello fellow Longhorns! I have been working in Oil & Gas for the past 33 years. I have worked in several major international and U.S. petroleum systems. I am not quite ready to retire but have recently been asked to…. for the second time. In order to decide for myself when I should retire, I am now available to consult and determine on own when I should retire. Anyone needing a multi-lingual (Spanish, some Brazilian Portuguese) highly technical geophysicist (Seismic Interpretation, Seismic Modeling, Well Log Integration)? Enough of that….on the more personal side, my eldest son, Bruno D., just added another rug-rat to the family. I am now the proud grandfather of two grand­daughters. Little Hannah was born on July 22nd around 11:15 pm. Ugh, she is not sleeping through the night yet. Sofia, her 3 year old sister, now will have a little playmate. My youngest son, Armando, is expecting a boy sometime in early October. As for myself, I am still involved with the University as I am currently on the Jackson School FANs (Friends and Alumni Network) Board and loving it. I still enjoy fishing, hunting wild hogs and some deer. Don't worry, I do harvest the meat."
Michael J. Mattalino (B.S. '81) currently resides in Weston Lakes, TX and can be reached at mmattalino@sanchezog.com.
Jamie Nielson (Ph.D. '86) shares, "My wife Mary and I live in Austin with our teenage son. We enjoy the outdoors and have just completed our annual summer trip to a national park (Yosemite this year). I continue to represent oil and gas companies before the Railroad Commission." He can be reached at jamie@nielsonlegal.com.
James Mark Null (B.S. '87) writes, "I have been promoted to a new post as Hydrologist in Charge, National Weather Service, West Gulf River Forecast Center in Fort Worth, TX. This UT geophysics degree has taken me a long way. 32 countries, retired Naval Meteorologic and Oceanographic Officer, and Federal Executive positions with the Department of Navy, Army Corps of Engineers, U.S. Geological Survey and now the National Weather Service. It has been a fun ride. However, my most proud moment has been following my middle daughter as she completes her B.S. in Geology at UT (expected graduation of Dec 2015). Mark can be reached at jmnull@utexas.edu or mark.null@noaa.gov.
Joseph Elton Patterson (M.A. '83), part of Dr. A.J. Scott's Dirty Dozen, writes, "It's been an interesting 32 years – Superior Oil (assimilated '85), Mobil Oil (assimilated '00), now ExxonMobil. Lived: Denver ('83-'90), Bakersfield ('90-'97), Dallas ('97-'00), Houston ('00- '07), Melbourne, AU ('07-'10), Houston ('10-'15). Worked: Paradox, Overthrust, Williston, Powder River, San Joaquin Valley, Nigeria, Cameroon, Cold Lake/ Iron River (Canada), Chad, Sakhalin (Russia), Bass Strait (Australia), Angola. Production and Development. Currently working as a geologic modeler in Exxon­Mobil's offshore Angola group at our new corporate campus in Spring, TX. I'll be moving to Abu Dhabi (UAE) in early 3Q 2015 as a seconded geologic modeler with the Zakum Development Company (ZADCO) – "full circle" back to carbon­ates. My home and office contacts will be in a state of flux, so my business E-mail is the best contact – joe.e.patterson@exxonmobil.com. I guess I've got one move left in me. Back in 3 years!"
Steven James Rainey (B.S. '84) writes, "I am a tenured member of the geography faculty in the Department of Social Sciences at McNeese State Univer­sity, with an M.A. in geography from the University of Texas at Austin (1991), and a Ph.D. in geography from Louisiana State University. Although I teach a number of geography classes in a service disci­pline with no degree program, I advise students who pursue the concentra­tion in geography within the bachelor arts in Liberal Studies administered by the History department. I specialize in human-environment research, with a regional specialty in Latin America, primarily Central America and Brazil. Between 1989 and 2008, my research focused on soil erosion, soil conserva­tion, and broader management of soils by small farmers in Mexico and Guatemala. I am currently conducting research on the impacts of two recently constructed hydroelectric dams (the Santo Antonio and Jirau dams) on riverine (ribeirinho) communities and environments along the Madeira River in Rondonia, Brazil. My research has been supported by two Fulbrights: one student Fulbright for dissertation work in Guatemala in 1996-1997, and one Core U.S. Faculty grant in 2013-2014 for ongoing research in Rondonia, Brazil. A number of university and foundation grants have also supported research in Guatemala and Brazil. I am currently completing nine weeks of fieldwork in Brazil that is being supported by an endowed profes­sorship to the McNeese Foundation that is supported by the Shearman family of Lake Charles." He can be reached at srainey@mcneese.edu.
Michael Robert Rosen (Ph.D. '89) shares, "In June 2015 I was the organizing committee chair of the 6th International Limnogeology Congress (ILIC6) held in Reno, NV. The congress is held every four years and scientists from around the world studying limnology and paleoclimate records of modern and ancient lakes attended the meeting. More than 160 scientists and students (more than 30) attended including John Warden (Ph.D. candidate) from JSG who is studying the microbialites of Lake Clifton, Western Australia. I am on John's Ph.D. committee so it isn't surprising that he attended. The meeting was a success and 4 field trips surrounding the meeting to Pyramid Lake, Lake Tahoe, the Green River Formation and modern and Pleistocene lakes in the western Great Basin were also highly successful. Although there was a considerable amount of work organizing the meeting, it was rewarding to see the variety of work presented at the meeting and the  discussion among scientists planning future work on modern and ancient lakes. The location of ILIC7 has yet to be determined but it could be in either Sweden or Argentina."
Jerry Schwarzbach, M.D. (B.A. '83) shares, "Still living the dream in Tyler, TX. Playing doctor & raising cattle. Still flying. 4 kids but raising almost done."
Christy M. Schweikhardt (B.S. '83) resides in Brenham, TX and can be reached at cmschweikhardt@gmail.com.
Scott Simmons (B.S. '87) shares, "In January of 2015, I left the commer­cial space and took the position of leading the Standards Program for the Open Geospatial Consortium (OGC). The OGC is an international industry consortium dedicated to creating stan­dards for the use and sharing of geospa­tial data. My history in geology and mapping has made this a perfect fit and I greatly enjoy the work. It's also fun to bump into old friends and UT faculty who are engaged in the OGC process. I now commute down two flights of stairs in my home in Fort Collins, CO, leaving the rest of my former commute time free for mountain biking or fly fishing." Scott can be contacted at ssim­mons@opengeospatial.org.
Traci Trauba Smith (B.S. '85) writes, "Hard to believe I've been out of college 30 years! Where did that time go? I am the Operations Manager for TDECU Real Estate, LLC in Lake Jackson, Texas."
Stephen W. Speer (M.A. '83) writes, "Another year goes by… let's see…I'm more bionic now what with a full knee replacement this spring… seems I'm a bit hard on equipment but I'm almost back up to full speed now. Therese and I are doing well here in the SC Lowcountry, loving it and trying to see who can play the most tennis…she is winning (for now). Sure hope the rest of the Dirty Dozen are doing at least as well as us and we send our greetings and well wishes. Cheers to all!"
Glenn William Storrs (M.A. '81) shares, "I once again spent the summer in the northern Rockies leading the Cincinnati Museum Center dinosaur field program in Montana. This was the twentieth anniversary of CMC excava­tions in the region and the culmination of successful community involvement in the project. The program has brought community members, including disad­vantaged students, to join paleontolo­gists on-site as active participants in the excavation of a Jurassic sauropod bone bed and latest Cretaceous terres­trial faunas. Crews learn the basics of hypothesis construction and testing, data collection, and dinosaur excavation, as well as regional history and ecology. This summer, the team discovered a complete Triceratops skull that awaits collection next year for ultimate exhibit at the Museum. When not hunting dinosaurs, I function as Associate Vice President for Collections & Research at CMC and its Withrow Farny Curator of Vertebrate Paleontology. After leaving UT, I spent nine years at Yale where I received my Ph.D. in Geology & Geophysics and subsequently worked for the Peabody Museum of Natural History there. I moved to England as a research fellow at the University of Bristol Department of Geology for four years prior to moving to Cincinnati to take up my present posi­tion in 1995. In spite of my numerous administrative duties, I still manage to pursue research on a variety of verte­brate fossils and have had the good fortune to undertake projects across North America, Europe, Asia and Africa. Even with all the water under the bridge, I normally see Texas friends, colleagues, and classmates annually at the Society of Vertebrate Paleontology meetings. Those reunions are among the highlights of my year and I'm especially thrilled to be returning to Texas this year for the meeting in Dallas where UT alums, staff and students will surely be well repre­sented. Hook 'em horns to all!"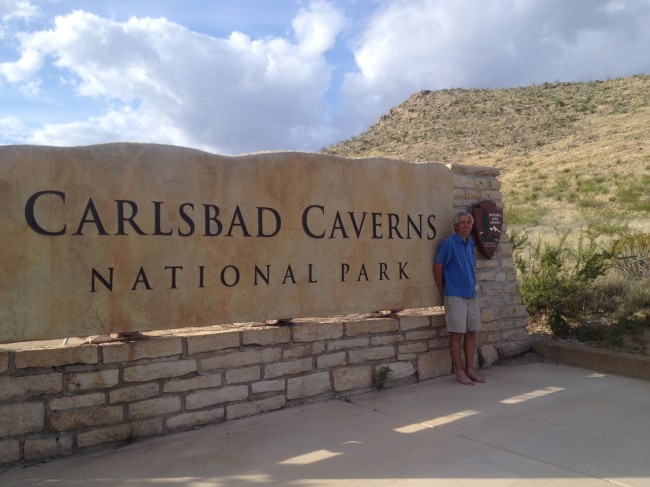 Ted Stout (B.S. '85) writes, "Completed a detail at Carlsbad Caverns this summer. Had a great time visiting Texas kin and exploring one of my favorite places in the world, the Guada­lupe Mountains."
Peter R. Tauvers (Ph.D. '88) is currently Principal Exploration Geolo­gist for Shell Ukraine (his second posting in Kyiv). Peter writes, "my wife and I run an art gallery in Kyiv featuring Ukrai­nian Impressionism in our collection, as well as local artists in exhibition every month. We also host music recitals and art history lectures several times a month — www.tauvers-gallery.com." Peter can be reached at peter.tauvers@shell.com.
Mark C. Walker (B.A. '81) shares, "Last year we lost our most wonderful son, Lee Middleton Hooper Walker, after he completed his first year at UT in the Jackson School and in Plan II. We received tremendous support from the JSG family, not least from Dean Mosher. This spring we devoted ourselves to get the Texas Legislature to pass Senate Bill 1624, which, for the first time, requires Texas colleges to offer incoming students orientation on mental health, depression and suicide prevention. We thank all of our supporters across the state who helped in this effort, and offer in advance our thanks to all who will assist us in our continuing efforts to destigmatize depression and greatly reduce the loss of life among our precious children. With the guidance and leadership of UT's own Dr. Chris Brownson, Director of Counseling and Mental Health Services, we have created a UT System-wide fund for support of student mental health services, research and suicide prevention. You can contribute directly to: links.utexas.edu/cpthrkd."
Leslie Leland Warren (B.S. '85) shares, "Scott and I are now "empty nesters" and actually starting to think about retirement! We still live in Katy, Texas but get to visit Austin quite often as our son is now living there. We divide our time between work and fun at our Lake Livingston getaway and are looking forward to celebrating 30 years together next year. I am still working for Schlum­berger (25 yrs), but now as an IT Project Management Office (PMO) Manager. It appears my Geology assignments are over although I still enjoy flipping through my AAPG Explorer! Hope to see more updates from the '85 GeoDogs this year!" She can be reached at warren6@slb.com.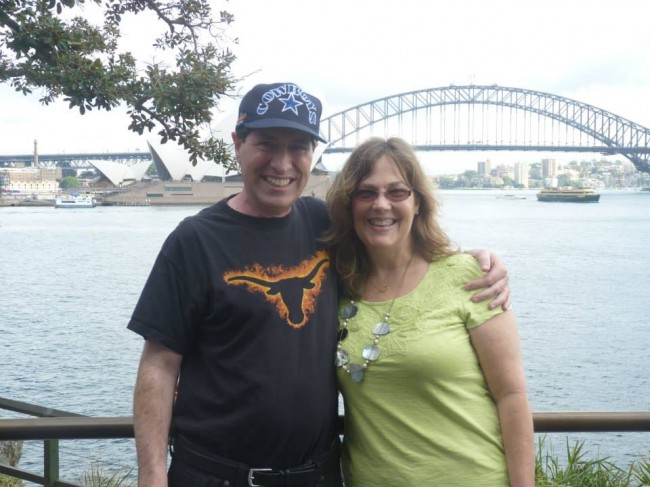 Steve Weiner (M.A. '81) and Kathy Hubby Weiner (B.S. '83) write, "Steve retired from the rat race earlier this year, and he and Kathy moved to New Braunfels. Before they could get settled in though, they celebrated their 30th anniversary with a 6 week cruise vacation to Australia, New Zealand and across the South Pacific. Now that the "trip of a lifetime" has ended, Kathy has been active in the social scene in the new neighborhood, and in making their new house a home. Steve has been focused on improving his health, Spanish and guitar skills. He still hopes to promote a mentoring program between JSG students and alumni, and to teach Petra to all that are interested."
1990s
Kenneth B. "Keg" Alexander (M.A. '90) writes, "I am still living in New Zealand where I have started my own geothermal exploration and geology consulting firm called Middle Earth Geoscience (www.middleearthgeo. co.nz). Geothermal energy develop­ment is slowly growing globally in the most prospective geologic settings — volcanic arcs and spreading rifts. Most of my projects are geothermal prospects located in Indonesia, Latin America or East Africa. Happy to field any inquiries about geothermal or New Zealand!"
Colby Drechsel (B.S. '94) writes, "1 year of living in Denver after 19 years in Wyoming… there's a lot of people here! Working as a Marketer for a small producer in the Williston Basin. Married four years; two boys, 2.5 yrs old and 6 mos old — the absolute best experience of my entire life hands down, Owen and Everett, rough and tough! All that matters is good, and we're living well. If you're in Denver, come say hello." Colby can be reached at cdrechsel@trianglepe­troleum.com.
Laura Faulkenberry (M.S. '99) writes, "Enjoying life in Houston with my husband and daughter. Recently started working the Eastern GOM with Nexen Petroleum USA, and I am loving this stage of my professional life despite the vagaries of the oil industry."
Lis Konnecke (M.S. '97) resides in Kiel, Germany and can be reached at liskonn@yahoo.com.
Mark Timothy McCoy (B.S. '91) shares, "Less work, more play. The little lady and I had a 50 foot, Center Cockpit, Hunter sailboat built in Florida and delivered to Kemah, TX two years ago this September. Our furthest trips have only been to Port Aransas since taking possession, however, a trip to Port Isabel/South Padre is in the offing, as well as to Florida and the Caribbean." He can be reached at rockss6@aol.com.
Dianne Pavlicek-Mesa (M.A. '90) writes, "I continue to work as the staff Geoscientist in the Edwards Aquifer Protection Program at the Texas Commission on Environmental Quality in San Antonio, Texas. On December 23, 2014, I married Jesse Mesa and became Dianne Pavlicek-Mesa. We enjoyed the carbonate sand beaches of Cancun on our honeymoon and trips to the inte­rior of the Yucatan Peninsula such as to Chichen Itza."
Christopher Stephen Swezey (M.A. '91, Ph.D. '97) writes, "I continue to work for the U.S. Geological Survey (USGS) in Reston, Virginia on a project focused on understanding the geologic framework of the U.S. Atlantic Coastal Plain. I am also active with the Geolog­ical Society of Washington, and with the Butler Cave Conservation Society (Bath County, Virginia)." You can view his USGS Professional Page at https:// profile.usgs.gov/cswezey or contact him at cswezey@usgs.gov.
Christina Massell Symons (M.S. '97) resides in Chevy Chase, MD, and can be contacted at chris.symons@mac.com.
Justin Zumbro (M.A. '99) shares, "I am working as an engineering geolo­gist and hydrogeologist at GeoPen­tech, located in Santa Ana, California and riding my mountain bike as much as I can."
2000s
Sasha Peter Carter (Ph.D. '08) is now teaching four classes at local community colleges while keeping a strong (funded) foothold in Antarctic research Scripps Institution of Ocean­ography. In his spare time he explores the environs of San Diego, CA with his lovely girlfriend Anita Kuhn.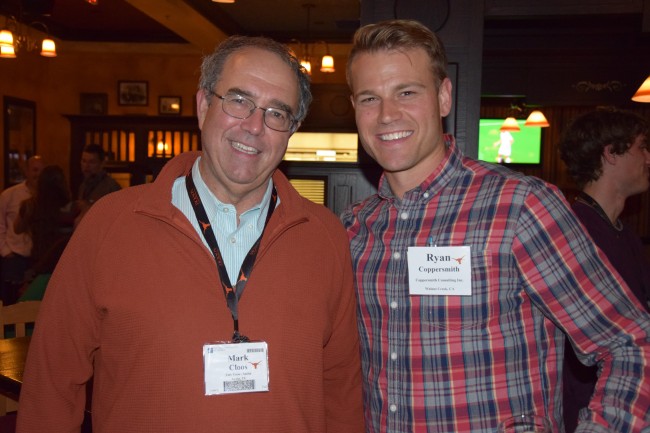 Ryan Thomas Coppersmith (M.A. '08) resides in Pleasant Hill, CA and can be reached at ryan@coppersmithcon­sulting.com.
Stephanie Cox (B.S. '08) currently resides in Houston and can be reached at scox3@slb.com.
Andrew Johnson (M.A. '08, Energy And Earth Resources) resides in Denver, CO and can be reached at andrew.johnson@utexas.edu.
Eric Lyonford (B.S. '02, M.S. '06) Eric Lyons married Jessica Danford in 2013, and they combined their names. They are expecting a boy just in time for the 2015 football season.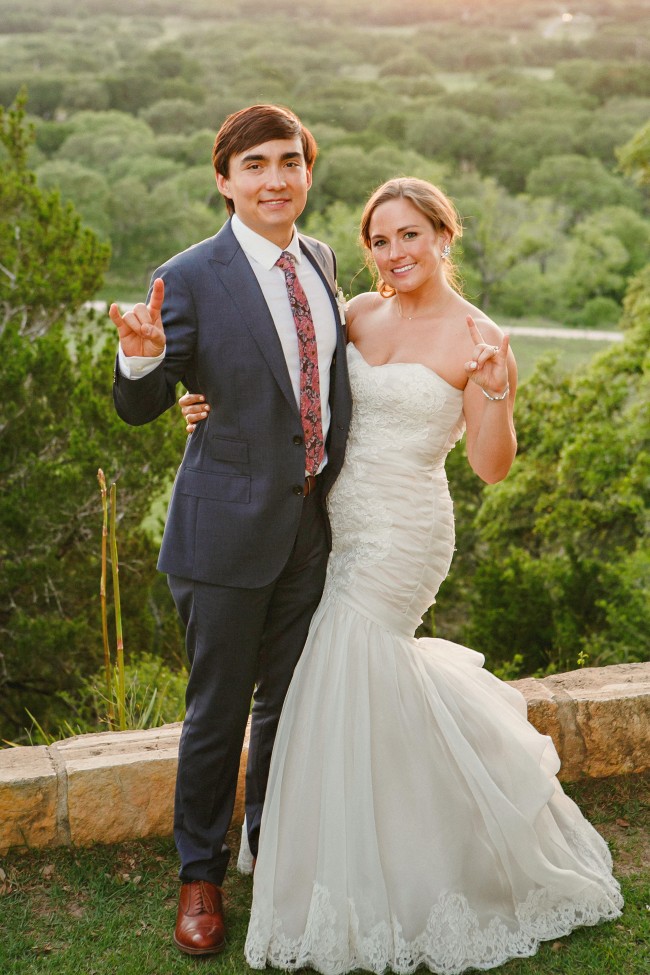 Nicholas Perez (B.S. '09, Ph.D. '15) graduated with his Ph.D. from UT Austin in May 2015. In April 2015, he married Nataleigh Vann (B.S. 2009; M.S. 2013). He has accepted a tenure track assistant professor position in Basin Tectonics at Texas A&M University starting Fall 2015. Nick also won the JSG Best Student Paper during his final semester at UT Austin. Upon starting at Texas A&M, Nick will begin advising undergraduate and graduate students in basin analysis and tectonics research integrating sedimentology, structural geology, geochronology, thermochro­nology and geomorphology. Nick is particularly excited about new research areas focused on the Andes, the Cascades in the Pacific Northwest, the Rio Grande Rift, the Atlas mountains of Morocco and West Texas. He can be reached at nicholas.d.perez@gmail.com.
Eric Swanson (B.S. '04) will begin an MBA program at CSU Fresno in Fall 2015 and can be reached at e.swanson@ utexas.edu.
Christi Gail Nutter Townsend (B.A. '00) writes, "I earned my Ph.D. in Environmental Geography from Texas State University in San Marcos, Texas. (December 2012). Currently, I am working as a lecturer at Texas State." She can be reached at christinutter@yahoo.com.
Jean-Paul van Gestel (Ph.D. '00) resides in Houston, TX and can be reached at jpgestel@yahoo.com.
2010s
Spencer Whitman (B.S. '10) writes, "Starting the second year of my master's in the Graduate Program for Hydrologic Sciences at the University of Nevada, Reno. Loving life out west!"
Umul Awan (M.S. '14, Energy And Earth Resources) joined the World Bank Pakistan Team as a consultant in their Power Sector Reform, Develop­ment Policy Credit Program. The team is working jointly with ADB and JICA to extend a development policy credit to the government of Pakistan to support its power sector reforms, which are to be implemented as a condition under the IMF program that Pakistan is under.
Alan Barraza (M.S. '15, Energy And Earth Resources) is now a Soil Scien­tist – Water Quality Assessment at the Texas Commission on Environmental Quality in Austin, TX. He can be reached at alan.barraza@tceq.texas.gov.
Thad Bay (B.S. '11) currently resides in Houston, TX and can be reached at thaddeus.bay@gmail.com.
Rita Bitar Nehme (M.S. '15) writes, "After graduating from the Jackson School, I moved to the beautiful city of Melbourne, Australia in May 2015. In Melbourne, I co-founded Steer North an organization that advances health and education through cycling based events. Our signature event is a 4000 km cycling journey from Melbourne to Cairns. The first Steer North team is formed of 42 riders, including myself, who will embark on the longest annual charity bike ride in Australia! The aim is to create a mobile community deliv­ering an innovative health promotion program across Australia while inspiring, connecting and empowering commu­nities we pass through. The ride will also serve as a vehicle to raise funds for cancer research, education and patient care. Along with establishing Steer North, I will be starting a Ph.D. at the University of Melbourne in sustainable development focusing on the application of renewable energy in international development. This is the new adventure I have been living since graduation!"
Brent Blackwell (B.S. '11) resides in Cypress, TX and can be reached at brent­blackwell3@gmail.com.
Randy Caber (M.S. '10) shares, "I have graduated with an MBA from the University of Notre Dame and am now working in management consulting with Accenture Consulting in Upstream Oil and Gas as a Manager optimizing opera­tions and creating strategy solutions for clients. I have returned to Houston for the mean time and am having a great time reconnecting with JSG friends." He can be contacted at randycaber@gmail. com.
Marcus Alan Chroback (B.S. '10) writes, "Transferred from EOG Resources Ft. Worth division to EOG Resources San Antonio division at the beginning of 2015. Currently serving as the San Antonio Chapter Director on the Jackson School FANs (Friends and Alumni Network) Board." He can be reached at marcus_chroback@eogresources.com.
Jessica Cori Errico (M.S. '12) resides in Houston and can be reached at jessica.errico@gmail.com.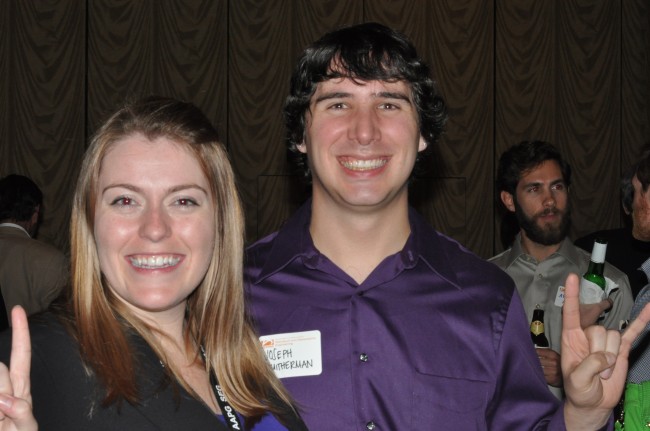 Katie Fry (M.S. '15) began working full-time as a Geologist in Oxy's World Wide Exploration division at the Houston location.
Joel Funderburg (B.S. '14) says, "After finishing my (second) Bachelor's at UT, I started working at Schlumberger in August of 2014. It's been a year now, and I am thoroughly enjoying it."
Patrick Gustie (M.S. '14) now resides in Spring, TX and can be reached at pigustie@gmail.com.
Aaron Hantsche (B.A. '13) writes, "I defended my Master's Thesis at the University of Colorado at Boulder on August 18th. For the past two years, I have been working on a project titled: Provenance of Grenville-age sediments at the Great Unconformity: A U-Pb and Hf detrital zircon study". With the help of my advisor, Dr. Lang Farmer, I looked at the isotopic composition of a suite of anorthosite intrusions in northwest Mexico and used the information, combined with previous characterization of Grenville-age intrusions, to compare U-Pb ages and Hf isotopic composition to zircon found in basal sandstones deposited at the Great Unconformity in the midcontinent region of North America. We discovered that the Hf isotopic character of these zircon becomes more variable with increased transport distance away from the Gren­ville Province in eastern North America, and interpreted the western reaches of the continent to have had relatively low topography and negligible sediment contribution during the Cambrian." He can be reached at aaron.hantshce@gmail.com.
Sam Hiebert (B.A. '10, M.S. '13) resides in Houston, TX and can be reached at samuelhiebert@utexas.edu.
Austin Byron Moore (B.S. '15) is pursuing a Masters of Science in Finance at the McCombs School of Business at UT after graduating with highest honors from the Jackson School. Austin can be reached at ausmoore@utexas.edu.
Kaitlin Moran (B.S. '13) completed her M.S. in Earth Science at Rice Univer­sity in May of 2015.
Frank Morgan (B.S. '11) writes, "I'm currently in my second year working as a geologist for Devon Energy in Okla­homa City. I work in Devon's Rockies Business Unit focusing on the Powder River Basin. Enjoying every bit of it!" He can be contacted at frankmo0053@ gmail.com.
Kimberly Dawn Myers (Ph.D. '15) writes, "After graduating in May 2015 I began an NSF funded Postdoctoral Fellowship, working in both the Depart­ment of Geology and Geophysics at Texas A&M University, and the Lamont- Doherty Earth Observatory at Columbia University. My work focuses on the Barberton Greenstone Belt in South Africa, and I am looking at the distribu­tion of arsenic in 3.2 billion-year-old sedimentary rocks. In late July I trav­eled to South Africa to conduct my first field season."
Evan Pearson (B.S. '10) shares, "I will reach my 5 year mark with Pinnacle Potash International, Ltd. in January of 2016. Being able to work in Austin and have operations based in Utah has made post-UT life very enjoy­able, but I'll never forget my time on the 40 Acres. Hook 'em!"
Aaron Salin (B.S. '14) shares, "I began work in September as a Geolo­gist at Repsol in the Woodlands after completing a year-long company Masters program in Madrid, Spain. A big thank you to the Career Center, as I found this at the job fair during the fall of my senior year. An even bigger one to the faculty and staff of the Jackson School who prepared me so well for this next challenge." He can be reached at a.salin@utexas.edu.
John Singleton (Ph.D. '11) has accepted a faculty position in the Department of Geosciences at Colorado State University in Fort Collins (starting June 2015).
Nathan van Oort (B.S. '13) says, "The Jackson school provided me with the skills, tools, and knowledge that I needed to enter into the professional world. My focus currently is on characterizing Texas' brackish groundwater resources for the major and minor aquifers across the state for potential desalination plants." Nathan also shares the following quote: "Stay here (school)! Stay as long as you can!" -Billy Madison
Angela Wu Li (B.A. '15) shares, "I'm currently working for Apple Maps and enjoying the recent-grad life in Austin!"
Ze Yang (M.S. '13) resides in Houston and can be reached at yang.ze@utexas.edu.
Julie Zurbuchen (B.S. '14) resides in Santa Barbara, CA, and can be reached at jmzurbuchen@gmail.com.
Friends of JSG
Joel E. Saylor, former JSG postdoc (2008-2012) with Brian Horton, is now a tenure-track Assistant Professor in the Department of Earth and Atmo­spheric Sciences at the University of Houston (http://easd.geosc.uh.edu/ saylor). In two years at UH, Joel has built a group of 8 graduate and undergraduate researchers working on basin analysis projects incorporating sedimentology, stable isotopes and detrital thermo­chronology. Field study areas range from the Cordilleran foreland basin and Ancestral Rocky Mountains of western North America, to the Andes of Peru and Colombia, to the high plateau of the Himalayan-Tibetan orogenic system. Joel is particularly excited about the growing capabilities in UH laboratories for U-Pb geochronology, (U-Th)/He ther­mochronology, stable isotope geochem­istry, and paleomagnetic studies.
William "Bill" Woods writes, "This has been a very active year for Francisco and me. We took his mother to El Salvador over Christmas and spent several weeks enjoying her birthday with family. Then we went to Lake Tahoe with our good friends, and enjoyed Spring Break. We enjoyed very much seeing faculty and staff colleagues at Bill Carlson's retire­ment party! Finally, we took 15 days to see Hawaii, Maui, and Oahu, which was a great summer vacation. I continue to work part-time at UT, just to give me something to do. I'd love to hear from my Geo Sci colleagues, so feel free to email me at billw@utexas.edu."