Scientist Profile: Nicolas Tisato
October 23, 2015
By Mark Wangrin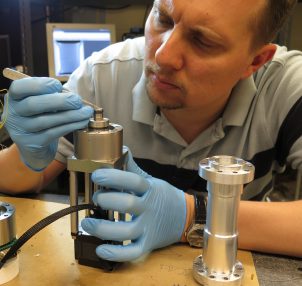 When he was a student, his favorite classroom was cold, dark and damp. A classroom built from rock; different kinds from different eras. It's subterranean and mysterious, the more mysterious the better.
Nicola Tisato loves to explore caves.
"Some of my biggest emotions have been in caves," he said. "When you discover a new cave, and you realize nobody had been there before, you really feel you've discovered something."
French explorer Marcel Siffre says there are three places in this universe that need to be discovered: the outer space, the oceans and the caves.
"Sometimes you have concern because caves are uncomfortable places, but at the same time, you want to continue your journey; you want to explore and discover how the cave formed. There are many secrets hidden there."
Through caving, Tisato wants to unlock rock secrets.
That is what brought him from his native Italy, through Switzerland and Canada, to The University of Texas at Austin. The 36-year-old would like to continue his passion for cave exploring in Central Texas, but it's his new position as assis­tant professor of geophysics that will bring him to the Jackson School of Geosciences in January 2016.
Tisato comes to The University of Texas at Austin from the University of Toronto, where he combined experimental rock deformation with computed microtomography to observe what happens inside a rock that is undergoing deformation. Previ­ously, he earned a doctorate at ETH Zürich, after which he was a lecturer and post-doctoral researcher. He also worked in the private sector, including posts as a technician, IT professional, insurance agent and policeman. "There's already a very strong team there. They already do much research. What I hope to add is measuring the physical properties of rocks, which is vital to exploring the subsurface. We don't know much about the subsurface. We know up to a few kilometers, but we need to know more."
His particular focus will be on rheology, the study of how rocks deform while stressed.
"If I take rubber, and I apply force I expect the rubber to flow with time," he said. "(Rocks) have the same type of behavior, which is non-elastic (i.e. viscoelastic). The expectation of energy comes from sources that are located inside."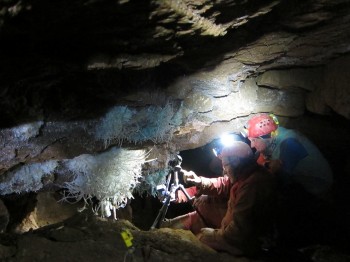 Tisato plans to work with associate professor Jung-Fu Lin and associate dean and interim chair of the department of geological sciences Richard Ketcham in mineral physics and geochemistry, and with Farzam Javadpour of the Bureau of Economic Geology on problems within shale gas.
"We are excited about his arrival in January because he will, together with professor Kyle Spikes, set up a rock deformation labora­tory and an experimental rock physics group within our geophysics discipline," said Ronald Steel, professor in the Department of Geolog­ical Sciences. "This, together with his excel­lent research record and background, is what made him attractive to the Jackson School."
Tisato will study, for instance, the impact of fluid pressure on rock stiffness, or the impact of microbubbles in the absorption of seismic waves.
"There is a quest for understanding the real rheology of geomaterials when they are stressed by seismic waves," Tisato said. "For instance, while traveling through Earth, seismic waves with specific frequencies fade more quickly than others. This can tell us something about the Earth's interior."
At the Jackson School, Tisato will complement existing research into earthquakes, including their relation to hydraulic fracturing. He plans to work with professor G. Di Toro at the University of Manchester and INGV–Rome, which he says owns the state-of-the art machine for measuring friction, and that will be equipped with new instrumentation that will allow him to measure properties of rocks in faults.
"Another interesting phenomenon that I would like to study at UT is dynamic fluid pressure," he said. "Seismic waves trav­eling through the subsurface are really able to mobilize the fluid within the porous structure of the rock. Measuring the little variations of pressures occurring in very short periods (micro­seconds) will allow us to understand better the viscoelasticity of saturated rocks."
This approach can improve imaging of the subsurface because the increased knowledge of the rock's rheology will allow scien­tists to better and more consistently interpret the actions of the seismic waves used to create a picture of the subsurface.
"We could, for instance, interpret better the position of fluids in the crust, or the natural and induced seismicity, to optimize stimulation," Tisato said. "Stimulation (hydraulic fracturing) is a very hot topic now. Companies should invest more in research done in a rigorous way. We all need energy. We can't live without it."
Tisato enjoys serving as his own lab tech, a byproduct of his adventurous days in the garage of his family's home in Schio, a small wool-producing town near the foot of the Alps. There he dabbled in electricity, electronics, motor­cycle rebuilding, radio restoration and other manifestations of his innate curiosity, some of which created no small danger to his often unsuspecting parents.
"I think my mother was very scared," he said. "I was experimenting. I think if you ask her today, she would say, 'Nicola was doing experiments and I never knew what he was doing.'"
Perhaps it was just as well. "Sometimes you use hydrogen," he explained, "and you don't want it to explode."
Aside from the research potential at the university, living in Austin — which he calls "vibrant" and "open-minded" — lured Tisato.
He'll be able to tour the area with his mountain bike, dabble in 3-D photography and explore the high-tech opportunities the region proves. Another of his passions, sadly, will be on indefinite hiatus.
"I think in Austin I will not do cross country skiing," he said with a chuckle.
There's another plus to the job at the Jackson School. Unlike his post-graduate term in Toronto, there's long-term stability in Austin, enough to bring his wife, Maria Luisa, and daughter, Beatrice, from Switzerland to the U.S.
Beatrice, who was born in April 2014, is a budding scientist in her own right.
"She's very keen on going around the house with a magnet, looking for metals," he said. "Now that she's learned to walk, she's got everything to discover."