Invertebrate Fossils Go Digital, Get Adopted
October 23, 2015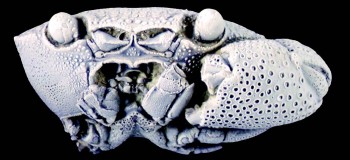 Climate, Carbon & Geobiology
Over the past hundreds of millions of years Texas has been home to a menagerie of now extinct creatures, from trilobites to sea lilies. The Jackson School of Geosciences Non-Vertebrate Paleontology Lab (NPL) is improving the on-site and digital preservation of its over four million specimens from Texas and elsewhere thanks to a successful "Adopt-a-Fossil" fundraising campaign and a grant from the National Science Foundation (NSF).
The fundraising money will be used to buy a 3-D laser scanner and to support the scanning of 25 specimens that repre­sent the major branches of invertebrate life, such as corals, sponges, mollusks, arthropods and echinoderms. Supporters will receive gifts related to their adopted specimen, such as a certificate of adop­tion, a glossy print of their fossil and a 3-D printed model of it, depending on their level of contribution.
The NSF grant will fund more 2-D and 3-D specimen scans, as well as the devel­opment of a digital interface so people can access images of the scanned speci­mens and other related data online. The NPL is collaborating with researchers from the university's Texas Advanced Computing Center to design the inter­face. The grant also covers upgrades to NPL facilities, such as improved archival cabinets for specimens.
"It's a combination of improved phys­ical and virtual accessibility," said Ann Molineux, curator and collection manager of the NPL, about the NSF grant.
The fundraiser exceeded its goal of $15,000, raising a total of $17,119. The NSF grant will provide the lab with $495,880 over three years.