UT Jackson School Hosts Argentinian Delegation to Discuss Energy, Environment and Sustainability
June 4, 2015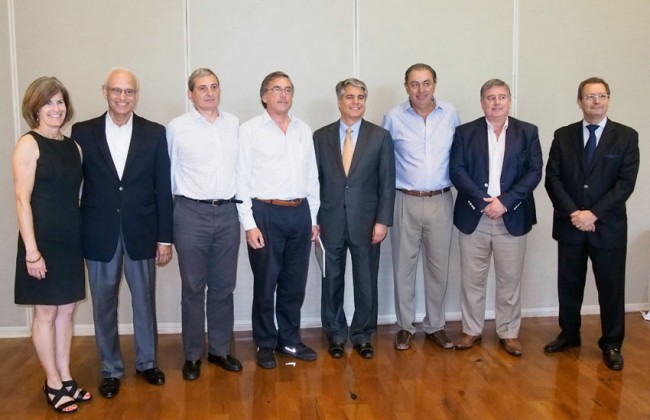 A delegation of high-ranking public officials and oil and gas executives from Argentina visited The University of Texas at Austin on June 3 to share experiences and knowledge on how to safely and sustainably develop the country's energy resources.
The South American country holds the world's second-largest technically recoverable shale gas reserves and the world's fourth-largest technically recoverable oil shale reserves. But the experience of developing the reserves and all the issues involved is new to the country, said Rodolfo Urtubey, National Senator for Salta State and member of the Energy Senate Committee.
"This is very different to us, and we have to know the difficulties of this kind of process," Urtubey said. "In the USA and Texas this began 10 years ago. We're here at The University of Texas at Austin because you have concentrated in this academic institution the different views – the legal views, the technical views, the financial views. We have to know the experiences."
The UT Jackson School of Geosciences and the Kay Bailey Hutchison Center for Energy, Law and Business hosted the visit.  It brought together expertise from throughout the university on energy development, policy, water resources and other environmental and sustainability issues. Experts attended from the UT Jackson School, the School of Law, the Energy Institute and the McCombs School of Business.
Representatives from the Railroad Commission of Texas, the Texas Commission on Environmental Quality and the private sector also attended to discuss regulatory and policy issues.
UT President Gregory L. Fenves visited the delegation on his first day in office and emphasized the long and important history between The University of Texas at Austin and Latin America and the university's strength as a premier academic institution in energy research.
The group also discussed the possibility of forging agreements between The University of Texas and academic and research institutions in Argentina to facilitate student exchanges and collaborative research in the fields of energy, environment and sustainability.
"We really appreciate the Argentinian delegation taking the time to visit and their interest in the knowledge and expertise of The University of Texas at Austin when it comes to these important issues," said Michael Young, associate director of the Bureau of Economic Geology, a Jackson School research unit. "These type of meetings are vital to exchange the knowledge and data necessary to safely and successfully develop unconventional energy resources. We look forward to more meetings in the future."