New Forecast Should Improve Texas Summer Drought Prediction
May 21, 2015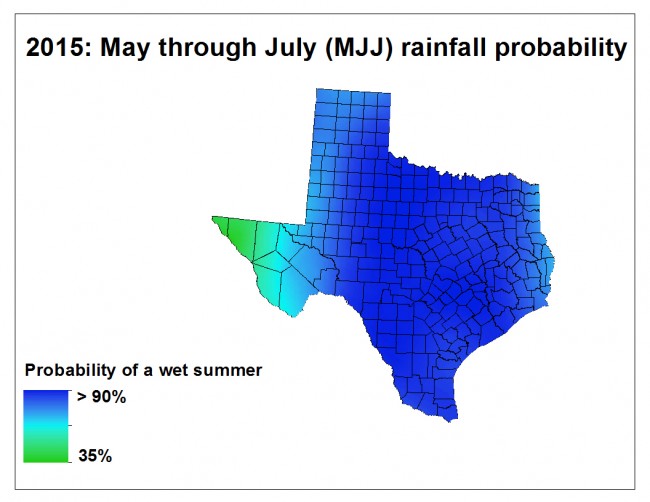 There's likely to be more rain than normal throughout most of Texas this summer, according to a new forecasting method thought to be more accurate than traditional climate models for predicting summer rainfall across the state.
The forecast, created by The University of Texas at Austin Jackson School of Geosciences and the Texas Water Development Board, should be welcome news to parts of the state suffering from a multiyear drought.
The new method is a statistical forecast model that looks at more localized data than the larger-scale dynamic climate models traditionally used to predict summer weather in Texas. The new model uses atmospheric pressure, land surface conditions and other factors in the spring to predict summer rainfall.
"That's because in summer the rainfall is determined by more local, smaller-scale processes," said Professor Rong Fu of the university's Jackson School of Geosciences, who was principal investigator on the research. "We can show that there is an empirical relationship between spring drought conditions and summer drought that gives a better prediction than the dynamic model."
Larger-scale climate models are more reliable for forecasting rainfall in Texas during winter and early spring, but they have failed to predict some severe summer droughts. Late spring through early summer is when droughts in Texas and the Southern Great Plains can intensify. This occurred in Texas in 2011, when reservoirs across the state dropped to alarming levels, with some nearly running dry. Many reservoirs in the western and central portion of the state have not yet recovered.
"Much of west, central, and south Texas has not seen improvement," said Robert Mace, deputy executive administrator at the Texas Water Development Board. "In those areas, reservoirs have either flat-lined or continued to decline. I tell people, don't judge the drought by the color of your lawns. Judge it by how empty your reservoirs are."
The new model was developed using historical data since 1982. It is about 70 percent effective in predicting summer precipitation, according to the researchers. That is an improvement over the larger-scale climate models, which are closer to 50 percent accurate for predicting summer rainfall in Texas. The latest forecast uses soil moisture input provided by the newly launched NASA Soil Moisture Active Passive satellite.
"Water is a tremendously important resource, and improving forecasting will only help in managing that resource," said Jackson School Dean Sharon Mosher. "This is the type of science that will benefit people throughout the state and beyond."
The goal of the model is to predict potential droughts earlier to give water providers and decision makers more time to prepare. The Water Development Board is making the new forecast available to water utilities, water managers and decision makers. Fu said the team will work to make the predictions more accurate and available earlier in the year if funding can be secured.
The research that supported this research was funded by the National Aeronautics and Space Administration Indicators for the National Climate Assessment Program; the National Oceanic and Atmospheric Administration Climate Program Office's Modeling, Analysis, Predictions and Projections Program; the University Corporation for Atmospheric Research; the U.S. Army Corps of Engineers Texas Water Allocation Assistance Program; and the UT Austin Jackson School of Geosciences.
See the forecast. See technical information.
For more information, contact: Anton Caputo, Jackson School of Geosciences, 512-232-9623; Merry Klonower, Texas Water Development Board, 512-463-8165.