Hall of Distinction Gets Two New Members
October 21, 2014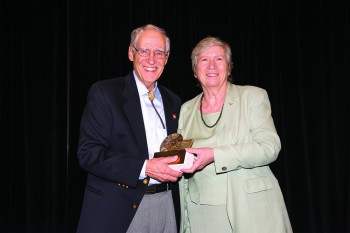 The Jackson School of Geosciences added two legends to its Hall of Distinction in 2014. Earle McBride, pictured above with Dean Sharon Mosher, and the late G. Moses Knebel join 32 other inductees who helped shape the Jackson School and whose contributions to the field of geosciences will influence generations of geoscientists.
McBride, a professor emeritus at the Jackson School, joined the University of Texas at Austin in 1959. He taught sedimentary geology and supervised 52 master's and 17 Ph.D. students until his retirement in 2005. He also served as chairman of the Department of Geological Sciences from 1980 to 1985.
In his 53 years as a geoscientist, McBride published more than 200 articles, abstracts, field guidebook articles and book chapters. The R.L. Folk/E.F. McBride Petrography Fund, awarded each year to a UT-Austin geology student who correctly identifies a variety of rock hand specimens and thin sections, is named in his honor.
Knebel, who received a B.A. in geology from UT-Austin in 1922, devoted much of his life to petroleum geology. He spent his career at Standard Oil Company of New Jersey (now part of ExxonMobil Corporation), where he became a leader in exploration for oil and gas.
He explored salt domes and oil and gas reserves in East Texas and discovered some of the most prolific oil fields in Venezuela. As manager of the company's worldwide exploration division, Knebel directed the acreage acquisition and exploration programs in North Africa and the Middle East and pioneered the discovery of oil fields in Canada, France and Libya. He retired from Standard Oil in 1959.
In 1956, UT-Austin established the Carolyn G. and G. Moses Knebel Teaching Fund for what is now the Jackson School. Knebel died in 1974.