Hi-tech Tools Can Better Predict Droughts, Flood
September 16, 2014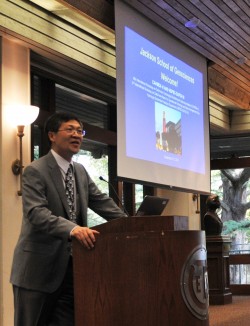 In 2012, professor Zong-Liang Yang was in the Netherlands speaking at a workshop on extreme weather. It was the year after the worst recorded single-year drought in Texas history. Yang made colleagues an offer: hold the next biannual conference in Texas and the University of Texas at Austin would host it.
Last week, Yang and more than 80 of the some of the world's top water and climate experts from Japan, China, the Netherlands, Germany, India and elsewhere gathered at UT-Austin to talk about advances in extreme weather forecasting and how to use that information to prepare for future droughts, floods and other extreme weather events.
"This is the right topic, and Texas is the right place to discuss it," said Yang, a professor in the Department of Geological Sciences at the Jackson School of Geosciences and director of the Center for Integrated Earth System Science.
Among the presenters were Jackson School alumni Matthew Rodell, with NASA's Goddard Space Flight Center, Tim Hoar, of the National Center for Atmospheric Research, and Robert Mace, with the Texas Water Development Board. Other presenters included Soroosh Sorooshian from the University of California–Irvine, Gianpaolo Balsamo, of the European Centre for Medium-Range Weather Forecasts in England, and Zhicong Yin from the Beijing Meteorological Bureau in China.
Among the highlights, new technology has allowed scientists to develop better climate models and measurements. Now, at conferences like this one, Yang said the goal is to figure out how to combine these tools to better predict droughts and floods.
It's also a chance to more quickly move scientific advances into the real world.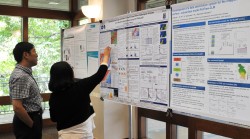 "When the research community develops something, it usually takes years, sometimes decades, to see its utilization in the operational world," said Yang. "Scientists work in an ivory tower, and we want to see our results benefit the decision-making process."
Particularly decisions being made by water resources managers, Yang added. For example, knowing how much moisture is in the soil for crops would help inform water supply planning.
Scientists from the Bureau of Economic Geology at the Jackson School previewed a soil moisture monitoring network in Texas that will start collecting data in November. Being able to accurately measure soil moisture could potentially help forecast drought and floods and inform Texans about its current water use and future needs.
"No more ballpark [forecasting]," said Yang. "It's time for modern technology to be utilized in the operational community."
A workshop special issue will be published by the journal Hydrology and Earth System Sciences.

The 6th International Workshop on Catchment Hydrological Modeling and Data Assimilation was held jointly with the 3rd International Workshop on Data Assimilation for Operational Hydrology and Water Management of the Hydrologic Ensemble Prediction Experiment in Austin on Sept. 8-12, 2014.