Water Forum Highlighted Challenges and Opportunities of Ongoing Drought
January 6, 2014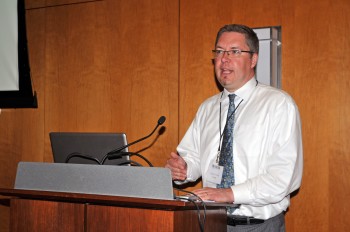 As the bitter 2011 Texas drought stretched on into its third year, the Jackson School of Geoscience's Center for Integrated Earth System Science (CIESS) hosted its third annual Water Forum.
The forum, held Oct. 14 -15, 2013, focused on the latest research on droughts and other extreme weather events and provided a forum for discussion of trends, problems and future directions. Speakers and participants came from a range of academic and government institutions including the Texas Water Development Board (TWDB), Texas Commission on Environmental Quality (TCEQ), Austin Water Utility, the University of Illinois Urbana–Champaign, California Institute of Technology, NASA's Jet Propulsion Laboratory, the University of California at Irvine, the Oklahoma Climate Survey, Texas State University, and UT Austin.
In a lunchtime keynote, Robert Mace (Ph.D. '98), deputy executive administrator for the TWDB's Water Science and Conservation Division, focused on the opportunities that come with the drought to test new technologies and conduct research. He noted that in West Texas where water supplies are extremely low, one community is already treating waste water and returning it directly to the drinking water supply without passing it through an environmental buffer, a process known as direct potable reuse.
"In spring 2011, I would have told you that employing this technology in Texas was decades in the future," said Mace. "And we're starting to do it now because of the drought."
He said other technologies that need to be tested include desalination and aquifer storage and recovery, storing water underground in times of excess and extracting it during times of need. Mace also said there's a lot we don't know about how people interact with water conservation technologies at home. He and some colleagues have proposed that the state form what they've dubbed the Urban Water Efficiency Research Laboratory to study this question.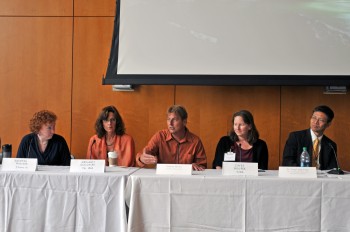 No single event summed up the current bitter Texas drought better than the Labor Day wildfires in Bastrop, which destroyed virtually all of Bastrop State Park's forest of "lost pines" and hundreds of homes. Despite the awful destruction, Bayani Cardenas, associate professor in the Jackson School, observed some positive hydrological effects. He found that compared to unburned forest, the burned areas store and transport more water (at least in the short term), enhance groundwater recharge, and have higher soil moisture, which should boost vegetation recovery.
During his presentation, Jay Banner, professor in the Jackson School and director of the university's Environmental Science Institute, proposed the formation of a "Texas Panel on Water" to periodically review the state of knowledge on Texas water and make projections of future water availability. The panel could produce assessment reports for policy makers, resource managers, businesses and citizens and help identify key areas for new research. It could also help the TWDB prioritize water infrastructure and conservation projects to be financed by the recently created State Water Implementation Fund of Texas (SWIFT), which is endowed with $2 billion from the state's Rainy Day Fund.
The Water Forum was organized by Zong-Liang Yang, professor in the Jackson School and co-director of CIESS, and Jessica Smith, graduate coordinator in the Jackson School. CIESS is housed in the Jackson School of Geosciences.