Special Volume Honors Late Paleontologist Wann Langston Jr.
September 30, 2013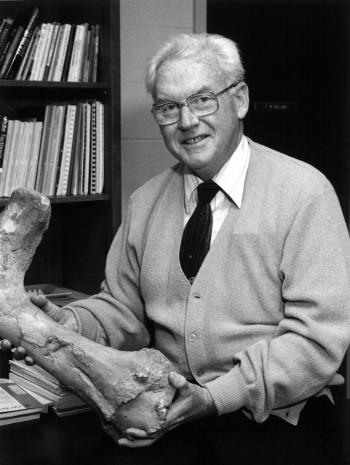 Colleagues and former students of Wann Langston Jr., an internationally renowned vertebrate paleontologist at the University of Texas at Austin who died in April 2013, have produced a special volume honoring his many decades of work collecting, preparing and describing ancient reptiles. The collection of articles appeared online in September and October and will be published this fall in a print edition of the journal Earth and Environmental Science Transactions of the Royal Society of Edinburgh. The collection includes both results of current research and a biography of the man.
Ernest Lundelius, professor emeritus in paleontology at UT Austin, conceived of the volume as a way to honor his friend and colleague. Bill Parker, vertebrate paleontologist at Petrified Forest National Park, recruited authors, located a publisher and served as one of several guest editors. Authors include Langston's ex-graduate students, colleagues with whom he had published and current and past UT Austin graduate students with other advisors.
"Unfortunately, Wann passed away before the volume was published but last December progress was far enough along that we were able to put together a booklet with all of the paper titles and abstracts," says Parker. "He was presented with this and reportedly overjoyed. He also took the opportunity to make editing suggestions and sent the edited version back to us. This is the spirit of the man we are trying to honor, whose career spanned decades and influenced several generations of vertebrate paleontologists."
Papers in the volume focus exclusively on vertebrate paleontology, especially that of the Mesozoic Era, where Langston's work was concentrated. Several have to do with historic specimens which Langston himself described or worked on during his career. Others include empirical and conceptual papers about a broad range of fossil vertebrates, spanning the Permian through the Quaternary. Some of the papers were presented in a special symposium honoring Langston at the South-Central Section meeting of the Geological Society of America held in Austin, Texas in April 2013.
Other guest editors for the special volume included Chris Brochu (University of Iowa and former graduate student at UT Austin), Randall Irmis (University of Utah), Christopher Bell (UT Austin), Christopher Jass (Royal Alberta Museum and former graduate student at UT Austin) and Michelle Stocker (Virginia Tech and former UT Austin graduate student).
The special volume is titled "The Full Profession: A Celebration of the Life and Career of Wann Langston, Jr., Quintessential Vertebrate Paleontologist."
To access the special volume go to: http://journals.cambridge.org/action/displayIssue?jid=TRE&volumeId=103&seriesId=0&issueId=3-4