UT-Austin Fuels the Energy Capital of the World
April 26, 2013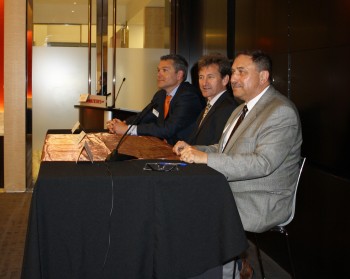 Leading energy faculty at The University of Texas at Austin shared an update on the innovative research and programs taking place on the Forty Acres during the first-ever UT Energy Summit in Houston.
The event, held at Latham & Watkins LLP on April 18, showcased how faculty and staff from UT's engineering, business and geology schools are working together on various energy-related projects. This interdisciplinary approach helps ensure a 360-degree understanding of the nation's energy resources, as well as how energy impacts society. The event's moderator, Marshall Adkins, director of energy research at Raymond James and Associates, hosted the three-person panel including:
Tad Patzek – Chair of Petroleum and Geosystems Engineering (PGE) Department in the Cockrell School
Scott Tinker – Director of the Bureau of Economic Geology and the Advanced Energy Consortium in the Jackson School
John Butler – Associate Director of UT Energy Management and Innovation Center in the McCombs School
Patzek and Tinker are currently collaborating on three research projects, including an Alfred P. Sloan Foundation energy project. The extensive study, recently released, indicates natural gas production in the United States will accelerate over the next three decades, increasing the country's energy independence, a high priority item in Washington D.C.
During the event, Patzek also shared the details of UT PGE's one-of-a-kind drilling and completions lab, set to open in late spring, made possible through the support of Baker Hughes. The lab's state-of-the-art technology will allow students the opportunity to access, analyze and make decisions on real-time field data. The new technology, particularly the drilling simulator, will create a world-class program benefiting current and future students.
"We are growing not only as the preeminent petroleum engineering department, but also the premier energy university, with UT's diverse research portfolio," Patzek said.
The deans from all three schools, Gregory L. Fenves (Cockrell School), Sharon Mosher (Jackson School), and Thomas W. Gilligan (McCombs School), as well as Thomas Edgar, the interim director of the Energy Institute, attended the event and contributed to the moderator/panel discussion.
The UT Energy Summit is expected to become an annual event, building the partnership between two great Texas cities – Austin and Houston.