Holland Family Fast-tracks Completion of Jackson School Student Center
November 10, 2011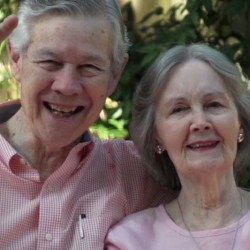 A $3 million gift from David Scott "Scotty" Holland and Jacque Nell Holland of Houston will allow The University of Texas at Austin's Jackson School of Geosciences to complete a new student center.
Video: Tribute to David Holland Sr.
An integral part of the school's strategic plan, the Holland Family Student Center will create a central hub for the geosciences on the university's main campus and a space for students to study, collaborate and meet with advisers.
"This gift enhances one of our key goals, creating the community and feel of a small college within the larger university campus," said Sharon Mosher, dean of the Jackson School. "We are deeply grateful for the visionary generosity of the Hollands, who are long-time supporters of higher education in general and of the Jackson School in particular."
Scotty Holland, former CEO of Pennzoil Exploration and Production Company, was a group vice president of the Pennzoil Company until his retirement in 1990.
A graduate of The University of Texas at Austin, he has served the university as a member of the Geology Foundation's Advisory Council since 1986, chairing the council from 1991 to 1993. He and his wife's previous support of the university included funding the Jacque Nell and David Scott Holland, Sr. Student Excellence Fund in the Geosciences.
"I couldn't have asked for a better place to study geology than UT Austin," said Holland. "My wife and I have been so fortunate. We wanted to give back. We would like to see our contributions help future generations of students grow, understand and have better lives."
The Hollands are also active supporters of Hardin-Simmons University in Abilene, home to the Holland School of Sciences and Mathematics.
Their $3 million gift caps a $7.8 million drive to pay for the Jackson School's student center. The new center, housed in renovated space in the Jackson Geological Sciences building, will be completed in August 2012. The 11,000-square-foot facility will include a public commons area with coffee bar, a student study area, student services for advising, tutoring and career placement, and meeting spaces for students, faculty and research scientists. One of the highlights will be the Magic Planet globe, a 6-foot-in-diameter digital display for technical instruction and public outreach presentations about the Earth.
Scotty Holland earned a bachelor of science degree in geology from The University of Texas at Austin in 1957. He serves as president of Holland Holding Inc., Holland Energy Inc. and Post Oak Petroleum Inc. He is chairman of Trend Exploration I LLC, a director of Gaither Petroleum Corporation, and has served on the boards of the Houston Museum of Natural Science and the Geology Foundation of the American Association of Petroleum Geologists.