McAndrews Takes 2nd Place at the SPE HSSE Conference Student Paper Competition
March 25, 2011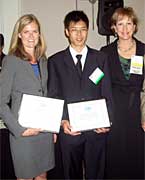 Energy and Earth Resources (EER) graduate student Kristine McAndrews placed second in the student paper competition at the SPE Americas E&P Health, Safety, Security, & Environmental Conference in Houston, Texas on March 21, 2011.
She presented her paper "Consequences of Macondo: A Summary of Recently Proposed and Enacted Changes to U.S. Offshore Drilling Safety and Environmental Regulation." The competition consists of a full paper and a presentation to an expert panel. She was awarded a certificate and $500.
Also See:
For more information about the Energy and Earth Resources Graduate Program, contact Program Director Charles Groat or Graduate Coordinator Jessica Smith at 512-471-9875
For more information on the Jackson School, contact J.B. Bird at jbird@jsg.utexas.edu, 512-232-9623.