FANs Alumni Board Wants You
November 1, 2008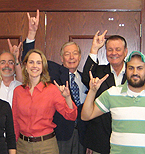 Earlier this year, the Jackson School of Geosciences Friends and Alumni Network (JSG FANs) formed its first board, consisting of 15 members, including president Dan Smith and the directors of the newly formed Austin, Dallas, Houston, Midland and San Antonio chapters.
FANs organizes tailgate parties, alumni receptions, class reunions, continuing education lectures, and field trips. Participating in FANs can be extremely rewarding, not only for these opportunities, but because it gives you a chance to make your mark on the next generation of Jackson School students. Your years of experience, contacts, and resources can have an enormous impact by stimulating students' excitement for geology and opening the doors of career success. Many of you have already had an impact through FANs events in the past year, such as mock job interviews and Real World Geology 101, a forum on careers in the geosciences.
Help shape the direction of FANs by plugging in to current activities and suggesting new ones.
Influencing the Next Generation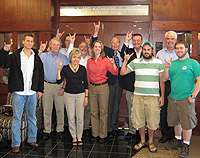 Two activities in the past year—a career forum and mock job interviews—were big successes. We plan to do them again in the coming year. Why not join us?
Last spring, six alumni participated in "Real World Geology 101," a forum for students to get career advice from seasoned veterans. The students benefited from hearing about opportunities with companies specializing in geophysics, petroleum geology, and the environment. The forum inspired the creation of the SMART Start summer jobs program.
In September 2008, several alumni returned to campus to conduct mock interviews with student job seekers. In one hour sessions, the alumni grilled the students using "behavioral interviewing" techniques, a common interview style which asks about how the interviewee has handled a certain kind of situation in the past or how they might approach a novel situation on the job. Because some students had never interviewed for a career job, it allowed them to make mistakes while the stakes were low and build confidence before the real interviews started. And none too soon—recruiters began swarming the geology building the following week.
Continuing Education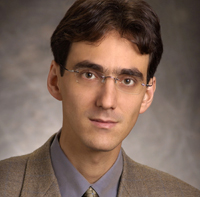 The alumni board is also developing ways to enrich the careers and lives of alumni through continuing education opportunities, including a new lecture series and geological field trips such as the 2009 Wind and Wine Tour (see below).
The lecture series kicked off in September at the Petroleum Club in San Antonio with Eugene Gholz, associate professor in the LBJ School of Public Affairs and senior fellow in the Strauss Center for International Security and Law. Gholz has written opinion pieces for the New York Times on the U.S. military presence in the Persian Gulf region and on the U.S. Strategic Petroleum Reserve. His lecture tour, titled "The Iranian Oil Card: Can They Play It?," continues this fall with stops in Fort Worth, Dallas and Midland.
The lecture series, which is slated to continue each semester with a new speaker, is designed to satisfy the requirements for continuing education credits towards the Texas Board of Professional Geoscientists License.
Wind and Wine in 2009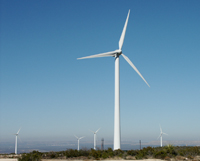 Want to stump your wine sipping friends? Ask them to name the largest wine producer in Texas.
Aficionados might venture to say Sainte Genevieve Winery. They would be almost right.
Technically, the largest wine producer in the state is the University of Texas System, which leases a thousand acres of land near Fort Stockton to Mesa Vineyards, makers of Sainte Genevieve and Peregrine Hill label wines, which explains why you won't see any bottles of Longhorn Cabernet on your grocery store shelves. The land is part of the Permanent University Fund (PUF) lands, over two million acres mostly in West Texas managed by the university to provide income to it and Texas A&M University.
The PUF lands are also home to wind farms operated by FPL Energy. In 2001, two wind farms, with about 100 wind turbines and a total generating capacity of about 65 megawatts, were built on PUF lands in Pecos County. As demand for "green energy" increases, the number of turbines and capacity continue to grow apace.
The proximity of the two geoscience-related attractions (after all, geology plays an important role in making good grape-growing soil) inspired the 2009 Wind and Wine Tour, a springtime field trip organized by FANs. Look for details soon.
by Marc Airhart
To find out about upcoming alumni activities, or to suggest your own, contact Julie Paul, Assistant Director of Development for Constituent Relations (512-471-2223, jpaul@jsg.utexas.edu).