Salt Tectonics: Tim Dooley's research focuses on gravity-driven salt tectonics using scaled analog modeling for reproducing real world systems
December 22, 2007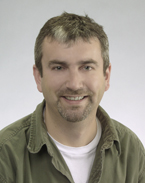 Tim Dooley came to the Bureau of Economic Geology's Applied Geodynamics Laboratory (AGL) as a postdoctoral fellow in 2003 and then became a research scientist in late 2005. He received his doctorate at Royal Holloway, University of London, in 1994.
His research focuses on gravity-driven salt tectonics, including both the ductile behavior of mobile salt layers and associated brittle structures in cover sediments. This also includes topics such as salt-sheet advance and the influence of strike-slip motion on salt-body reactivation.
In addition to field studies, remote sensing, and seismic data, Dooley uses scaled analog modeling, a laboratory technique for reproducing (on a small scale) real world systems.
In practice, these are essentially large boxes containing materials such as salt, sand, clay, and water. Researchers at the AGL had long done this type of modeling, but Dooley introduced new modeling methodologies and technologies which have improved the visualization techniques. He uses high resolution digital cameras and a surface laser scanner to make animations and 3D visualizations of the model runs.
"Physical modeling is a highly graphic way to demonstrate geologic processes," he said. "With our current dependence on the hydrocarbon industry, any research tool that enhances our understanding of the geological evolution of a particular hydrocarbon field is of great importance."
Dooley has also improved the laboratories by adding three new deformation rigs and a new sectioning device to slice models at intervals of 5 millimeters (0.2 inches) or less. These allow him to monitor not only surface deformation but also the 3D structure of the brittle overburden and flow regimes within the viscous salt bodies. "In the long run," he said, "my primary goals are to generate comprehensive suites of models that are of use to industry and academia and maintain the reputation of the labs as being a center of excellence for modeling salt tectonics."
Dooley came to the AGL in 2003 to head up the modeling laboratories and work on salt-related modeling with Martin Jackson and Mike Hudec. He said there were multiple reasons for coming, but "the reputation of the AGL as a highly respected salt tectonics study group in the academic community and oil industry was key."
For more information about the Jackson School contact J.B. Bird at jbird@jsg.utexas.edu, 512-232-9623.