Teaching the Teachers
December 4, 2018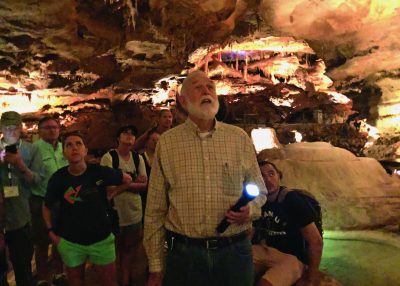 Jackson School of Geosciences scientists helped prepare 50 high school teachers from throughout Texas to teach geosciences to their students during a field trip to Inner Space Cavern in July 2018.
The trip was part of The University Texas at Austin OnRamps Program, which focuses on preparing high school students for success in college. In this case, a trio of Jackson School scientists gave the teachers an up-close glimpse of geosciences. Among the subjects they covered were karst geology and karst aquifers.
"You're going to get a real window into how the aquifer works," Professor Jay Banner told the group. "We're going to be able to see the path the water takes as it flows into the aquifer."
The high school educators learned about cave formations and how they contain detailed records of past climate change, and what the bones found in caves reveal about the environment of past ages.
Some of the teachers, like Sarah McKeon from Crosby High School, had no background in geosciences. McKeon admitted she found the task of teaching the subject a bit daunting but said she felt much better about it after spending the morning with Jackson School scientists.
"This is very helpful," she said. "They explain things in a way that I can understand even though I don't have a geology background."
Others, like science teacher Rohn Butterfield of Amarillo's Caprock High School, had significant experience teaching the subject and a good background in the geosciences. He graduated from the University of Texas El Paso with a degree in geology, but even he said the trip taught him a lot.
"I haven't done a lot of cave stuff, so this has been really enlightening," he said. "I know how karst geology works, but the intricacies of this, to have it explained by people of this caliber, is really good."
In addition to Banner, the teachers got to learn from two Jackson School scientists with more than 100 years combined experience studying the famous cave: Professor Emeritus Ernie Lundelius and geologist Jim Sansom, who graduated from the University of Texas in 1963.
Lundelius has been searching for and studying bones in the cave almost since it was first discovered in 1963. But Sansom's experience with the cavern actually predates Lundelius' — and just about anyone else's for that matter. He was part of the highway crew that discovered the cave when they were building Interstate 35. When the drill pipe and bit had fallen through thin air and then became stuck, Sansom volunteered to climb down the drill hole to try and figure out the problem.
After a 25-foot descent, he found himself in the middle of one of Inner Space's awe-inspiring caverns, which would later became one of the region's best known natural attractions.
"I told them they should be careful, they might hit a cave," he remembers warning the drilling crew. "I never thought it would be anything like this though."