Patricia Ganey-Curry: Preserving a Legacy
December 4, 2018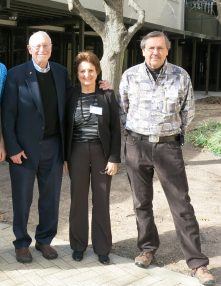 By Sarah Bloodworth
The basin of the Gulf of Mexico is one of the most sought after research zones in the world; not only for its petroleum potential but for its intriguing, geologic diversity. The Gulf Basin Depositional Synthesis Project (GBDS),  operated by the University of Texas Institute for Geophysics (UTIG), is a leader in synthesizing the rich, depositional history of the basin.
UTIG project manager Patricia Ganey-Curry has been thesteward of data from this important program for decades, working with a team of researchers and geology students to ensure that the history contained in the basin and collected by the institute is never forgotten.
Ganey-Curry, who retired from UTIG after over four decades with the institute, is no stranger to captaining a ship, literally. She had a captain's license while studying at Texas A&M. And before joining UTIG in 1978, she worked as a seaman for Palisades Geophysical, acquiring seismic data in the Gulf of Mexico while working aboard the University of Texas Marine Science Institute Research Vessel Ida Green.
It was on this seismic cruise where UTIG researcher Richard (Dick) Buffler, one of the co-founders of the GBDS project, met Ganey-Curry. This fateful meeting is what led to\ her long, successful career at UTIG.
"We observed right away how talented she was as a crew member, and we immediately hired her on at the institute," Buffler said. "It has been a wonderful experience to know and work with Patty for over 41 years. Her work with UTIG has been exemplary and has contributed significantly to the institute being recognized as a premier research facility."
When Ganey-Curry first began working at UTIG, all data was collected on 9-track tape. After the research group moved to Austin, one of her tasks involved working with a team to transport a library of 14,000-15,000 tapes from Galveston to Austin, and then eventually transfer that data from a massive collection of large tapes into a more archival medium. Ganey- Curry was well-prepared for the job, having been involved in a number of acquisition and data processing projects related to these data. Recently, in preparation for retirement, Ganey- Curry has been working to ensure all records have been digitally scanned and made accessible.
"Going through those reports was sort of like going through memory lane," she said. "A lot of universities don't have data from even 10 years ago but I made sure we did."
As data manager, Ganey-Curry would spend 40 years not only helping secure new data, but ensuring that old data could be easily accessed. Now the data from the original mountain of tapes resides on a single terabyte drive.
The GBDS project, which began in 1995 and accessed much of these data, has brought millions in revenue from industry partners. Ganey-Curry attributes much of that success to her colleague Bill Galloway, who founded GBDS with Buffler.
"Bill Galloway was really inspiring for me and my career," she said. "I call him the 'God of the Gulf' because one of the main reasons our project got funded was because of his great knowledge of the Gulf of Mexico."
Ganey-Curry also said the students she worked with helped make her career not only successful, but special. "I keep in touch with a lot of the students," she said. "I made sure we maintained a good database as the alumni are the key to our success.
In 2010, Ganey-Curry initiated a seismic data reprocessing program and negotiated royalty revenue. This has become one of the highest single earning royalties for the university. Ganey-Curry attributes much of that success to her maintaining the viability of the vintage data.
Looking back at her amazing career, Ganey-Curry said she is particularly thankful at the work-life flexibility that UTIG allowed her. The daughter she raised during her career is now a doctor, and Ganey-Curry has recently welcomed her second grandchild into the world, so she's not worried about being bored in retirement.
"Spending time with my family is very important to me," she
said. "I'm going to enjoy being a grandmother."