Newsmakers
November 20, 2017
Experts from the Jackson School were featured in news outlets, documentaries and even a science show for kids.
In addition, research findings — from what killed Lucy, to ice reservoirs on Mars, to exceptional fossil finds — made news across the world.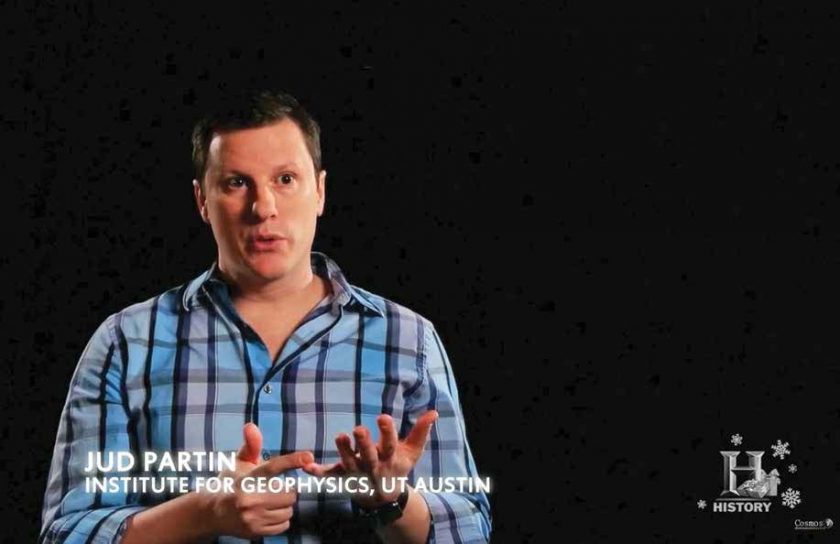 UTIG's Jud Partin was featured in a science program about global catastrophes.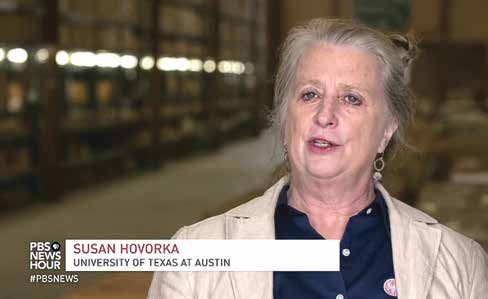 The BEG's Susan Hovorka discusses how to store carbon underground on PBS Newshour.
Saturday Night Live got in the act when the Jackson School helped figure out how Lucy died.
In the News
---
"Having returned samples from a known context/location on Mars would open up a huge suite of analysis techniques that the rocks could be subjected to." Analyzing the rocks in an Earthbased laboratory "will allow us to understand the geologic history of the samples in a way that we couldn't accomplish in situ on Mars."
Timothy Goudge
Postdoctoral Fellow,
Department of Geological Sciences
Christian Science Monitor, Feb. 14, 2017
---
"This is a vote of confidence that the energy reform is moving forward and for the geological potential of the Mexican Gulf deep waters. Everybody paid a premium and that premium indicates the potential of the blocks."
Jorge Piñon
Director,
Jackson School Latin American and
Caribbean Energy Program
New York Times, Dec. 5, 2016
---
"It has taken some time, but to our thinking it is better to do this slower and more methodically and the state will greatly benefit, rather than us rushing in and picking sites that are not very good. We want to get the sensors in the ground, but in the right way."
Michael Young
Associate Director,
Bureau of Economic Geology
Fort Worth Star-Telegram, March 4, 2017
---
"We wanted to try to go into this business of 'attribution,' in which people try to parse out the temperature differences that are caused because of natural variability or man-made anthropogenic variability."
Kaustubh Thirumalai
Postdoctoral Fellow,
University of Texas Institute
for Geophysics
Washington Post, June 6, 2017
---
"These uncertainties limit our ability to accurately predict the future of the ice sheet. We are in for a lot of change in Greenland in the future. The question remains — how quickly will it happen?"
Ginny Catania
Associate Professor & Research Associate,
Department of Geological Sciences and
University of Texas Institute for Geophysics
Live Science, Dec. 7, 2016
---
"What interested us was how long it took life to recover afterward. Because not only was this the worst mass extinction event, but recovery took millions of years."
William Foster
Postdoctoral Fellow,
Department of Geological Sciences
The Atlantic, March 15, 2017