Walter Geology Library Reorganizes Collections
October 13, 2016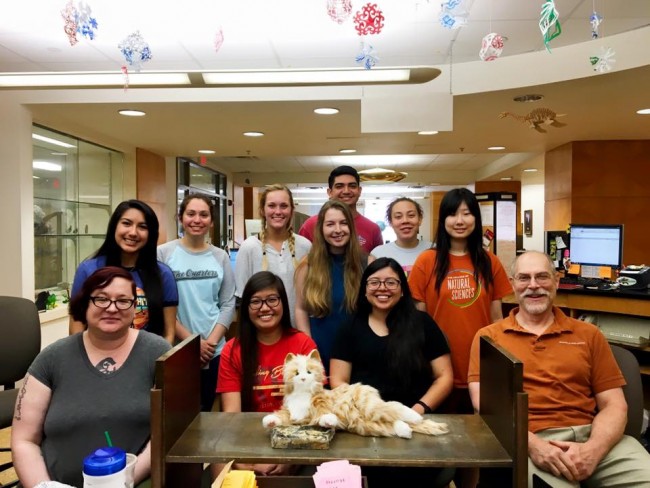 After a long dreary summer last year in a closed building, we are pleased to have new HVAC and power supplies. We dismantled the temporary air conditioning and dehumidifiers, and reopened to the public in August 2015. We are all hoping that will be the end of that!
Nevertheless, we managed to get some special projects done last summer, including a rebuild of our website, and transferring the majority of our USGS materials to long term storage, since those are now reliably online from the USGS publications warehouse. We also used this time to build our Facebook constituency, adding social media updates to our daily tasks, with great success. Follow the library at facebook.com/UTGeoLib.
The new University Libraries Vice-Provost Lorraine Haricombe initiated a management review and reorganization that will result in a number of changes to the organization, our collecting strategies and delivery of services. These changes are taking place this summer, and we will know more as the fall semester begins. We are streamlining and reducing our gifts processing, shifting more acquisitions to electronic materials and rethinking the use of space in campus libraries.
One project we are in the early exploration phase for is an effort to convert our periodicals reading area to a display space for the Barron Gem and Mineral Collection and a small seminar room. We would be able to put more materials out for more hours in a more secure environment than is now available, and the additional seating space will give us an opportunity to host small group meetings and instruction sessions.
To prepare for these various changes, the Walter Library is now completing the first phase of a de-duplication project, removing multiple copies of titles that are not circulating enough to warrant retention. The first phase (completed) was within the unit, and the next phase will be to examine multiple copies in libraries across campus to reduce the number of low circulation items. We will also be storing most of our legacy journal runs with stable online access, as the print copies are seeing less and less use. This will free up space, which we hope eventually to repurpose for other collaborative uses that will enhance student services.
Looking ahead, the UT Libraries have been approved for a new library storage facility, LSF-3, at the J.J. Pickle Research Campus. We are already planning for LSF-4, as more and more of the physical collections are being moved to storage to create space for new materials and new opportunities for interaction, collaboration and online user space. Most journals are now in E-only formats, and we are increasingly acquiring E-books. On other fronts, Mark Helper and his students compiled a GIS map of central Texas that can be found at lib.utexas.edu/geology/research-guide/maps/texas-gis geologic-map-project.
Our Virtual Landscapes of Texas site and our thesis scanning project for Texas ScholarWorks (repositories.lib.utexas.edu) both continue to grow, though more slowly than we would like. We are proud to note that some of our ScholarWorks open access materials have been visited thousands of times!
Last fall the UT Libraries, with some support from the Jackson School, sponsored a national map cataloging workshop with Paige Andrews of the Penn State Library. It was a big success, bringing more than 20 people from 11 institutions, and we hope to reprise the workshop in 2017.
Lastly, the newly published (and long awaited) UT Press book The Collections, edited by the Director of the UT Landmarks Public Art Program Andre Bober, features materials from our Tobin Map Collection and other collection materials.
In staff news, Stacy Ogilvie has completed her first year as the unit manager, and is working on several projects to improve our website. She also attended the Electronic Theses and Dissertations Association conference in Austin.
Eleven student workers graduated over the course of this year after many semesters of service with us: Shelby Manford, Taylor Bruner, Rong Fu, Sandra Ogenche, Madeline Guy, Christine Nguyen, Catarina Silva, Olga Kotlova, Shakera Guidry, Hannah Johnson, and our GRA, Laura Mattys. We wish them well in their future endeavors.
This year's winners of the Guion service award were Dean Wilcox and Nicolle Evans for all their assistance and support during the summer shutdown.
Head Geology Librarian Dennis Trombatore attended the GSA meeting in Baltimore, the American Institute of Archeology meeting in San Francisco, continued to serve as chair of the AGI GeoRef advisory committee, and joined with a classics department faculty member to do a demonstration on
clay technology and clay tablets in the ancient world for Explore UT.
-Dennis Trombatore,
Librarian
WALTER GEOLOGY LIBRARY.