Tinker Receives Halbouty Award and Don R. Boyd Medal
October 13, 2016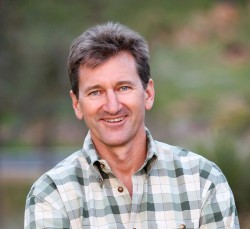 The American Association of Petroleum Geologists (AAPG) has honored Scott W. Tinker, director of the Bureau of Economic Geology, with the Michael T. Halbouty Award for Outstanding Leadership—the second-highest honor given by the AAPG .
Tinker also received the Don R. Boyd Medal from the Gulf Coast Association of Geological Societies (GCAGS), the organization's highest award.
"Scott is nationally and internationally recognized as a leader in petroleum geology and energy geosciences, and the bureau has thrived with him at the helm," said Sharon Mosher, dean of the Jackson School of Geosciences. "The university is fortunate to have someone of Scott's caliber on our team."
Tinker, who is also the state geologist of Texas, has served as president of AAPG, AASG, AGI and GCAGS, and continues to be a focal point for a path forward in the global energy debate.
He was hired to lead the bureau in January of 2000 by then UT President Larry Faulkner. Professor Bill Fisher, a former bureau director and the Jackson School's inaugural dean, said the search committee was looking for a leader that could help push the bureau into a national and international leadership role.
"Scott not only restored the bureau's prominence in short order, but has measurably enlarged it. That took substantial, perhaps unique, leadership and dedication," Fisher said.
"He is one of the most articulate speakers and cogent thinkers in the area of energy geosciences that I have ever known. And he has probably reached more people than any geologist in history."
During Tinker's tenure, the bureau has excelled at its core strengths
and grown in new directions. These include the development of a $50 million partnership with industry and international universities on advanced micro- and nano-subsurface sensors, a $50 million carbon management program recognized both nationally and internationally, a Center for Energy Economics and a major program in mudrocks and unconventional reservoirs. From 2000 to the present, the bureau's annual external funding has grown from $10 million to $35 million, its staff from 100 to 250 and its annual peer-reviewed publishing has grown tenfold.
Tinker has served as acting associate dean for research in the Jackson School for over five years, where he is also a professor and the Allday Endowed Chair.