Student Research Symposium Awards
October 13, 2016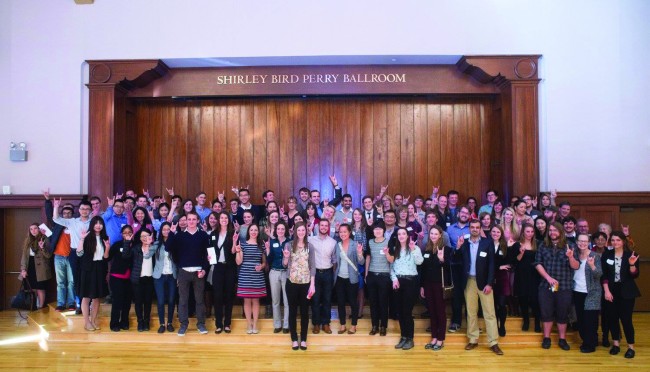 In February 2016 the Jackson School's Graduate Student Executive Committee organized its 5th Annual Research Symposium. Winners and honorable mentions are as follows: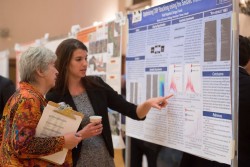 LATE-CAREER PH.D. BEST POSTER AWARD
1st Place: Mason Fried. Mass loss down under: distributed
subglacial discharge drives significant submarine melt at a
tidewater glacier.
2nd Place: Romy Hanna. 3-D measurement of fine-grained
rims in CM Murchison using XCT.
LATE-CAREER MASTER'S BEST POSTER AWARD
1st Place: Kelly Regimbal. Optimizing CMP stacking using
the seislet transform.
2nd Place: Matt Ledvina. Investigating the pathways and
P-T-X conditions of hydrothermal fluid flow responsible for
Cu-Au mineralization in the Ertsberg East Skarn System,
Papua, Indonesia.
EARLY-CAREER GRADUATE BEST POSTER AWARD
1st Place: Sarah George, Basin evolution in northern Peru:
implications for the growth of topographic barriers linking the
Central and Northern Andes.
2nd Place: Tomas Capaldi. U-Pb geochronology of modern
river sands from wedge-top foreland depo-centers: when
sinks becomes the source.
UNDERGRADUATE BEST POSTER AWARD
1st Place: Susannah Morey. The evolution of the surveyor
fan and channel system, Gulf of Alaska, based on core-logseismic
integration at IODP site U1417.
2nd Place: Natalie Raia. Petrogenesis of cycladic
serpentinites: understanding the tectonic history preserved
in metamorphic rocks in Syros, Greece.
BEST REPRESENTED RESEARCH GROUP
1st Place: Whitney Behr's Research Group
2nd Place: Sergey Fomel's Research Group