Slow-Motion Earthquakes Detected in New Zealand
October 10, 2016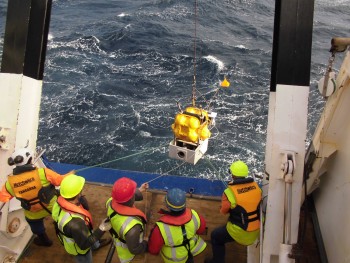 Research published in the May 6, 2016, edition of Science indicates that slow-motion earthquakes or "slow-slip events" can rupture the shallow portion of a fault that also moves in large, tsunami-generating earthquakes.
The discovery was made by conducting a detailed investigation of centimeter-level seafloor movement at an offshore subduction zone. Researchers from the U.S., Japan and New Zealand collaborated on the research.
"These data have revealed the true extent of slow-motion earthquakes at an offshore subduction zone for the first time," said lead researcher Laura Wallace, a research scientist at the University of Texas Institute for Geophysics.
The world's most devastating tsunamis are generated by earthquakes that occur near the trenches of subduction zones, places where one tectonic plate begins to dive beneath another. Using a network of highly sensitive seafloor pressure recorders, the team detected a slow-slip event in September 2014 off the east coast of New Zealand.
The study was undertaken at the Hikurangi subduction zone, where the Pacific Plate subducts beneath New Zealand's North Island.
The slow-slip event lasted two weeks, resulting in 15-20 centimeters (about 6-8 inches) of movement along the fault, a distance equivalent to three to four years of background plate motion. If the movement had occurred suddenly, it would have  resulted in a magnitude 6.8 earthquake.
Slow-slip events are similar to earthquakes but they occur over days to weeks, creating quiet, centimeter-sized shifts in the landscape. The event the team studied occurred in the same location as a magnitude 7.2 earthquake in 1947 that generated a large tsunami. The finding increases the understanding of the relationship between slow-slip and normal earthquakes by showing that the two can occur on the same part of a plate boundary.
The research was funded by the National Science Foundation; the Japan Society for Promotion of Science; Japan's Ministry of Education, Culture, Sports, Science and Technology; and grants from participating universities and research institutions.