Scanlon Elected to National Academy of Engineering
October 13, 2016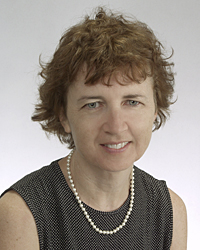 Bridget Scanlon, a hydrologist and senior research scientist at the Bureau
of Economic Geology, has been elected a member of the National
Academy of Engineering (NAE), one of the highest professional honors
accorded to engineers and scientists.
"I wish the process would recognize collaborative efforts because I would
like to acknowledge my co-workers, particularly Bob Reedy and JP Nicot,"
Scanlon said.
Scanlon leads the bureau's Sustainable Water Resources Program, a research group that examines issues concerning water resources. Her work on aquifer recharge estimation methods, water use in energy production, impacts of land-use change, and the global recharge estimates for water-scarce regions has improved the understanding of groundwater depletion worldwide. It has also played an important part in informing U.S. water policy, particularly water management in California's Central Valley.
"I'm extremely proud of Bridget. She is one of the most diligent and hardworking scientists I have ever had the pleasure to work with," said Scott Tinker, director of the Bureau of Economic Geology. "She is also extremely humble, unassuming, a terrific team player and leads by example."
Much of Scanlon's work combines a variety of analysis methods—from
local field measurements to data from NASA's GRACE satellite—to provide insight on water in the environment at a variety of scales. In spring 2016, Scanlon led the most comprehensive study to date on the water supply of the Colorado River Basin, a water source for over 40 million people (see page 15). Scanlon has also studied water use in energy production.
"Bridget's work on water issues is vitally important to all sectors of our
society," said Sharon Mosher, dean of the Jackson School of Geosciences.
"She is a world-class expert in her field and as dedicated a researcher as I
have ever known."