Rethinking Nuclear Waste Storage
October 10, 2016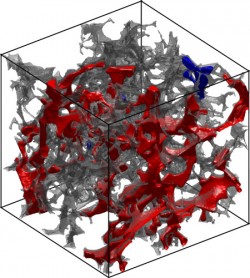 Research from The University of Texas at Austin shows that rock salt, used by Germany and the United States as a subsurface container for radioactive waste, might not be as impermeable as thought, or as capable of isolating nuclear waste from groundwater in the event that a capsule or storage vessel failed.
Researchers used field testing and 3-D micro-CT imaging of laboratory
experiments to show that rock salt can become permeable. Their findings,published in the Nov. 27, 2015, issue of Science, have implications for oil and gas operations, and, most notably, nuclear waste storage. The team includes researchers from the Jackson School of Geosciences and the Cockrell School of Engineering.
Salt generally blocks fluid flow at shallow depth, a feature that allows
oil reservoirs to form. But scientists have long suspected that salt becomes permeable at greater depth. Jackson School Professor James E. Gardner confirmed this theory through laboratory experiments with synthetic rock salt. Cockrell School doctoral student Soheil Ghanbarzadeh tested the idea against field data from natural rock salt.
Researchers were surprised to find that fluids were
sometimes able to flow through salt at shallow depth.
In the study, they explain that deformation of rock salt may be the culprit.
Previous work has focused on cracks induced by the creation of the nuclear waste repository itself. The study, however, demonstrates that undisturbed rock salt can become permeable.
"The critical takeaway is that salt can develop permeability, even in absence of mining activity," said Associate Professor Marc A. Hesse of the Jackson School's Department of Geological Sciences. "Further work is necessary to study the quantity of flow that can occur."
The project was sponsored by Statoil North America through the Statoil
Fellowship program at UT Austin.