Guerrero Named Outstanding Graduate Coordinator
October 13, 2016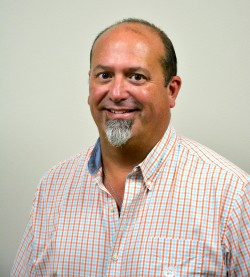 The Jackson School's Philip Guerrero won the University of Texas at Austin Outstanding Graduate Coordinator Award.
The honor recognizes the exemplary service of a graduate coordinator. Guerrero has worked at The University of Texas at Austin since 1984, and at the Department of Geological Sciences for 18 years.
Guerrero, the only person to win this award twice, is an active member of the university community and is known throughout campus for his knowledge and dedication as a graduate coordinator. In recent years, at the request of the Office of Graduate Studies, Guerrero has developed a series of trainings for graduate program coordinators.
He is also a founding member of the Graduate Coordinator Network (GCN). The GCN is a nonprofit, voluntary, professional association of graduate coordinators representing over 10,000 graduate students in about 100 departments and programs at the university.