Alumni Notes
October 17, 2016
1950s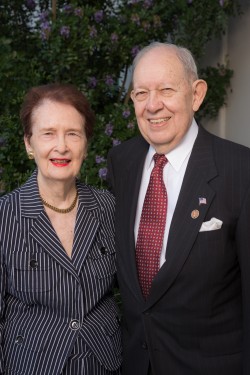 Walter V. Boyle (B.S. '54, M.A. '55) writes, "Vada and I continued our world travels with a three-week Crystal Cruise to Argentina, Uruguay, the Falkland Islands, Antarctica and Chile. Then in June, another Crystal Cruise back to the Hawaiian Islands. I stay active attending computer investment club seminars, Houston Geological Society meetings, men's church group sessions, and working in the yard and garden. In June, Vada finished her two-year term as president of the North Harris County American Association of University Women and continues to serve as a member of the Board of Directors of Houston Symphony League. We continue to enjoy attending the Jackson School of Geosciences luncheons and dinners in Austin and visiting with old classmates and the JSG Staff. I also enjoy frequently visiting and talking with Will Green, Burgess Stengl, Bill Holland, and Jimmie Russell. Finally, we wish continued success to Dean Sharon Mosher and her staff for another great year leading the Jackson School of Geosciences into the 21st Century."
Philip Braithwaite (M.A. '58) shares, "Barbara and I continue to enjoy a quiet retirement in Dallas, Texas. I spend my time gardening and attending talks on geology at D.C.S. and UTD. I have swapped trap shooting for sailing. Barbara spends most of her time reading biographical and historical stories. We both have fond memories of Austin and wish the Jackson School every success in the future."
Dean Callender (B.S. '56) says, "Keep the faith. Oil will soon move higher."
Jack Cleveland Cartwright (B.S. '51, M.A. '55) writes, "In July 1951, after completing the required Summer Field Camp at Brady, I reported to Monahans, Texas, to join Stanolind Oil and Gas Company's Seismic crew #10. Thus, sixty-five years ago I began my career in the oil business. During 1953 thru 1954 I did return to Austin and obtained an M.A. and my future wife (Barbara Wells) who was working in the Geology Library. After returning to Midland in February 1955, I transferred into the Geology Department and began my career as a geologist. In 1966, I left the major oil company and then worked for a smaller company, an independent oil company and was in a successful three-man partnership for seven years. From 1979 until retirement in 2005, I worked as an individual turning deals and then became primarily an investor. That is a very brief synopsis of my professional life. I must give credit to the university for the fine education that made all of that possible. My life has been blessed by my wife of sixty-one years, and three wonderful daughters and their husbands that have to present yielded a family that includes nine grandchildren, thirteen great-grandchildren, and a great-great-grandson. I feel like I have been a truly blessed man. My best regards to all of the early fifties geology grads that are still around."
Wayne D. Miller (M.A. '57) shares, "I am continuing to consult for a few local independent oil companies but at a slower pace. The lower oil price and my higher age have both had an affect on how much time I spend working. I still enjoy coming to my office and spend time each morning having coffee with a group of retired geologists and solving all our problems. The family is doing fine, and I am enjoying time with the grand- and great-grandchildren. Best regards to everyone."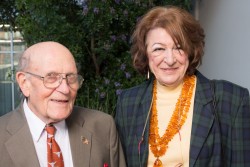 Jimmie Norton Russell (B.S. '52, M.A. '54) says, "'Never regret growing old, it's a privilege denied to many.' As pointed out to me in the Army, and later in professions, you will have SOME buddies, and a FEW friends. It was SUPER visiting with those still contactable. Some other very pleasant pluses, but also a significant negative, were major items of my year. I was feted again by the Jackson School. 'They are betting on the come!' as a crap shooter would say. After 52 years, I have been reconnected with the young Argentine geologist that assisted me in conducting stratigraphic studies in Patagonia. A mutual colleague now residing in Houston, but in Patagonia then, facilitated exchanging emails with Carlos Perot. Carlos, from Buenos Aires, had just received his geologic diploma from a well-known Argentine university. Carlos was very pleased to be doing field-work rather than logging cuttings. Carlos Perot is consulting in Peru and other countries. In a recent email, he informed me that he had learned a lot from me. We had some lengthy discussions, mostly "scientific," pertaining to our work. However, he also entertained me by relating the exploits of earlier geologists exploring the area. Especially el Viejo Greaber and his supply train of 20 mules, 19 carrying barrels of "cerveza!" Carlos is not proficient in English. Fortunately, the excellent Spanish program and its instructors I had at UT, helped me immensely. It gave me an excellent base that I later honed in Venezuela. Our studies were conducted on the outcrops around the string of lakes along the foothills of the Andes. We commenced in the South at Lago Argentino. Floating therein were small icebergs calving from the ice-field glaciers. Standing alongside, and touching one-such, we found that it had polished the igneous bedrock as smooth and shiny as a modern-day granite countertop. Also floating were large chunks of white pumice from an erupted Chilean volcano. That eruption had disrupted the tourism, especially at San Carlos de Barilochi, and the adjacent spectacular Lago Nahuel Huapi. To the north of Lago Argentino, near Lago Viedma, very large fossilized bones littered the ground. They had been eroded from the adjacent cliffs of tuffs called "Las tobas mamiferous" — tuffs with mammalian fossils. I have had other gratifying experiences with learning/teaching. David was one of my students during my time teaching students with special needs in the Round Rock (Texas) ISD. He frequently was very "low," thus he needed lots of encouraging. Although I have not seen him since retiring, we both have moved forward. Periodically we speak by phone. No longer mostly monosyllabic statements, now his speaking is very indicative of his maturing. This is also evidenced by his pursuit of higher levels of education. I see his mother now and again where she works at Home Depot. (Yes, I am a DIY, but a very limited one now!) Wendy stated, "David loves you!" Also, I was helping another student with whom I had good rapport. I wanted him to understand some problem-solving strategies.  Next, he was to learn how to utilize them with problems he was having trouble with. Calmly, I said, "Jacob, the main thing I want you to learn from this is to think." He looked at me and stated, calmly but firmly, "Thats hard!" Another reconnection of a different type was bittersweet. Waiting at Home Depot for paint, we spoke with a priest who was also waiting. Father John, of Saint Joseph's in South Austin, had grown up near Saint Mary Cathedral in central Austin. There he knew Father Whely. Father Whely was very educated, distinguished, and charismatic. We had great rapport with Father Whely; he oversaw the reaffirmation of our matrimonial vows. Sadly for us, Father Whaley was relocated to New Orleans. He has long-since passed away. For myself, successful strategies have been perseverance and "keep your cool." Interestingly, several teachers have agreed with me that, even though they might be able to successfully "strategize" with students, they have difficulty with "transference" to adults! Although I have had lower back/leg problems for some time, these now significantly interfere with mobility, etc." Jimmie can be reached at ritalrussell@gmail.com.
Floyd F. Sabins (B.S. '52) writes, "The prolonged slump in oil and mineral prices has impacted exploration projects for my company Remote Sensing Enterprises, Inc. This slump is as serious as any I have experienced in my 60 plus years in exploration. Eventually, however, supply and demand will balance out. I am reminded of the following old yarns from West Texas during the previous slump: In Midland a beat-up pickup truck had a bumper sticker, "Lord give me one more oil boom and I promise not to piss this one away." A wildcatter in Odessa was asked about the oil business. He replied " The oil bidness is pickin up. Last week the bank picked up my airplane; this week they picked up my Cadillac." I do continue enjoying the semi-retired life. In 2015, I had three good fly-fishing trips to Montana, Alaska, and Mexico."
Theodore E. Stanzel (B.S. '56) shares, "Since the last newsletter in 2015, Wanda and I have lived a relatively stress free life, in and around Schulenburg with visits to Houston. Last October 2015, we cruised the eastern Atlantic Ocean from Boston around Prince Edward Island, Newfoundland and the St. Lawrence River to Quebec. We are in the process of leaving for Prague in late August and Passau to board the MS Amadeus Silver for a trip on the Danube River to Vienna, Melk, Austria, Bratislavia, Budapest,Romania Bulgaria, Sophia and to the Black Sea."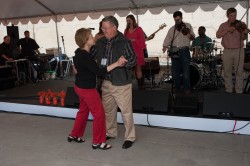 Leslie P. White (B.S. '56) says, "Among my cherished campus memories is my involvement with the student geological society, then called The University of Texas Geological Society. In April, sixty years later, I visited the Student Center to support the Undergraduate Geological Society's Geoweek. It was an inspirational visit, heavy with nostalgia. Dianne and I continue to enjoy watching the grandkids grow and, not so much, watching Austin grow."
LeRoy Woollett (M.A. '51) writes, "I had 13 years at Gulf Oil and then 23 with AETNA Insurance. I am retired and living at The Abbey at Westminster Plaza. Having a good time."
1960's
Thomas K. Bjorklund (M.A. '62) writes, "I continue as a Research Scientist and oil and gas consultant at UH. My current goal is to better understand a piece of the climate change story. You can download a draft of my first foray into predicting the future from my webpage, http://www.geosc.uh.edu/people/faculty/tom-bjorklund/, an evolving commentary entitled 'The Goldilocks Climate Doctrine- An analysis of the Mean Global Temperature Anomaly in 2031.' Critical feedback would be welcomed!"
Charles A. (Chuck) Caughey (B.S. '69, M.A. '73) shares, "My first year of retirement flew by, with a move at last to a 1-story patio home nearby, staying active on AAPG Committees (Imperial Barrel Award and Publication Pipeline), and more time for aviation, family and friends." Chuck can be contacted by email at Pak_Chuck@SBCGlobal.net.
Frederik E. Dekker (M.A. '66) says, "We have been applying for exploration licenses in North Africa and southern Europe, and hope to be in position to start serious exploration when the industry recovers." He can be reached at fdekker@wt.net.
Robert H. Fakundiny (M.A. '67, Ph.D. '70) writes, "My mapping in the Adirondack Mountains strongly suggests that the concept of repeated regional shearing events during the Grenville is demonstrated. The monterous (.6km3), 13,000 year-old landslide south of Syracuse presents mudslide hazards to the residents at its base. I hope to have both studies in some sort of publication in 2016. We are well but lament the loss of old UT colleagues."
Phil Jones (B.S. '64) shares, "Still enjoying retirement. I'm currently rehabilitating from a leaky heart valve surgery. The surgery was June 9, and I am mending quite well. We still have lots of kids and grandkids living within 1/4 mile of our place. They are amazing to watch. I'm hopeful that the energy business will once again be hiring geologists. Oklahoma City area energy involves lots of Scoop and Stack exploration and multi well drilling. My hopes and prayers this fall is for explorationist, just graduating or layed off in the downturn of 2015-16, to find new and exciting employers. Wishing for you all the very best." He can be reached at philj1@cox.net.
Jereld E. McQueen (B.S. '61) says, "I am grateful for the basic foundation that the School of Geosciences provided for my career in the petroleum industry."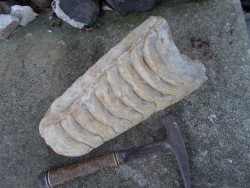 Tom S. Patty (M.A. '68) writes, "This year is number 4 after retirement from Wiss Janney Elstner Associates Inc. after 30 years doing concrete petrography and aggregate studies. I continue as an affiliated consultant for WJE and provide backup work when needed at the Tom S. Patty Petrographic Laboratory in the Austin Office. In addition, I continue to provide geologic consultation for local central Texas companies that need assistance in locating sand, gravel and crushed stone for the construction industry. The highlight of my fossil collecting for this year occurred during a recent quarry examination in San Saba County with the finding of a large Texas sized straight chain cephalopod Suborder Nautiloides: RAYONNOCERAS, as per the Non-Vertebrate Paleontology Laboratory (JSG). I gifted the specimen to the lab for their collection. My wife JoAnn has been able to go on some of my field studies, and kids and grandkids are all well and live nearby. I was able to attend the 50th Anniversary of the "Tower Shooting Event." I was on campus that day working on my graduate degree and watched the whole thing go down from the old geology building library."
Rubin Amos Schultz, Jr. (B.S. '61) says, "Still enjoying retirement. Spent some time in June visiting Nancy's relatives in Provo and Park City, Utah. Enjoyed the mountains and cool air. Grandkids are growing up fast. Another one graduated from high school this spring, and is on her way to college this fall. Nancy and I are still in Corpus Christi and would love to see any of my classmates, so if you are in Corpus Christi give me a call."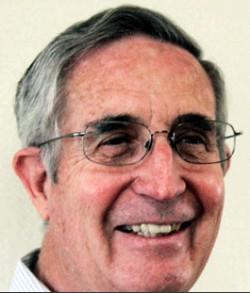 William Feathergail Wilson (B.S. '60, M.A. '62) shares, "Geology may be one of the few professions that a person can still be working at when they are 81-years old. Actively working on the Carrizo paleoenvironments of deposition on the Gulf Coastal Plain through the use samples and geophysical logs as the unit relates to groundwater. Thank you, Dr. Folk." Feather can be reached at featherg@hctc.net.
1970s
Michael Amdurer (M.A. '78) currently resides in Lakewood, CO and can be reached at mamdurer@aol.com.
Royce P. Carr (B.S. '76) writes, "Deborah and I have moved to the lake but we still live in Mount Pleasant, Texas. I continue to work in West Texas in the Delaware and Midland Basins. I also work in the Eagle Ford-Eaglebine Trends."
Larry French (M.A. '79) is with the Texas Water Development Board in Austin.
Jerry Gips (B.S. '70) shares, "I retired from Macquarie Capital (USA) in January 2014. Bette and I moved full time to our house in the country outside of Fayetteville, Texas. My neighbor wants to age date the terraces along the Colorado River between La Grange and Columbus. It appears from the literature that the previous work is upstream or downstream of this area. Guess I will be doing some field work again." Jerry can be reached at jerrygips@aol.com.
Charles G. Groat (Ph.D. '70) continues as President and CEO of The Water Institute of the Gulf, an independent, not-for-profit coastal, delta, and water systems applied research and technical services organization based in Baton Rouge, Louisiana. The Institute has many projects supporting the Louisiana Coastal Master Plan for coastal restoration and protection, but is also active internationally. Retirement is planned for mid 2017.
Charles W. Kreitler (M.A. '72, Ph.D. '74) says, "Recently won the lottery. I'm so filthy rich I don't know what to do with it all. For those of us in grad school back in the early 70s, let me know if you have some grand ideas for adventure." Charlie can be reached at ckreitler@lbg-guyton.com.
Robert A. Levich (M.A. '73) writes, "Retirement means that every day is a Saturday. I'm now 75 years of age, but still remain active professionally. Stella and I spent the past year entirely in Las Vegas and were unable to visit our second home on the Coast of Ghana for a variety of reasons. We do hope to return to West Africa in 2017. All our old friends are welcome to come over and enjoy the beauty of the West African Coast and the Gulf of Guinea. In February, I co-authored a paper on the history of Nuclear Waste Disposal in the U.S. with John Stuckless (USGS Emeritus): Stuckless, J.S. and Levich, R.A., 2016, The Road to Yucca Mountain-–Evolution of Nuclear Waste Disposal in the United States, in Geological Society of America (GSA) – Association of Environmental & Engineering Geologists (AEG), Environmental & Engineering Geoscience, Vol. 22, No. 1, p. 1-25. This paper goes along with our two previously published GSA Memoirs: Stuckless, J.S. and Levich, R.A., editors, 2007, The Geology and Climatology of Yucca Mountain and Vicinity, Southern Nevada and California, Geological Society of America, Memoir 199, 205 p. and Stuckless, J.S. ed., 2012, Hydrology and Geochemistry of Yucca Mountain and Vicinity, Southern Nevada and California, Geological Society of America, Memoir 209, 393 p. The recent article is available as a pdf to anyone who requests it via email directly from me. The two GSA Memoirs are not available as pdfs, however, they may be purchased very inexpensively directly from the GSA Bookstore." Robert can be reached at cpgeologist@gmail.com.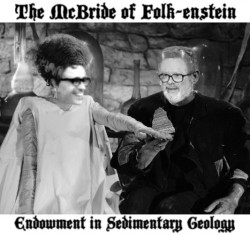 Sandra J. Lindquist (M.A. '76) shares, "I remember most of my teachers from over the years, but the UT Austin experiences 40 years ago were among the finest with respect to 1) efficient delivery of quality, pertinent information and 2) an effective and (usually) pleasurable learning environment! No worries about political correctness or over-sensitivities back then. No "safe zones" from the faculty or ourselves, either. Now having made my independent living from geology, it was time for special payback to Dr. Earle McBride certainly for humiliating me unmercifully at an anything-but-leisurely game of badminton (only foolish enough to submit once) and to Dr. Robert Folk for trying to tattoo me with his "Folk You" stamp (more than once). Hence, activation of the 2015 JSG "McBride of Folk-enstein" endowment. Please consider it if you also appreciate these professors and might be looking for a place to park some cash in perpetuity for UT. The endowment is intended to recognize and honor "the keen intellects, superior teaching styles, exceptional rock-investigative skills, and geologic-knowledge contributions" of these two now-emeritus professors. A major intent is to prevent loss of invaluable, practical human observational skills 1) as technology continues to be more computerized and "remote" in nature and 2) as attention spans continue to contract and people become more self-centered, impatient, and removed from natural-world reality. Put down your smart phone, and give your thumbs a rest. Pick up a rock to caress and examine instead! "McB of F" distributions will provide graduate student funding for original sedimentary geology or petrology research and application – specifically including substantial, direct and "hands-on," micro and macro examination of sedimentary rocks – and/or funding for supplies or equipment to support continuation of related research by students or faculty. The methodical and direct examination and calibration approaches that Drs. McBride and Folk championed provide stable foundations for interpretation and conclusion — in all aspects of life. (I've also benefitted from using such skills in the medical and legal arenas when necessary!)"
George Allen Livesay (B.S. '79) currently resides in San Antonio, Texas, and can be contacted at georgelivesay@fastmail.fm.
James Irwin Lyons (B.A. '71, M.A. '75, Ph.D. '16) writes, "Well after a long pause, I have fulfilled my lifelong ambition of obtaining my Ph.D. at the age of 68 and my third degree from The University of Texas. Rather than obtaining it to teach, I have completed the dissertation as the first step to getting decades of geologic studies for the mineral industry in Mexico published. My teaching ambitions have been fulfilled by teaching short courses in the mining industry and for the Society of Economic Geology. I am continuing to consult in the mineral industry. Attached photo taken during mapping a Lluvia del Oro, Chihuahua." James can be reached at jilyons@utexas.edu.
Kenneth E. Nemeth (M.A. '76) shares, "After just over 40 years in the O&G business and 18+ years at Schlumberger, I used the expedited departure to retire from Schlumberger. I have had a very interesting career. I will try to do a few things for HGS and AAPG but otherwise look forward to a few months of contemplation. I can be found on LinkedIn."
John William Preston (B.S. '70) says, "Well, my last year in the saddle, and I'm afraid of retirement. Been working since I was 11 and will be 70 before the end of this year, but since I don't pasture, pool, or tennis maybe can finally figure out something to make money out at my old family farm near Poteet. Hope everyone is hanging on somewhat during this down cycle."
Gary Thompson (B.S. '75, M.A. '77) writes, "Still retired. Survived a home remodel project last year. Other than that, we are keeping busy helping to take care of the family ranch in South Texas and the family "farm" west of Brenham."
1980s
Jim Anderson (Ph.D. '85) writes, "Deb has retired from teaching Biology and Environmental Science. We now have twin grandchildren, age 2.5. I am still at ExxonMobil and enjoying work."
Carol Swenumson Baker (B.S. '84) says, "Rodney retired in April. I'm still working but having fun too."
Fred Herbert (B.S. '83) and Teresa Harkrader Becker (B.S. '82) share, "Fred and I are still enjoying our house on the lake in Marble Falls. Fred retired from Shell in March so we've got a couple of nice trips planned. I'm playing pickleball at the YMCA twice a week, taking oil painting lessons and volunteering with Alzheimer's patients on Fridays. Fred is getting caught up on yardwork and enjoying more time to spend on investing. We would love to hear from any of our classmates!"
Cary L. Betz (B.S. '82) is with the Water Availability Division of the TCEQ in Austin.
Julie Bonner (B.S. '83) shares, "After spending the last 18 years of my career working for Chevron as a drilling engineer and multilateral well expert, the most recent 4 years working offshore Angola projects from Houston as a Drilling and Completions Team Lead, I had the opportunity to take early retirement and am thoroughly enjoying not having to get up at 3:30 a.m. anymore! I'm pondering what I want to be when I grow up, which will govern where I decide to live. For the time being, I'm staying put and may consider doing some part time consulting…or not. I'll get some overseas travel in seeing friends and will add a few countries to my current list of 49, but it's getting hard to travel safely these days to some of the countries still on my bucket list, so it may be time to explore my own backyard and see the parts of the US I haven't been to yet. Some of my former geo classmates, like Mike Stowbridge, may remember that 17 years ago, I was in a near fatal car wreck that broke my neck for the second time in the same place (yes, I broke it once before), and I gave some advice in this newsletter to the effect of enjoy life, because you never know when you may get hit by a big ol' truck. I still have the same advice. Oh, and don't die at your desk! If at all possible, retire before you get too old to enjoy it!"
Theresa Brown (M.A. '89) recently returned from a conference in Singapore. Theresa is the technical lead for the National Infrastructure Simulation and Analysis Center work at Sandia and says, "I'm still working some in complex adaptive systems modeling and risk analysis. I keep waffling on early retirement, but seriously considering it in the next year or two."
Jenny Chapman (M.A. '84) is with the Desert Research Institute (DRI) working mostly on DOE groundwater issues and managing DRI's contract with the DOE Nevada Field Office. She says, " I have participated in some interesting projects recently regarding water quality issues with hydrofracturing and water supply in California, so it has been nice to mix things up. My husband has actually just retired, our daughter has married, and my son is finishing a math degree at UNLV. So life marches on."
Tom Connally (M.A. '81) writes, "Another interesting year on the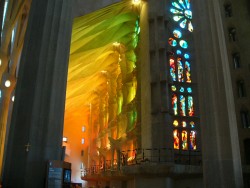 retirement field trip. Highlights include a visit with Al Scott along with fellow Geo alumni George Stanton and Frank Cornish. Dr. Scott remembered us well, and we spent a pleasant lunch chatting about the oil business, geology and old times. We still live part of the year in Tuscany and welcome all visitors. Low lights included finishing up repairs to the Italian house from the '13 earthquake. Never knew aftershocks could continue for 2 years! Yikes. I used to think I wanted to experience an earthquake in person, but when your bed and house are shaking under you while you (try to) sleep it isn't fun at all. Glad that's over with. Travels included excursions to Sardinia, Corsica, Lakes Garda & Como in Italy, and north Spain. I am amazed at all the great research the department is doing covered in the Newsletter. Students today have amazing opportunities compared to the 70s and 80s but then all geology is interesting. So glad I studied at the Jackson before it was called that. I miss Profs. Scott, Young, Muehlberger, Barker et al. I owe you guys for my professional success, THANKS!" Tom can be reached at connalrad@yahoo.com.
Fred Crawford (B.S. '83) says, "An eventful year for me! Hiked 650 miles of the Appalachian Trail… left a gridlocked Austin for the Great Smoky Mountains…bought a 13 acre farm to raise chickens, vegetables and fruit… retirement is wonderful!" Fred can be reached at crawford.fred@gmail.com.
Laura De La Garza (B.S. '83) is an environmental consultant with Laura De La Garza Services in San Antonio.
Andrew Donnelly (M.A. '88) says, "I am a full-time Mr. Mom to two teenagers (at least it feels full time), mostly serving as a Dad Taxi and consulting with Daniel B. Stephens & Associates in Austin, mostly doing water supply work. I have also taken a number of trips with my family, with the boy scouts, and with my parents (my dad is one of the world's leading authorities on dragonflies and at 83 still travels all over the world with my mom collecting insects. In November, we go to Paraguay for 3 weeks to stomp around the jungle collecting)."
Kent England (B.S. '82) writes, "Retired from Marathon Oil in March of 2015 – a great time to retire! Splitting my time between Houston (mostly) and Colorado. Staying very busy with travel, golf and family activities. Love to hear from old classmates." Kent can be reached at kengland4@comast.net.
Cynthia Lee Fong (B.S. '88) shares, "Last child graduated high school as a valedictorian and off to a gap year before college. Loving living in Hawaii and my new middle school line – Wood Workshop and STEAM Explorations."
Charles A. Goebel (B.S. '80) says, "Business has been a little rocky but we're very lean, so we're ok. Lots of good people out of work, including geologists. Gave a talk on the Margham Field Discovery, Dubai to FW Sipes in the spring – now that was exploration! Youngest 'child' (heir) will graduate UT in Dec. Her big brother and sister are both UT Austin grads, and doing very well. Pops is proud! (PS – I am Chief Geologist for Banner Resources, LLC and also CEO of Santa RIta Energy, LLC.)"
Guy Groomer (B.S. '83) currently resides in Loveland, CO and can be reached at gromerg@gmail.com.
Franz Hiebert (M.A. '88, Ph.D. '94) is now Principal at Zephyr Environmental Corporation.
Janie Hopkins (M.A. '82) is Manager of the Groundwater Monitoring program at the Texas Water Development Board.
Les Jeske (B.S. '84) resides in Tyler, Texas, and can be reached at ljeske@solutientgeosciences.com.
Mark Kasmarek (B.S. '82) is with the USGS in Houston.
Richard Alan Kolb (M.A. '81) shares, "Son Travis graduated from Texas State University with a degree in geography in May 2016. Made the trip to his graduation in San Marcos and to see first-hand Austin's horrendous traffic; seems like I-35 hasn't changed at all since I moved from Austin in 1982. Daughter Jennifer (born in Austin while I was in grad school) starts this fall at UT to pursue an MS in social work after working for three years at a non-profit in Austin. I am the chair of the North Carolina Board for the Licensing of Geologists and continue to work as an environmental geologist for a small consulting firm in Cary. I make periodic trips to Austin to visit my kids and sample the many new microbreweries in Austin and the Hill Country."
John LaFave (M.A. '87) is the Program Manager, Ground Water Assessment Program at the Montana Bureau of Mines and Geology in Butte. John reports that "our oldest son and his wife made us grandparents with the arrival of their son last June. We still have two at home, one in college, and the others are all making their way—though not a scientist in the bunch! Butte is as lovely as ever, the Berkeley Pit is still pH = 2.5 and rising (the water level that is…), snow pack was decent so fishing should be good—and hopefully will keep the summer forest fires away. We're very involved (as is TX) with getting the national ground water monitoring network off the ground. That's been an interesting process, we're hoping that there will be some long-term funding to support a long-term network…"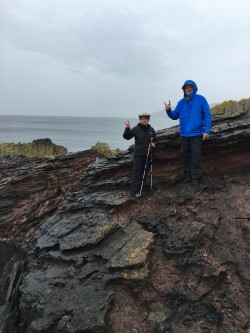 Tom (M.A. '87) and Rosie (B.S. '85) Layman share, "This photo was taken in July 2016 at Siccar Point on the east coast of Scotland at the world famous Hutton Unconformity. We had the pleasure of being guided by our youngest son Calvin who had just finished geology field camp in Scotland. What a joy to see such beautiful a country and great geology and best of all to share our passion for geology with our son!" They relocated to Austin in the summer of 2014 and love being back in the city and being involved with the JSG.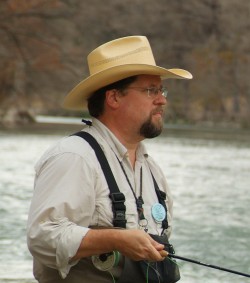 David Eugene Lemke (B.S. '82) says, "My ability to dodge bullets ended this past May, and I'm moving my retirement plans up by a year or two. Sandie and I are going to slowly transition ourselves from Houston to northern New Mexico (Pecos), where we've been visiting since field camp days in 1981. You'll be able to find me on a stream teaching fly fishing or just fishing, on a mountain trail hiking, or in a brewery somewhere enjoying a fine New Mexican beer." He can be reached at dlemke@flyfishsantafe.com.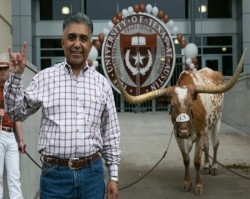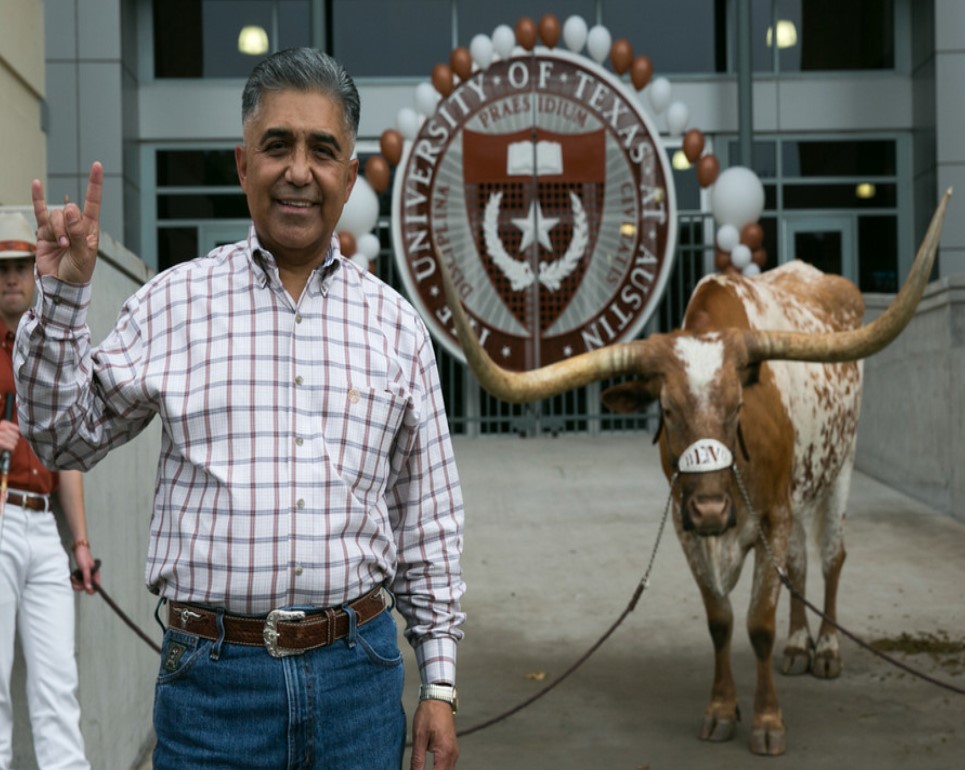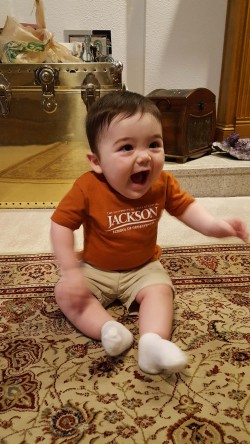 Bruno Maldonado (B.S. '82) writes, "I am not quite 60 yet and not ready to retire. I still have the passion to continue applying the knowledge that was passed on to me by this great geoscience school. I have been preparing for this downturn for some time and am able to weather this storm. Fortunately, I've landed a few consulting contracts (overseas) and have met some great geoscientist way beyond retirement still applying their geoscience knowledge. As for the family, Bruno D., petroleum engineer with Cantera Energy, is still extracting oil and gas in South Texas. Armando, electrical engineer, is at Dow Chemical after finishing up his Masters in EE. Patricia is still working at Cy-Fair ISD and has put up with me 38 years. I am loving the time I spend with my two granddaughters and one grandson." Bruno can be reached at bxm.brunom@gmail.com.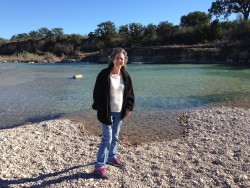 Jude McMurry (M.A. '82) says, "Retired for several years now from the Center for Nuclear Waste Regulatory Analyses (Southwest Research Institute). Now I'm field-testing the proverb, "Nature does not hurry, yet everything is accomplished" – so far, so good. Also blessed with a smart, funny, amazing daughter who is doing a graduate degree in … go figure … geochemistry, at Colorado School of Mines."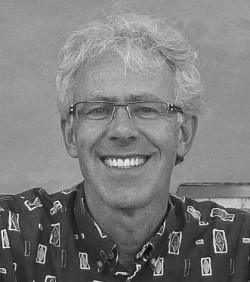 David Charles Noe (M.A. '84) writes, "I retired in May 2015 after 24 years with the Colorado Geological Survey, having served as the Chief Engineering Geologist and manager of Colorado's STATEMAP geological mapping program. Upon retirement, I moved to Paonia (pop. 1,500), a coal mining, arts and organic farming community at the western edge of the Rocky Mountains in central Colorado. There, I participate in community events, give public geology talks, and play my trombone in several different bands. Do I love what I do? Yes!! Do I miss working? No!! I am grateful to the UT Geology Department, and especially the recently deceased Professor Alan J. Scott, for preparing me for what has turned out to be a fine career in geology." Dave can be reached at dcnoe@hotmail.com.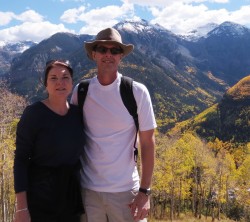 Richard E. Paige (M.A. '88) shares, "Next year will be 20 with Suemaur E&P! Am now Chief Project Geologist for the company. After a career spent working onshore Gulf Coast, I have recently begun playing the Pennsylvanian cyclothems of Kansas. Have made 3 field discoveries – hoping I can keep the momentum going. Sarah retired from her position as Director of Animal Husbandry at the Texas State Aquarium 5 years ago, and is now enjoying her online craft business. Lately she's wondering when I'll retire, as am I… A shout-out to all my 'CADS' and 'Rock Doctors' friends!"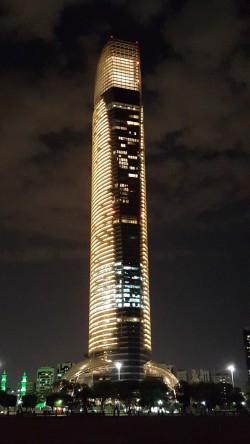 Joseph E. Patterson (M.A. '83) shares, "I'm currently on an expatriate assignment with ExxonMobil as a secondee to ZADCO (Zakum Development Co., a joint venture with the Abu Dhabi National Oil Co.). I've been here since Dec. 2015 and should be here for another 2.5 years +/- (depending on the Oil Gods). Winters are beautiful and mild; Summers less so. If you're in Abu Dhabi, give me a call on my home / office phone or office email. We'll show you around!" Joe can be reached at joe.e.patterson@exxonmobil.com.
Deborah Pfeiffer (M.A. '88) is Vice President of Geoscience Operations at BHP Billiton in Houston.
John Morris Pope (B.S. '86) says, "Continuing my career with Travelers Insurance with the light at the end of the tunnel in sight! Kids are all grown up and attending college, two are at the University of Houston and one is at Texas State in San Marcos. If all goes well I will be the proud parent of another Geologist, an Electrical Engineer and a Veterinarian! Fingers crossed!" John can be contacted at jpope@travelers.com.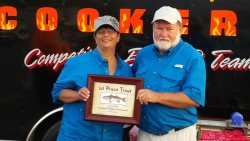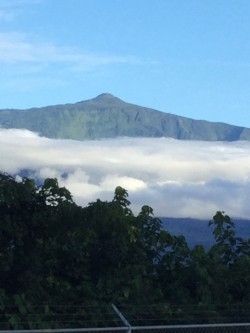 Luke Brian Primrose (B.S. '83) shares, "I have always liked rocks. At 4 years of age the family went to Big Bend National Park where I piled up rocks to take home. Dad said, 'leave them here and we will pick them up on the way back' – right. A few years later I find cool calcareous concretions along Clear Creek in Brazoria County where I grew up. As a young teen, I hit the jackpot when I found a whole cut bank full of bivalve steinkerns near Vanderpool (Edwards Fm?) in Bandera County. I still have several in my collection. Speaking of collection, it is anchored by the tremendous hauls I made on two trips with the late Dr. Edward Jonas to Mexico as part of the SGS, some specimens are better than I've seen in some museums. I will always cherish the times with Dr. J. I have always liked rocks. Now I live on one. A big one. Bioko Island Equatorial Guinea to be more precise. A conglomeration of 3 shield volcanoes, part of the Cameroonian Volcanic Line. Bioko is dominated by Mt. Pico Basile at just over 9,000 ft. (see picture). About 60 miles off my back porch is Mt. Cameroon, the anchor of the Line around here. It is a massive stratovolcano, the 4th highest in Africa at over 13,250 ft. Unlike Pico, Mt. Cameroon is still active from time to time. Frustratingly, it behaves like Denali – only a few days a year is it clear enough to see all of it, but on those days it is impressive even from that distance. But all that does not pay the bills. But the Miocene and Pliocene fans and turbidites do. That is why I live on this rock. After a stint with the global E&P arm of Enron, I came back to Marathon and am here working the business and planning chores for our operations which include gas/condensate production and the downstream methanol and LNG plants in which Marathon has interests. My wife Debbie is here too and doing well as are our offspring (4 of them, all educated with 2 being Teasips, 1 UH Cougar and 1 UF Gator) and 5 grandkids with the 6th coming before the end of August. When this gig is done, I suppose we will retire somewhere on the water in Brazoria or Galveston County as bay fishing is my passion, and we spend much of our R&R on the water now. Hello to all from yesteryear – now, how do I get 75kg of rocks on my checked bags…?" Luke can be contacted at lukeprimrosesf@gmail.com or lbprimrose@marathonoil.com.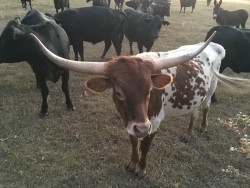 Jerry Schwarzbach, MD (B.A. '83) writes, "Still playing doctor in Tyler. Enjoying flying & raising cattle. Even have a token Longhorn."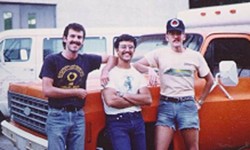 Stephen Speer (M.A. '83) shares, "Still hanging in there in the SC Lowcountry…and really enjoying it. Health is good but the bod is wearing out, me thinks. I'm now the proud owner of a new-fangled titanium left knee and it's been a year getting it up to speed, but it now works well enough that I'm back to ruining the day for some of the younger (and older) tennis players out here. Our 5 grandsons have been down here to beat me up several times, and our oldest daughter Sarah just informed us that they are adopting a newborn special needs girl from Armenia…she continues to amaze us, and little Maria will have the blessing of having four older brothers to watch over her like hawks. Howdy to all of the Dirty Dozen and others of that gen…..pray all of you are doing well and surviving life with aplomb. Cheers! (Attached picture is of my departure from UT headed out on an all-night drive to the oil patch of Artesia, NM for my first job at Yates Petroleum on Aug. 1, 1983. Sending me off are fellow A.J. Scott Dirty Dozen members (left to right) Dave Noe, me, Joe Patterson. 33 years ago…can you tell it's the early '80's?? Joe looks like he ate a bad burrito…). The world's a far lesser place with the passing of one of the finest mentors I have had the pleasure of experiencing in my entire life. Dr. Alan J. Scott was a dynamic inspiration, both professionally and personally, in so many ways to not only me, but all of the graduate students whom he advised back in the early 80s heyday at the end of his teaching stint for the UT Department of Geological Sciences. My prayers and thoughts are with his family, both immediate and worldwide, because he certainly created himself a wonderful family of friends and admirers everywhere throughout his distinguished teaching career. A truly great man and friend. I'm impressed Al…favorably! Adios and Godspeed, mi amigo!!!"
Burgess Stengl (B.S. '85) says, "I am starting my 15th year in the solid waste industry and still live in the Houston area. Our son Kyle will have graduated Klein Oak High School by the time the Newsletter is published, and he should be settled in at UT San Antonio as an Engineering undergraduate (couldn't talk him in to geology). We now are blessed with four grandchildren, ages 11 years to one year, with two in Houston, and two in the thriving metropolis of Hutto, Texas. Hello to Walt Boyle, Jimmy Russell, Will Green, and also to the Class of 1985!"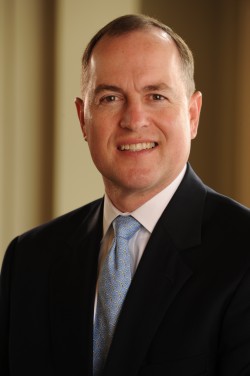 Vance Tillman (B.S. '85) is currently CFO at Tideland Signal Corporation and can be reached at vance.tillman@tidelandsignal.com.
Carla Matherne Tucker (B.S. '86, M.A. '90) teaches at Lamar University and will be leading a field trip to Iceland later this year.
Mark C. Walker (B.A. '81) shares, "With the help and guidance of dedicated legislators, staff, and mental health organizations, we developed and passed in the 2015 Legislature Texas Senate Bill 1624, which requires, for the first time, Texas universities to include in their orientation program a section on mental health awareness and suicide prevention. Under the leadership of UT's Dr. Chris Brownson, program materials have already been developed and distributed to Texas universities. With this new law, we hope to provide a positive message and awareness training to over 150,000 students every year. See the article entitled University Leads Statewide Task Force to Create Suicide Prevention Video at news.utexas.edu."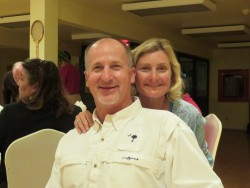 William Barry Wethington (B.S. '85) says, "Hello to the class of 1985 – we had a great field camp. Many good memories! I parted with BP in 2014 after 26 years of working around the globe. I tried retirement for a few months but realized I am not very good at doing nothing. I am currently working for Aramco in Saudi Arabia for one last adventure. My wife, Kerri, still puts up with me after 31 years. Our three kids are doing well. My youngest graduated from UT (Jackson School of Geology) and is now completing his masters in Geology at OU."
Matt Wickham (B.S.'85, M.A. '91) is Principal Hydrogeologist with Pastor, Behling & Wheeler, LLC (PBW) and manages their Victoria, Texas, office. Matt says, "I have many exciting projects (and some not so exciting). I have learned a heck of a lot about the behavior of arsenic in alkaline groundwater environments."
Jefferson Williams (B.A. '88) is weathering the Oil downturn (www.acousticpulse.com) and continuing research in GeoMythology (www.DeadSeaQuake.info). "I started a new business (www.StoriesFromTheEarth.com) and live in Los Angeles with my daughter Gladys (age 10). I visit Austin at least once per year to visit my mother and can be reached at Jefferson.Williams@gmail.com."
1990s
Keg Alexander (M.A. '90) traveled to southern Tanzania to work on a geothermal resource assessment.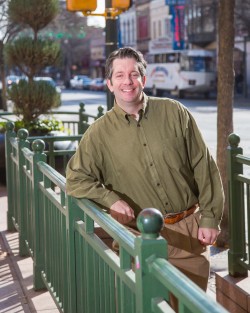 Donald Andrew Bowen (B.S. '91) writes, "After working as a consulting geologist/hydrologist, I earned an MBA and began working for technology companies. I am now seeking water development / water marketing positions at for profits or nonprofits. In my free time I volunteer and try to get my head wrapped around the idea that I'll be 50 this fall. I hope everyone is well."
Bruce Darling (Ph.D. '97) and his wife Diane traveled to Ecuador and the Galapagos Islands for 17 days in November and December 2015. Bruce says, "We spent eight days traveling around the islands under the guidance of Mountain Travel Sobek. We saw points of interest on Baltra, Santa Cruz, Isabela, Fernandina and Santiago islands. There were early morning and midafternoon hikes each day, with time for snorkeling between hikes. There was little downtime between the time we boarded smaller boats each day at 7:20 am and the time we returned to the yacht at 6:30 pm. I shot more than 2500 photos of wildlife, plant life, and volcanoes etc. during the trip. One of my favorite sites was Darwin Lake, located on Isla Isabela. Darwin and members of HMS Beagle visited this location in 1835, while in search of fresh water. They were disappointed. It is a saline lake, located in a cinder cone on the flanks of the much larger Darwin Volcano. I was very pleased to have walked through many areas that Darwin visited when he spent five weeks in the Galapagos. I have been to the Masai Mara National Reserve and the Galapagos National Park. I look forward to seeing Tierra del Fuego soon!"
James Farmer (B.S. '94) is currently Geoscience Advisor for Halliburton/Landmark and can be reached at james.farmer@halliburton.com.
Douglas Gale (B.S. '97) joined JP Morgan's Dallas Energy Group in summer of 2016.
Christi Weissmantel Gell (B.S. '96) now works at Drillinginfo in Houston. She notes that, "our headquarters are in Austin, so I get to come back pretty regularly and hit some of my old stomping grounds. Kiddos are 5 & 6 yo and growing like weeds."
Keith Ging (B.S. '93) is Senior Hydrologist at the LCRA.
Mark Gordon (Ph.D. '90) writes, "I Started working at PGS last fall. I am interpreting seismic data for input into depth migration. I have been traveling more than in past jobs, but it has been interesting. Ceci and I went back to Alaska last year and enjoyed some early snow. We saw much more wildlife this time."
Kim Gordon (B.S. '99) is with INTERA in Austin.
Barry Hibbs (Ph.D. '93) received the outstanding professor award at California State University, Los Angeles.
Eugene Kim (Ph.D. '98) recently joined (March 2016) Millennium Management as an Oil & Gas Strategist and can be reached at eugene.kim@mlp.com. He was previously with Shell Trading as a LT Fundamental Supply Analyst.
Roger Lee (Ph.D. '96) has been with Sims & Associates now for 8 years in Austin.
Barbara Lorenzo-Rigney (B.S. '99) is with INTERA in Austin.
Barb Mahler (M.A. '91, Ph.D. '97) is with the USGS and part of the team that just published: Source, variability, and transformation of nitrate in a regional karst aquifer: Edwards aquifer, central Texas: Science of The Total Environment, v. 568, pp. 457–469.
Jim Mayer (Ph.D. '95) is department chair at the University of West Georgia in Carrollton, Georgia.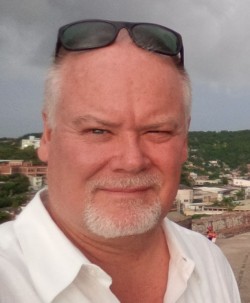 Daniel McConnell (B.S. '95) shares, "I am currently looking at seabed mining and gas hydrate projects globally for Fugro. I also help position the company for deepwater geochemistry surveys in the Asia Pacific region together with UT's own Jamshid "Jim" Gharib. So, plenty of travel for me. I am happy that UT won research funds for gas hydrate drilling in the Gulf of Mexico. I have a bit of history with the discovery and confirmation of the locations that UT intends to core as part of the Gulf in the US Dept of Energy Gas Hydrate Research program. I am glad that I have been able to make a contribution. Hook 'em! The family is doing well. Beth (UT MA Social Work) expects to reenter the workforce now that Molly has graduated HS. My daughter Cara will be finishing her BA in Geography from UT this year. Molly just enrolled at Southwestern in Georgetown." Dan can be reached at dmcconnell@fugro.com.
MaryLynn Musgrove (M.A. '93, Ph.D. '00) is with the USGS and part of the team that recently published: Source, variability, and transformation of nitrate in a regional karst aquifer: Edwards aquifer, central Texas: Science of The Total Environment, v. 568, pp. 457–469.
Edward Ray Newby (B.S. '91) currently resides in Austin, TX, and can be reached at ray.newby@glo.texas.gov.
Kevin Pasternak (B.S. '95) is a Senior Hydrogeologist/Project Manager with AECOM in Austin. He recently attended from the Battelle 10th International Conference on Remediation of Chlorinated and Recalcitrant Compounds that was held in Palm Springs, CA, and presented a poster entitled "Remediating DNAPL from Fractured Bedrock to Prevent Off-Site Migration to a Neighboring Creek."
Sachin Shah (B.S. '98) is currently Chief, Hydrologic Studies and Research, at the U.S. Geologic Survey – Gulf Coast Program and can be reached at sdshah@usgs.gov.
Jacqueline Avvakoumides van Lier (B.S. '97) is Marketing Coordinator at Dale Carnegie Training of Central & Eastern North Carolina.
Jennifer Wilson (B.S. '95, M.S. '01) is with the USGS and just published: Occurrence and concentrations of selected trace elements and halogenated organic compounds in stream sediments and potential sources of polychlorinated biphenyls, Leon Creek, San Antonio, Texas, 2012–14: U.S. Geological Survey Scientific Investigations Report 2016–5039.
Brad Wolaver (B.S. '95, Ph.D. '08) announces the arriveal of John David Wolaver ("Jack") – 8 lbs 6 oz. Mom (Abby) and Jack are doing great.
2000s
Mishal Al-Johar (B.S. '07, M.S. '10) was in Dubai and Saudi Arabia over Christmas. He notes, "They have started using treated wastewater for irrigation but in those cases even if they are using wastewater, it might still not be a good idea to use it for landscaping! Dubai is also still trying to use cloud seeding to increase precipitation by geoengineering and claim to have had success this spring with increased storms. However, they have limited stormwater management infrastructure." He adds that they are still complaining about the rain in Portland.
Tyler Arrington (B.S. '08) has been a staff geologist for 7 years at InControl Technologies. He says, "We specialize in groundwater and soil remediation and treatment using various techniques from low flow to in-situ injections using natural oxidizers or specialized microorganisms depending on the exceeding constituents of concern. I pursued my Fundamentals of Geology and passed last December, and plan to take the P.G. this fall in October. My family also had a boy this January, and we hope he will be another future Longhorn Alumnus."
Trevor Budge (Ph.D. '08) is with INTERA in Richland, Washington. Trevor and Camy recently returned to Austin for a short visit.
Johnathan Bumgarner (B.S. '02, M.S. '05) started as the Director of the USGS New Mexico Water Science Center on February 8, 2016.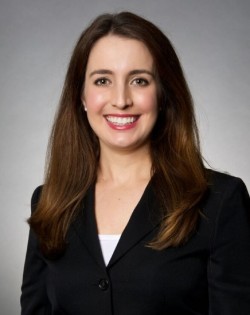 Kelly Iacono Daniel (B.S. '04) was promoted to Senior Project Manager with Kleinfelder in Austin, Texas. She currently resides in Pflugerville with her husband and two daughters.
Ronald Dildine (B.S. '03) is Environmental Remediation Program Owner at Flint Hills Resources in Corpus
Patrick Fortson (B.S. '04) has been with Weston Solutions in Austin for 5 years now and is still enjoying it. Patrick is designing and conducting remedial investigations of soil, groundwater, sediment, and surface water to investigation heavy metals (from lead shot and bullets) and PAHs (from clay targets) contamination. He says, "It is certainly interesting and a challenge learning the CERCLA process. On the personal side, I have been married almost 3 years now and have an 11 month old daughter, so that has been a lot of fun."
Beatriz Garcia-Fresca (M.S. '04, Ph.D. '09) returns to Texas. After a couple of years in Norway working with Statoil, Beatriz and family relocated to Houston in 2014. This month they relocated again to Austin, and she continues to work on Statoil's unconventionals R&D and is about to go on a month-long camping & road trip adventure across the US southwest. Bea says, "Looking forward to seeing y'all around!!"
Peggy Hairston (B.S. '05) is a project engineer with Bullock, Bennett & Associates, LLC (BBA) Engineering and Geoscience in Bertram, Texas.
Sally Holl (M.S. '04) is now Professor at Austin Community College.
Adrian Lindley (M.S. '05) is with Parsons in Austin.
Ben Linhoff (M.S. '08) just received his Ph.D. at Woods Hole/MIT.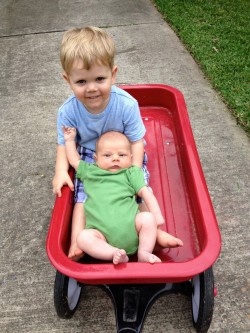 Lauren Greene Martin (B.S. '07) shares, "Charlie Greene Martin was born this past March! The whole family is doing great, big brother Graham has learned how to say, "Hook 'Em Horns!" and Lauren is working part-time at Apache in the reservoir modeling team." Lauren can be reached at lauren.greene.martin@gmail.com.
Stephanie Mills (B.S. '09) currently resides in Cibolo, TX, and can be reached at stephanie.elizabeth.mills@gmail.com.
Ryan Parks (B.S. 02) is practicing law in Houston with Lafitte Parks, PLLC, and has been specializing in energy & environmental insurance work.
Suzanne Pierce (Ph.D. '06) is the Newsletter Editor for the International Association of Hydrogeologists United States National Chapter.
Roman Pineda (B.S. '00) is a Professional Geologist at KFW Engineers & Surveying in San Antonio.
Dennis Ruez, Jr. (Ph.D. '07) writes, "I continue to serve as chair of the Department of Environmental Studies at the University of Illinois at Springfield. Ditto my position as research associate with the Illinois State Museum. This fall I am also becoming the chair of the UIS Department of Biology. I continue to serve at the University of Illinois System level in various capacities."
Marel Sanchez (M.S. '01) says, "I am pleased to announce that I have come with a team to open a consulting firm called Actus Veritas Geoscience, for petroleum asset evaluation. We are pretty positive to address changes needed in oil industry and keep our geoscience experience able to help to address G&G studies to any consulting. Actus Veritas is an integrated team of geologists, geophysicists and engineers specialized in technical and economics evaluations of oil and gas opportunities, business development and compliance. Applying a multidisciplinary collaborative approach and best practices to small and full cycle opportunity evaluation projects optimizing your workflows and delivering value to stakeholders." Marel can be reached at marel.sanchez@actusveritas.com, and her website is www.actusveritas.com.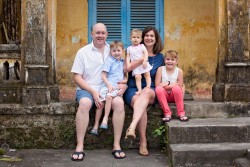 Sunday Shepherd (M.S. '00) shares, "16 years and counting with Chevron… My husband Ryan and I have 3 amazing kids, one of whom is a budding earth scientist! I am returning to Houston to lead the DW GOM regional team after a few great years in Singapore exploring the Asia Pacific region. I look forward to getting back into the Jackson School community. All the best!" Sunday can be contacted at suns@chevron.com.
Sunny Simpkins (B.S. '00) is an engineering geologist in Portland, Oregon.
Jon Snatic (B.S. '02, M.S. '13) took a position with Halliburton in Lafayette, Louisiana, 2 years ago.
Dan Stine (B.S.'04) is a Senior Occupational Safety Specialist with UT's Office of Environmental Health and Safety.
Cynthia Valle (B.S. '07) is still with the U.S. National Park Service and has recently moved from Arizona to Idaho.
Diego Jose Van Berkel (M.S. '06) currently lives and works in Columbia. He can be reached at dvan@pacific.energy.
Tom Wiles (M.S. '07) reports, " I have been working for a private oil & gas firm, GeoSouthern Energy, here [in Houston] for three years now after spending 6 years in Denver with Encana. I find the work interesting and find my knowledge of hydrogeology to be illuminating."
Louis G. Zachos (Ph.D. '08) received tenure and promotion to Associate Professor, Department of Geology & Geological Engineering, University of Mississippi in May 2016.
2010s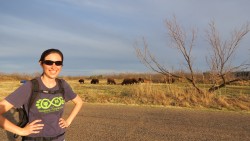 Margaret "Maggie" Behnke (B.S. '12) continues to enjoy travelling around the state, country, and the world with her husband. She also got her third hole-in-one this past January. She also is very excited that she has now taken a job with Weston Solutions in their Austin office. She only has about 1-1.5 years left until she gets her P.G. License. Maggie can be reached at Maggie.Behnke@WestonSolutions.com.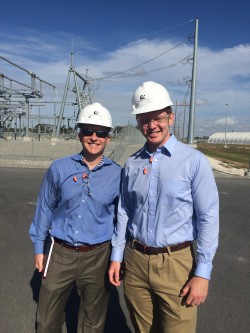 Todd Burack (B.S. '15) shares, "August 2016 will mark my one-year anniversary at Aon where I provide risk management expertise for accounts in the renewable energy, transmission/distribution, and utilities sectors. The foundation provided by the Jackson School has prepared me for the ever-changing risk landscape that is characteristic to the power and energy space."
Marcus A. Chroback (B.S. '10) says, "I am a geologist with EOG Resources in San Antonio, Texas. I am currently serving as the San Antonio director of the Jackson School's FAN's Alumni Board. Always looking forward to visiting campus again!" Marcus can be reached at marcus_chroback@eogresources.com.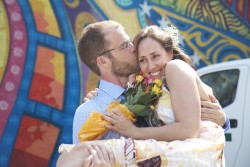 Luke Decker (M.S. '14) married Elvira Aguilera Alonso in Houston, TX on May 13, 2016.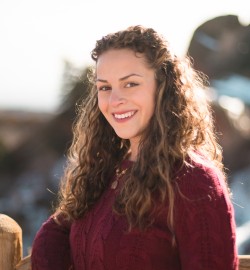 Rania Eldam (B.S. '13) is the author of "MD and Finn Go Camping!" MD and Finn is an attempt to promote STEM (science, technology, engineering, and math) in a fun and engaging children's book series. Rania shares, "I am an author by nature, a scientist by nurture. Teachers were telling me by the time I was 9 years old that writing would be in my future: from the fake news articles I wrote, to the thirteen-page long fiction assignments. My imagination had a mind of its own, and with that heavy load, I travelled to New York City at eighteen years old to pursue a degree in screen and television writing. It wasn't until I had transferred to the film program at The University of Texas at Austin a year later, that I stumbled into the limestone-pocked building with floors covered in dust and Chacos. I was taking Age of Dinosaurs, because why not, and suddenly, laid out before me in a span of 4.5 billion years, was the greatest story I could have ever hoped to tell. It didn't take long for the paperwork to go through and I became an official geology student in the Jackson School, but I kept telling myself that I wasn't giving up on my dream – I had just found another, more career-stable, one. A few years later, I began working on the pre-MD and Finn project, placating my nagging subconscious that I should still be writing creatively, and initially developed the plot of a cute little children's book with an animated fox (Finn) that ran around experimenting and blowing things up in his little white lab coat and safety goggles. His best friend, MD would come along and sort of keep him out of trouble, helping him learn how to properly do science. After brainstorming some of the first book, I realized that although I may empathize with the little fox who, despite his good intentions, just keeps breaking things in the lab, I was creating another story with similar features to most of the other children's books and television shows out there: a male (human/animal) main character, and a female sidekick that was the "motherly" figure who took care of him. I acknowledged that this was not the message that I wanted to continue to portray, and instead focused on a female protagonist who drives all of the questions and experiments that occur on their adventures. It was incredibly important to me that young girls see someone just like them being an adventurer and critical thinker. Similarly, it was essential for them to see that there are adventures in everyday life – even something as small as watching the stars at night. Every scientific question that I've ever had has been an adventure to me – a question which I am itching to solve, and I felt compelled to instill that same sense of curiosity within every child. Even through this realization, though, the practicality of creating the book itself was still just a little dream that I kept pushing off into my future – never really taking it seriously. I'm not sure why I started talking about that dream a little more in the fall of 2015, but I did, and one conversation let to another, where every person I would chat with about it kept asking me the same thing: why aren't you doing it? I was the master of excuses: time, money, feasibility, but what it really came down to was that I was terrified of failing at something that I felt incredibly passionate about. I didn't want to throw my dream into the tumultuous criticisms of the world, ready to be hacked apart, designated as useless dribble. However, after hearing my friends, colleagues, and mentors, repeatedly ask me that question, I finally had to face that fear and acknowledge that if I wanted to create an adventurous character who was ready to try anything and risk failure to learn new things, then I needed to emulate that bravery. It started one little bit at a time. I asked friends if anyone knew an artist that might be willing to work on the project, and in that way, I found an amazing illustrator/graphic designer who has done brilliant work. I learned all about the intricacies of self-publishing, and established an LLC to begin the process, becoming a business owner while finishing the last semester of my MSc. I realized how much money it was going to take to develop, so I made a successful Kickstarter campaign. Everything just sort of seemingly kept working out, so I kept moving forward. Now, I somehow have 10 boxes of copies of "MD and Finn Go Camping!" sitting in my garage that are slowly getting lighter every day, with every new purchase. It's truly been a dream come true. So Kristen (the illustrator) and I have already begun working on book number two, "MD and Finn, Solar Power!"
Audrey Eljuri (B.S. '14) is with TRC Environmental in Austin.
Kyle Gabb (M.S. '16) currently resides in Webster, TX and can be reached at Kcgabb@gmail.com.
Chelsea Halley (M.S. '16) is a geologist in the remediation division of AECOM in Austin.
Jenna Kromann (M.S. '15) is with GSI, Inc. in Austin.
Daniel Le (B.S. '14) is with GSI, Inc. in Austin.
Lorena Roque Martinez (B.S. '16) is now Karst Educator- Geoscientist in the Park at Buffalo National River in Arkansas.
Scott Moorhead (M.A. '12) is working with the Ben Barnes Group, LP in Austin. He says, "I am spending more time on Central TX land issues including conservation with Texas Land Conservancy, whose board I joined last year. Also working hard to meet many of the professionals in the space from legal, geo, hydro, planning, non-profit disciplines. Trying to become engaged in contributing an informed and sober opinion about water-energy-transportation loops and how it all fits together. More importantly, proud father of two lovely children, 3 and 1 years old."
Frank L. Morgan (B.S. '11) is working as an exploration geologist in Devon Energy's New Ventures group in Oklahoma City.
Kimberly Dawn Myers (Ph.D. '15) writes, "After graduating in May 2015, I began an NSF funded Postdoctoral Fellowship, working in both the Department of Geology and Geophysics at Texas A&M University and the Lamont-Doherty Earth Observatory at Columbia University until June 2017. My work focuses on the Barberton Greenstone Belt in South Africa and Bangladesh, and I am looking at the distribution of arsenic in 3.2 billion-year-old sedimentary rocks. In late July I traveled to South Africa to conduct my first field season." Kimberly can be contacted at myers.kd@gmail.com.
Brandon Okafor (B.S. '12, M.S. '14) is now a hydrogeologist with AECOM in Austin.
Ashley Elizabeth (Quinn) Payne (B.S. '10) is currently a Postdoctoral Research Fellow at the University of Michigan and can be reached at aepayne@umich.edu.
Audrey Pfeil (B.S. '13) is working with Harden & Associates in Austin.
James Pinkard (B.S. '12) is with INTERA in Austin.
Benjamin Porter (B.S. '15) currently resides in Houston, TX and can be reached at bbporter1@gmail.com.
Enrique Reyes (B.S. '16) writes, "Hi everyone! After graduation, I was accepted into and joined Teach For America and was placed in my hometown of San Antonio. I will be teaching science at Sam Houston High School, the same high school I graduated from in 2011. I love education, so as modest as this is, teaching is a dream come true. I had an awesome experience as a summer school teacher in Houston, and can't wait for my classroom in San Antonio at Sam Houston HS." Enrique can be reached at rique.reyes@gmail.com or enrique.reyes.16@tfacorps.org.
Ian Rogers (B.S. '13) has been working with the USGS as a hydrologic technician in beautiful Puerto Rico for almost two years now.
Audrey Sawyer (Ph.D. '11) is at The Ohio State University and has been chosen as the GSA Hydrogeology Division's 2016 Kohout Early Career Award recipient.
Diana Schlotter (B.S. '12) and Nabiel Eldam were married on October 27, 2015. "We are happy to be included amongst the multiple Jackson School husbands and wives."
Samuel Shrull (B.S. '16) will be pursuing a MS in Geology at LSU in the fall of 2016.
Anna Eliza Svartman Dias (Ph.D. '15) currently resides in Rio de Janeiro and can be reached at annasvartman@gmail.com.
Nolan Townsend (B.S. '13) is with Pastor, Behling & Wheeler, LLC (PBW) in Round Rock, Texas.
Michael Tso (B.S. '12) is now a Ph.D. student in environmental science at Lancaster University in the United Kingdom, after graduating from the University of Arizona with a M.S. in Hydrology. Michael is now married to Elizabeth, and the wedding was in Tucson last December.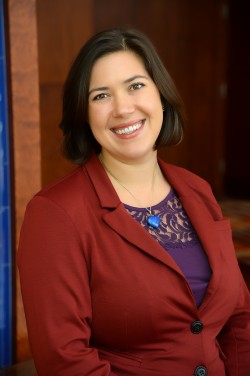 Kelsi Ustipak (M.S. '15) says, "Following graduation from the Jackson School in December 2015, I moved to Houston to begin a career in reservoir geoscience consulting with Badley Ashton America. I trained as a borehole image interpretation specialist, focusing on Miocene age deepwater deposits in the Gulf of Mexico."
Nathan van Oort (B.S. '13) is a hydrologist with the Texas Water Development Board.
Kristopher Voorhees (B.S. '14, M.S. '16) graduated in 2016 with a Master's in Geology studying under Dr. Charles Kerans and the RCRL group. He says, "I traveled throughout SE Asia (Thailand and Japan) for a month the following June. Then I moved to Houston and began working with Apache Corporation and beat traffic by riding my bike to work every day." Kris can be reached at kris.voorhees@utexas.edu.
Maureen LeVoir Walton (Ph.D. '16) shares, "I recently graduated from UT with a Ph.D. after working with Sean Gulick at the Institute for Geophysics, and started a Mendenhall postdoc at the U.S. Geological Survey in Santa Cruz, California. I'll be working with the Marine Geohazards team on offshore hazards related to the San Andreas strike-slip system for the next two years."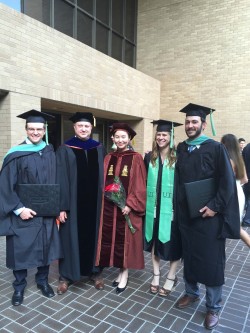 Andrew Yanke (M.S. '16) writes, "After graduating recently from UT Austin, I'm looking forward to whatever stories that all of us recent alumni will make! I'll be beginning my career with Statoil in Houston, Texas, this fall 2016 after having spent my summer in San Antonio, TX. I was born and raised in Colorado, but I am excited to continue venturing in the path of a newfound Texan. I might even give into getting my first pair of cowboy boots…we'll see. Cheers!" Andrew can be reached at ayanke@utexas.edu. photo is (left to right) me, Dr. Kyle Spikes, Dr. Qi Ren, Jennifer Beam, and Barry Borgman after graduation. We were all part of the same research group.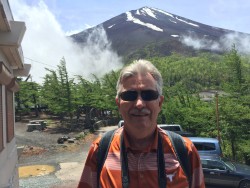 William I. (Bill) Woods (retired Executive Assistant in the Department of Geological Sciences) shares, "2015-16 was a very good year. I continued working part-time at WPR, but that position expired on June 15th, so I'm back in full retirement mode. In May-June, Francisco and I spent three weeks in Japan, visiting Tokyo, Hiroshima, Kyoto, Kobe and Osaka. It was a fantastic trip and we really enjoyed the culture, the high speed trains, the beautiful temples and shrines, as well as the local cuisine. Kobe was my favorite, although Hiroshima Peace Memorial also stands out, as well as the Great Buddah in Tokyo. On our trip to Mt. Fuji, we were blessed with a beautiful day. Occasionally I see a few of my former faculty friends at Gregory Gym, where I continue to work out three times a week. If anyone would like to see pics of my travels, check out www.osote.net. I can be contacted at billw@utexas.edu."