A Harder Look at Gas Plays
October 11, 2016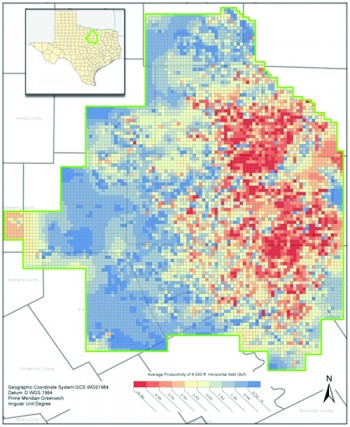 The Bureau of Economic Geology Shale Production and Reserves Study at The University of Texas at Austin has been awarded a $350,000 grant by the U.S. Department of Energy to conduct an 18-month review of prior analysis of major American shale gas plays.
The main objective of the update is to enhance resource assessment work that the bureau's shale study team conducted with funding from the Alfred P. Sloan Foundation on the Barnett, Fayetteville, Haynesville and Marcellus natural gas plays. The study will help to ensure consistency of approach across the four shale gas plays and will incorporate recent data, allowing researchers to capture new market dynamics, emerging technologies and company strategies, which drive shale resource development.
"Our current outlooks were built on relatively short production histories: six years of intense horizontal drilling in the Barnett; five years in the Fayetteville and Haynesville; and four years in the Marcellus," said co-principal investigator Svetlana Ikonnikova. "Since we completed these studies, more wireline logs and core analyses have been released, allowing for more accurate geological and petrophysical characterization."
The addition of four extra years of production data for the Barnett gas play, three years of data for the Fayetteville, and two years of data for the Haynesville and Marcellus shale plays enable the study of emerging drilling and completion technologies.