Bridget Scanlon Elected to National Academy of Engineering
February 9, 2016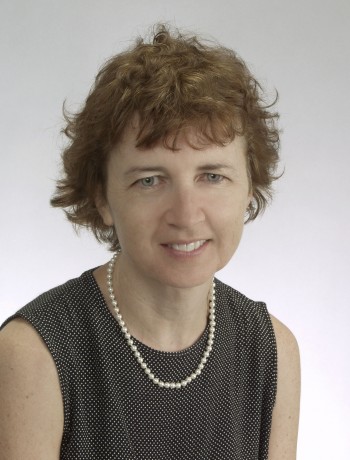 Bridget Scanlon, a hydrologist and senior research scientist at the University of Texas' Bureau of Economic Geology, has been elected a member of the National Academy of Engineering (NAE), one of the highest professional honors accorded to engineers and scientists.
"I still have difficulty believing that I was elected," Scanlon said. "I wish the process would recognize collaborative efforts because I would like to acknowledge my co-workers, particularly Bob Reedy and JP Nicot. I am very grateful to Scott Tinker for supporting my career at the Bureau, to Dean Mosher for support from the Jackson School, and to Dr. (William) Fisher and many others who made the Jackson School a reality.  I also appreciate support from the Mitchell Foundation and Sloan Foundation for our current research related to water and energy issues."
Scanlon leads the Bureau's Sustainable Water Resources Program, a research group that examines issues concerning water resources. Her work on aquifer recharge estimation methods, water use in energy production, impacts of land-use change, and the global recharge estimates for water-scarce regions has improved the understanding of groundwater depletion worldwide. It has also played an important part in informing U.S. water policy, particularly water management in California's Central Valley.
"I'm extremely proud of Bridget. She is one of the most diligent and hard-working scientists I have ever had the pleasure to work with," said Scott Tinker, director of the Bureau of Economic Geology. "She is also extremely humble, unassuming, a terrific team player and leads by example."
The Bureau of Economic Geology is a research unit of the Jackson School of Geosciences.
"Bridget's work on water issues is vitally important to all sectors of our society," said Sharon Mosher, dean of the Jackson School of Geosciences.  "She is a world-class expert in her field and as dedicated a researcher as I have ever known. I am very proud that Bridget has received this well-deserved honor."
Much of Scanlon's work combines a variety of analysis methods—from local field measurements to data from NASA's GRACE satellite—to provide insight on water in the environment at a variety of scales. Recently, Scanlon led the most comprehensive study to date on the water supply of the Colorado River Basin, a water source for over 40 million people.
Scanlon has also studied water use in energy production. In 2014 she led research that determined hydraulic fracturing uses no more water than conventional reservoir extraction techniques. And in 2012, she led a study that found using natural gas for electricity production resulted in overall water savings when compared to electricity generated by coal-steam power plants.
Research scientists play a critical role at The University of Texas at Austin in attracting external funding and using that funding for basic and applied science vital to the academic and the nonacademic community.
"Scanlon is an ideal example of someone excelling in the role of a research scientist," Tinker said. "Bridget works on very practical things and bridges nicely between fundamental data, basic breakthroughs and practical applications of science. Bridget is able to take complex scientific concepts and reduce them into terms that a broad community of stakeholders can understand."
Those who rely on Scanlon's work include policy makers, regulators, city planners, energy companies and nongovernmental organizations.
Scanlon has received many honors in recognition of her research accomplishments. She was elected a fellow of the American Geophysical Union and the Geological Society of America. Scanlon has also been named the Birdsall Dreiss Lecturer for the Geological Society of America, and is a two-time winner of a conservation award from the Barton Springs Edwards Aquifer Conservation District, and the Bureau's Publication Award, honoring the top publication of scientific or economic impact in a given year.
Members are elected to the academy based on their record of accomplishments in the engineering field and their professional integrity. The accomplishments must be in one or both of the following categories:
Engineering research, practice, or education, including, where appropriate, significant contributions to the engineering literature.
Pioneering of new and developing fields of technology, making major advancements in traditional fields of engineering, or developing/implementing innovative approaches to engineering education or providing engineering leadership of major endeavors.
Nominations must come from a member of the academy. Members are elected in a vote open to all academy members. David R. Maidment, a professor in the University of Texas Cockrell School of Engineering was also elected to the academy.
"We are very proud of both David and Bridget — two world-class researchers who are deserving of this honor," said Gregory L. Fenves, president of The University of Texas at Austin and a member of the NAE.