Conducting World-Class Science; Gaining Real World Experience
May 1, 2015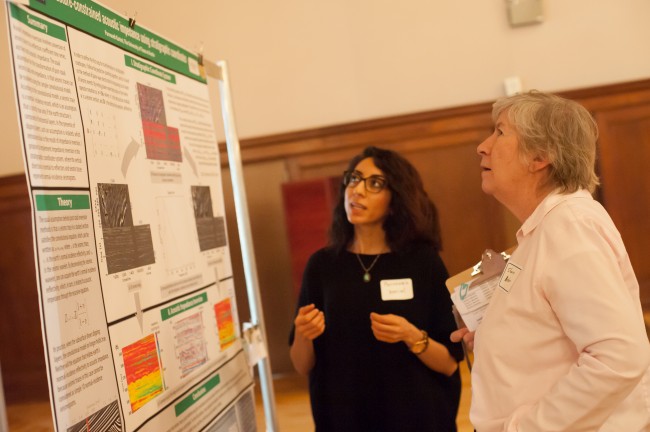 Stephanie Wafforn's voice was raspy from overuse as she described her research project yet again, as she had countless times this afternoon. But she was cheerful and animated as she explained her findings.
Staying cheerful wasn't hard, she said, because of her passion for the research. In fact, it was the opportunity to work on this particular project that brought Wafforn to study for her Ph.D. at the University of Texas at Austin Jackson School of Geosciences. She was happy to share her experiences with anyone who was interested. And there were plenty interested during the 4th Annual Jackson School Research Symposium, held on campus Feb. 7, 2014.
Wafforn conducted zircon uranium-lead and trace element analysis in the Ertsberg-Grasberg Mining District in Papua, Indonesia. The project found that the prolific mining district formed in less than a million years, a remarkably short time given the district's enormous resources.
"This is one of the world's largest copper mine and it's in Papua, Indonesia," Wafforn said. "It's just an amazing place to work. I've just had a tremendous amount of interest."
An hour or so later, Wafforn would earn first place, and a $1,000 check, for the symposium's Late-Career Ph.D. Best Poster Award, making professor Danny Stockli, one of her co-advisors, very proud.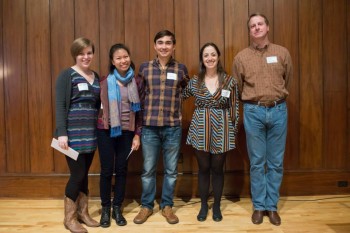 "It is fantastic stuff," Stockli said of the research. "It's certainly been pushing our analytical limits."
Wafforn's enthusiasm for her research was magnified more than 100 times over the course of the symposium – 135 times to be exact. That's how many students – undergraduate, masters and Ph.D. – presented research at the annual event, which is organized by students and sponsored by ConocoPhillips.
"I'm overwhelmed by the quality of the work and the passion of the students," said Peter Hennings, who manages ConocoPhillips' partnership with the Jackson School.  "It's a testament to the transformative role the Jackson School is playing on the global geoscience stage."
Global is right. A quick review of the research presented at the symposium shows work from places like Antarctica, Alaska, Peru, the Alps and many more locations (including Mars).
Dean Sharon Mosher said this type of experience is critical to a student's education. It's all part of the Jackson School's continuing journey to be the top geosciences program in the world.
"One thing that makes the Jackson School stand out is how field-intensive we are," Mosher said. "We make sure that our students have the opportunity not just to go out locally, but to go to Chile, go to Montana, go to Wyoming, go to Scotland – and really see geology. And we do that at both the undergraduate and the graduate level. It's a really important part of their education."
The day-long poster competition occurs every spring semester and allows Jackson School students to present their research to a panel of judges composed of faculty, research scientists and industry representatives. Alumni and interested members of the public are also invited to attend.
ConocoPhillips' Juli Hennings has been associated with the symposium from the beginning and judged the undergraduate posters at this year's event. She said the face-to-face communication and interchange of ideas among the students and faculty is tremendously valuable for the Jackson School program. Including judges who are alumni, professional geoscientists and prospective employers creates an important outlet for interchange of research ideas, Hennings added.
"This event is completely student developed and managed, and thanks to 2015 organizer Emily Hernandez Goldstein's dedication and project management skills, it reflects the high standards and capabilities that the Jackson School is known for," she said. "We sponsor this event because we want to energize students' sense of inquiry and draw out the creative. That's what we're looking for – people with a sense of scientific inquiry and the drive to complete a project."