Recap: "Hasta La Vesta" Online Event
September 13, 2012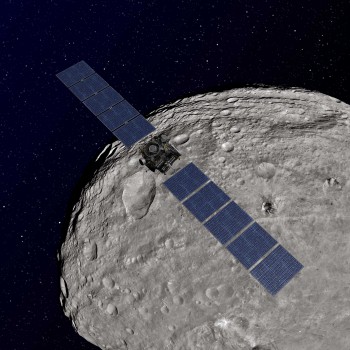 On September 8, 2012, NASA's Dawn mission held Hasta La Vesta, a celebration of the successful exploration of giant asteroid Vesta.
As part of the event, Dawn mission scientists and engineers shared mission stories and answered questions in a live, interactive Google+ Hangout video event moderated by Dawn science team liaison, Dr. Britney Schmidt, research scientist associate at the University of Texas at Austin. A web video recording of the Google Hangout is available here.
Over 120 people RSVP'd their attendance to the online Google Hangout, with 39 sites that hosted larger Hasta La Vesta celebrations nation-wide and around the world, including Antarctica, Germany, Mongolia, and Ghana.  Attendance at any given time was over 100 sites, with hundreds of views since then.  At one point, #HastaLaVesta was the top trend on Twitter.
Dawn scientists and engineers talked not only about the science behind the mission, but also shared personal anecdotes about what led them into careers in space science.
"I have always been interested in space. I was a little kid when Viking went to Mars, and I thought those pictures that Viking sent back were the coolest things ever.  Probably since as young as 6, I wanted to study outer space," said Debra Buczkowski, a Dawn Participating Scientist from the Johns Hopkins University Applied Physics Laboratory.
When asked what it felt like seeing the first pictures as the spacecraft got closer to Vesta, spacecraft flight operations team lead, Tim Weise, from Jet Propulsion Laboratory, replied, "That was truly amazing. We had been so focused on flying the spacecraft … and then got to finally see the body resolved better than the Hubble space telescope images. Every week, we got a new image, and as we got closer you could see more craters and more lumps and more grooves, and all these very interesting science features. It's just amazing to me."
"I started working on Dawn in 2001, so here we are, eleven years later, and it's really gratifying to see it all work out." said Chuck Garner, lead ion engineer who also was on the spacecraft's design team.
"I first looked at Vesta when I was about 15 or so from my house in India. Growing up in India, we never used to have electricity in the evening, so when it used to "get dark," it literally got dark! You had nothing else to do, so you used to go out and look at the stars. I started looking at Vesta with binoculars. I used to make a sketch and track it in the sky over a few days. I get paid to do my hobby, so I don't feel like I go to work every day." Vishnu Reddy
An important element of the Hangout was the rolling out of Dawn's new citizen science project, Asteroid Mappers, in collaboration with CosmoQuest. Dr. Pamela Gay: "If you've looked at the Moon, you haven't looked at Vesta….Vesta is what would happen if Dr. Seuss designed a planet, full of ridges and craters and weird terrain!"
Asteroid Mappers is a chance for anyone interested to contribute to mission science by exploring images the general public has yet to even see!
Visit the Dawn Mission website for much more about Vesta and the spacecraft's journey to its next destination: dwarf planet Ceres.