Jackson School Celebrates Opening of New Student Center
June 26, 2012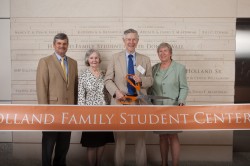 Funded entirely with private support from more than 355 donors, the Jackson School of Geosciences' new Holland Family Student Center opened June 15 during a ribbon-cutting ceremony at the Jackson School on the central university campus.
"We are here today to celebrate something amazing that all of you have done," Dean Sharon Mosher told the assembled donors.
"During a challenging economic time, you looked at an institution that was striving to be the best, to go to the highest level, and to attract the world's best students. And you supported that vision."
About one hundred supporters and friends of the school celebrated the opening, including lead donors Jacque and David "Scotty" Holland (B.S. '57). The Hollands' $3 million contribution put the fundraising campaign over the top last fall.
BHP Billiton contributed $500,000 to purchase one of the highlights of the new space, the BHP Billiton Magic Planet Globe, a six-foot diameter interactive display. The globe shows a wide-range of earth systems phenomena, from hurricanes and tsunamis to plate tectonics. It will be used for instruction, public outreach, and visualization of research projects.
The heart of the new 11,600-square-foot space features a public commons area with a coffee bar and study area, flanked by student service rooms for advising, tutoring and career placement, and meeting spaces for students, faculty and research scientists.
The goal of the center was to create a central hub for the geosciences on the main campus, and a place for students to gather, collaborate, and meet with scientists.
The space will also help the school continue to attract the best and brightest students.
"This space is a great advertisement for the geosciences in general, and for the Jackson School as a leader in the geosciences," said Mosher.
The center was designed to meet the gold rating standard for commercial interiors established by the Leadership in Energy & Environmental Design (LEED) program of the U.S. Green Building Council. The Jackson School has been a pioneer in adopting LEED building practices. The UT Research Office Complex, built to house the Institute for Geophysics and the Texas Advanced Computing Center, was the first University of Texas facility to be LEED certified.
Construction began in June 2011 and was completed in June 2012. The campaign to raise the $8 million for the project was completed within two years.
The center is open now and will be ready for students to return en masse this fall.
For a complete list of donors see the school's Student Center Thank You page.