Steel Named Chair of Department of Geological Sciences
June 2, 2011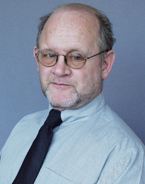 Ron Steel, professor and the Morgan Davis Centennial Chair in the Jackson School of Geosciences, has been named chair of the Department of Geological Sciences in the Jackson School at The University of Texas at Austin starting Aug. 1.
Steel received his Ph.D. from the University of Glasgow, Scotland in 1971. Before coming to The University of Texas at Austin in 2003, he was professor of reservoir geology at the University of Bergen in Norway, the Wold Professor of Energy at The University of Wyoming and professor at The University Centre in Svalbard. He also was head of geology research and chief geologist of Norsk Hydro, one of the world's largest aluminum companies and a major oil company until 2007, when its oil and gas operations merged with Statoil to form StatoilHydro.
"Ron is an outstanding researcher and award-winning teacher," said Sharon Mosher, dean of the Jackson School of Geosciences. "He will provide strong leadership in a time of change as we continue to increase the breadth and depth of our programs."
The University of Aberdeen (UK) awarded Steel the Sixth-Century Chair in Sedimentary Geology in 2006 on its 600th anniversary. Steel still holds the position. This past spring, he was awarded the Grover E. Murray Distinguished Educator Award from the American Association for Petroleum Geologists. He has also held distinguished lectureships from the American Association for Petroleum Geologists and from the Japan Society for Promotion of Science. In 2009, he was awarded the highest honor of the Jackson School of Geosciences, the Joseph C. Walter Jr. Excellence Award for outstanding achievements in research, teaching, and service.
Steel is a sedimentologist/stratigrapher with research focus on sedimentary basins and interpretation of their infill, including the occurrence of oil and gas. He is interested in the role played by river deltas in the growth of continental shelves, the new theory of autostratigraphy and sediment budget partitioning in source-to-sink transects across continental margins.
Steel has authored or co-authored 150 peer-reviewed articles in mainstream journals/books and has edited seven books.
Also see:
Ronald Steel Profile
For more information on the Jackson School, contact J.B. Bird at jbird@jsg.utexas.edu, 512-232-9623.