Memorial: Thomas D. Barrow
January 28, 2011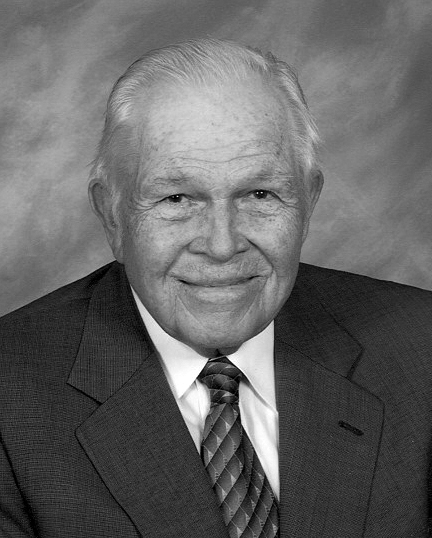 The Jackson School community mourns the loss of Thomas D. Barrow and extend their condolences to his family. Dr. Barrow died Thursday, January 27.
He was a Distinguished Alumnus and a life member and former Chairman of the Geology Foundation. Sharon Mosher, dean of the Jackson School writes, "Tom was one of our strongest, longtime supporters and will be greatly missed."
Funeral services will be held 2 p.m. Monday, Jan. 31 at the Christ Church in downtown Houston.
---
Obituary
Thomas D. Barrow, B.S. '45, M.A. '48, distinguished geologist, business leader, and longtime friend of the geosciences at The University of Texas at Austin, died Jan. 27.
Dr. Barrow retired in 1985 as vice chairman of the Standard Oil Company (Ohio), or Sohio, which later merged with BP. Among many leadership duties at Sohio, Barrow was responsible for oil and natural gas exploration and production activities and for Sohio's worldwide minerals business Kennecott, of which he had been chairman and CEO prior to its purchase in 1978.
Earlier in his career, Barrow helped extend offshore exploration and production to deeper waters throughout the world. A prominent spokesman for the protection of the marine environment and the efficient development of ocean resources, he was one of the founders in the early 1970s of the National Ocean Industries Association (NOIA), which grew into the leading trade association of the offshore petroleum industry.
Dr. Barrow, a native of Texas, earned his B.S. degree in Petroleum Engineering in 1945 and M.A. degree in Geology in 1948 from The University of Texas at Austin. In 1953, he received his Ph.D. in Geology from Stanford University. His doctoral dissertation, done with support from Humble, was on "The Structural and Stratigraphic History of the East Texas Basin."
In 1951, he joined Humble Oil and Refining Company (Exxon) as a geologist in California and by 1962 was named southeastern region exploration manager. He moved up the ladder with Humble to become its president in 1970. In 1972, he was named senior vice president of Exxon Corporation and elected a member of its Board of Directors. In this capacity, Dr. Barrow was responsible for Exxon's worldwide exploration and production activities. Additionally, he was contact director for Exxon Exploration, Inc. and Esso Eastern, Inc. as well as Corporate Planning, Mining, and Synthetic Fuels. His other corporate responsibilities included Exxon Research and Engineering Company, Imperial Oil Limited, Exxon Enterprises, Inc. as well as Production, Science and Technology. Dr. Barrow retired from Exxon in November 1978.
Dr. Barrow was chairman of the boards of GPS Technology (1986-1998), Tobin International (1998-2003), and GX Technology Corporation (1990-2004). He was president of T-BAR-X Limited Co. (1995-2005). Dr. Barrow was a member and former vice chairman of the board of Trustees of Baylor College of Medicine and Houston Grand Opera (president 1985-87, chairman 1987-91). He was a former trustee of Stanford University, American Museum of Natural History, Geological Society of America Foundation and Woods Hole Oceanographic Institution, past president of the American Society for Oceanography and the National Oceanography Association.
He was a member of the American Association of Petroleum Geologists, American Geophysical Union and Society of Mining Engineers. He was elected a fellow of the American Association for the Advancement of Science, the Geologic Society of America and the New York Academy of Sciences.
He was a member of the National Academy of Engineering and served on the Commission of Natural Resources and the Commission of Physical Sciences, Mathematics and Resources of the National Academy of Sciences.
The University of Texas at Austin awarded Dr. Barrow the Distinguished Graduate in Engineering in 1970, the Distinguished Graduate in Geology in 1982, the Distinguished Alumnus in 1985 and Distinguished Graduate from the College of Natural Sciences in 1991. In 2005 he was one of the inaugural members of the Jackson School's Hall of Distinction. He is a life member and former Chairman of the Geology Foundation, a Life Member of the Ex-Students Association, member of the Chancellor's Council, member of the President's Associates, and was a member of the Centennial Commission and U.T. Commission of 125.
Dr. Barrow was awarded the Distinguished Achievement Award from the Offshore Technology Conference in 1973. In 1974, the National Ocean Industries Association gave him the same honor. He was named Chief Executive of the Year for the Metals and Mining Industry in 1979.
Dr. Barrow is survived by his wife, Janice Barrow (nee Hood). They have four children-Theodore Barrow, Kenneth Barrow (member of the Jackson School Advisory Council and former UT doctoral student), Barbara Loyd Barrow McCelvey (UT M.S. '83, Civil Engineering), and Elizabeth Ann Barrow Brueggeman-and nine grandchildren.
For more information about research at the Jackson School, contact J.B. Bird at jbird@jsg.utexas.edu, 512-232-9623.