GeoFORCE Keeps Growing
October 1, 2010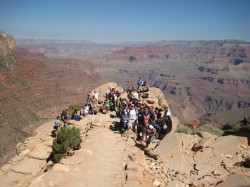 GeoFORCE Texas, one of the nation's largest geosciences pipeline programs, has just wrapped up its biggest summer of field trips ever. The program began in 2005 with 80 students from southwest Texas. In 2008, it expanded to include students from the Houston area. This past summer, nearly 600 students from the two regions fanned out across the country to see spectacular geology first hand.
GeoFORCE, hosted by the Jackson School of Geosciences and supported by energy companies, government agencies and private foundations, engages honor students from predominantly minority serving schools on geological field trips to educate and excite them about science. The program is designed to increase the number and diversity of students pursuing college degrees in math and science, especially the earth sciences.
GeoFORCE has just reached a second major milestone as the first cohort of Houston students to complete the program headed to college this fall. Kanavis Alston, a 2010 graduate of Madison High School in Houston, was already interested in science, primarily biology, before his two summers in the GeoFORCE program. Now, as a freshman at The University of Texas at Austin, he's planning on working in the business side of the oil industry.
"I was inspired by the people from the oil industry that went on the trips," he says. "I liked hearing their stories."
Of 40 college-bound GeoFORCE students from the Houston area, 20 are majoring in STEM fields (science, technology, engineering or math), 7 are attending UT Austin, and 2 are majors in the Jackson School.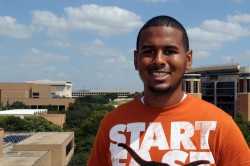 Alston says in his high school, he was used to being one of the smarter kids in class. GeoFORCE was different.
"It was my first time being around that many intelligent people," he says. "On the trip, everyone wanted to learn and they were engaged in all the lessons. It was refreshing."
GeoFORCE's southwest region graduated 72 students this year, of which 22 are attending UT Austin, 15 are in STEM fields, and 7 are in the Jackson School. Jeff Sitgreaves, a 2010 GeoFORCE graduate from Brackettville in southwest Texas is majoring in geology at UT Austin.
"If it wasn't for GeoFORCE and all of the great things they do alongside the Jackson School, I would have never considered geology," he says. "I realized by my last GeoFORCE trip that geology, the Jackson School, and The University of Texas at Austin were for me."
Sitgreaves says the geology he was learning in the field was at a higher level than he realized.
"It has been great to sit in class at UT and listen to the professor talk about a given subject and then be able to relate that to the things I have already learned and seen as a part of GeoFORCE," he says. "So, in that respect not only have I been able gain wonderful experiences I have also been given a head start because of all the great things that GeoFORCE has to offer."
Study, Study, Study
A third milestone for GeoFORCE is that the first class to graduate from the program have now completed their first year of college. At the time of writing, staff members had reached 62 of the 75 students who started college in fall 2009. Of those, all but four were planning to continue their college work. One, who had joined GeoFORCE for one summer as a senior in high school, has already completed a bachelor's degree from UT Austin. One graduated with a two year junior college degree, one left for work, and the fourth joined the Air Force.
"My first year at college was amazing while at the same time somewhat difficult," said Luciano Esquivel, biology major at UT Austin and 2009 GeoFORCE graduate. "The most difficult thing was getting used to studying, something I'm still trying to work on. I was really shocked at how much of a leap high school was all the way to college. It was as if I had entered a whole new world."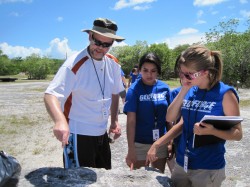 GeoFORCE students take an exam at the end of each summer's field trip to show that they understand the material. Esquivel said this forced him to study each night to prepare, a practice which helped him get ready for college. In high school, he did most of his studying in class and could put together assignments at the last minute and still get A's.
"When I came to college all of that changed," he said. "I quickly realized I wasn't going to be able to procrastinate at all anymore. If you do not keep up with your readings and notes, you will surely end up failing."
When he started participating in GeoFORCE, Esquivel already knew he wanted to go to college to study biology. GeoFORCE helped confirm his interest in science and influenced his decision to enroll at UT Austin. He is now gravitating towards neurobiology.
"One of the best ways that GeoFORCE helped me to prepare for college was simply that it challenged me to think critically about things," said Ruth Montgomery, undergraduate at UT Austin and 2009 GeoFORCE graduate. "This is an essential college skill and I feel my experience in GeoFORCE, as well as other experiences, helped me learn to think in such a way."
Montgomery, who is gravitating towards becoming a registered dietician, said GeoFORCE also taught her that to succeed in anything, but especially in college, you have to want to learn.
"No one is going to sit down with you daily and make you learn," she said. "It has to be something you want to do and if you don't, there is always another student who does."
Tools for Success
Starting this school year, high school seniors are required to take a fourth year of science to graduate. To fulfill that requirement, schools can offer a new course called Earth and Space Science. In practice, though, there are few teachers qualified to teach the course or school districts that can afford it. The situation is worse in many of the same underserved schools that GeoFORCE targets.
Meet Eleanour Snow
Even as a child, Eleanour Snow wanted
to be a teacher. Years later, she was in
her dream job when a colleague suggested
she change fields.
"We have these kids in schools that just don't have the resources to offer a strong science class for seniors," said Eleanour Snow, associate director of outreach for the Jackson School. "They provide the state mandated biology, physics and chemistry. But most of our kids have already had that by their senior year and are down to taking auto shop or home economics."
Doug Ratcliff, director of outreach for the Jackson School, asked Snow, at the time an adjunct faculty member in the school, if she could create an online course that would provide GeoFORCE students with credit for a fourth year of science, as well as credit for college.
"My first assignment was to help them work out how to teach an online science class to high school seniors," said Snow.
The new course, which she has now taught two years, primarily covers physical geology, planetary geology and current issues, such as the Gulf oil spill or climate change. Last year, 40 students took her course.
Students read the textbook, watch short supplementary presentations online, and then conduct "investigations" in which they apply what they've learned. In one such investigation, they use real climate data taken from an Antarctic ice core, create graphs, and analyze the results.
Though most of the work is done online, Snow does take the students on field trips to rivers, volcanoes, mines, and fossil sites. There are also lab kits at each school with rocks, minerals, and maps that the students use for hands-on lessons.
Step Up
Dean Mosher announced in July that Snow would become the first associate director of outreach for the Jackson School. Her main focus will be to support GeoFORCE students both during high school and throughout college as a mentor and advisor.
"One of the things we learned from the first group of students that went to college is that getting them to college is not enough," said Snow. "We have to make sure they get through college and get added to the workforce."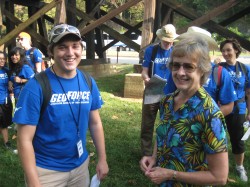 She noted that only one in three Texas students who enroll in college finish.
"We want to be sure our numbers for GeoFORCE are a heck of a lot higher than that," she said.
Montgomery had a wakeup call when she enrolled in calculus her first semester at UT Austin. She was lost from the start.
"This was very difficult for me to accept because math had always been my favorite subject and I had excelled at it," she said. "I was used to being the one helping others understand the material, not the one in desperate need of help understanding."
She made the hard decision to "Q-drop" the class. She took it again the next semester and did fine.
"My second semester was vastly different," she said. "I tried my best to read the class material as we went rather than letting it pile up until the day before a test. I taught myself to study, which was quite a new thing for me. Overall, my second semester went a lot better than the first."
Snow is now seeking funding for what she calls a "step up to college academy" next summer for GeoFORCE graduates planning to major in science, engineering or math. Students will be given an assessment of their math and science skills and then will work for several weeks with dynamic teachers who will help bring their skills up to college level.
"So they can step into that first class in college confidently and do well and not fail that first exam," she said. "You don't want your freshmen to feel like a failure two months into the school year."
by Marc Airhart