Inaugural GeoFORCE Students Complete Odyssey, Prepare for College
July 3, 2008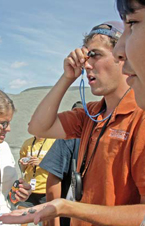 Four years and 16,000 miles later, the first 80 southwest Texas high school students to take part in GeoFORCE Texas have completed the summer college preparatory program, making an educational odyssey from Washington D.C to Washington state, from the Grand Canyon to the Florida Keys, with stops along the way at geological sites in Utah, Oregon, Texas and Virginia.
The high school seniors from 21 different public schools now move on to fulfill the program's mission by preparing for college.
Southwest Texas Junior College (SWTJC) and The University of Texas at Austin began GeoFORCE in 2005 as a long-term experiment to increase the number of students pursuing degrees in math and science. Starting with 80 students entering ninth grade, the program has grown to 320 students in grades 9-12 from the SWTJC service area and, by 2009, another 320 from Houston.
In 2005, more than 120 students applied for the 40 spots in the inaugural week-long summer academy—so many that administrators immediately added a second, two-day component called Young Geoscientists. Student interest has remained rock-solid ever since. Of the original 40 students in the summer academy, only three have left, and none for academic reasons. (Students must maintain high academic standing to remain in the program.)
"It's great to see students stay so committed to a program that's all about science and academic achievement," said Doug Ratcliff, director of outreach and international programs for The University of Texas at Austin's Jackson School of Geosciences, which oversees GeoFORCE. "It gives you hope, and it speaks highly of the students and the support many receive from their families."
GeoFORCE inspires interest in science by taking students into the field to learn geology in spectacular locations. During the four years of the academy program, members of the inaugural class have studied structural geology while river rafting through Glen Canyon in Arizona, learned about volcanoes while hiking up Mount Saint Helens in Washington, and assessed water quality while navigating the Florida Everglades.
Students in the Young Geoscientist program visited Texas quarries, identified sea life from the deck of a research vessel in the Gulf of Mexico, and participate this summer in a star gazing party at the McDonald Observatory.
The ultimate goal of GeoFORCE is to move students into college with a significant number pursuing degrees in math and science. Ratcliff believes the inaugural class will set a high standard with more than 90 percent going to college, many of them in math, science and engineering.
Free to students, GeoFORCE depends on significant funding from sponsors. The total cost for all four years of an academy program is $330,000. Sponsors include Shell, ExxonMobil, Chevron, Marathon, ConocoPhillips, BP, Halliburton, Devon, AEP Texas, Vulcan Materials, Valero Energy, Texas Workforce Commission, AAPG Foundation, GDL Foundation, and Bill and Marilee Fisher.
by J.B. Bird
For more information about research at the Jackson School, contact J.B. Bird at jbird@jsg.utexas.edu, 512-232-9623.