Making Mountains: Brian Horton Sees Emerging Analog in The Andes
November 9, 2007
"What I'm searching for are the stratigraphic signatures of tectonic and climatic processes," said Brian Horton, whose research focuses largely on the Andes Mountains. Photo: Sasha Haagensen.
For most of us, it's hard to remember the moment when we first knew what we wanted to do for the rest of our lives. Sure, we may have wanted to be a fireman, a gymnast, or an astronaut. But those notions most likely evolved gradually into other pursuits. Not so for Brian Horton. When he was 15, he and his family moved from Illinois to northern New Mexico.
"That turned out to be a pivotal moment because that's when I realized how much I was fascinated with the topography and landscape of the western U.S.," he said. He rode a train solo cross country to his new home. "When I arrived in New Mexico, I was simply thrilled with the Colorado Plateau and the Rocky Mountains. And from that moment on, I knew I wanted to do something that involved working outdoors in mountainous regions."
In high school, he read a booklet about careers in the geosciences and discovered how he could make a living while pursuing his fascination with the outdoors. He went to the University of New Mexico on a full scholarship to study geology.
Later, as a Ph.D. student at the University of Arizona, he was strongly influenced by a professor, Peter Coney, who conducted research in the western U.S. and in the Andes Mountains of South America. Like Horton, he had a love of the Colorado Plateau and the Rocky Mountains.
"Peter had a very distinctive way of integrating many different data sets from different techniques into a comprehensive regional scale understanding," he said. "And so that's something that I've always strived for—a multidisciplinary approach to seek answers to large scale problems."
His doctoral dissertation focused on a series of sedimentary basins within the Andean mountain belt in southern Bolivia.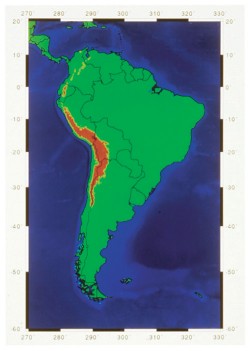 "The question was, 'When did deformation take place and how was that related to accumulation of sediment in these basins?'" said Horton. His Ph.D. work and subsequent research on sedimentology, provenance, magnetic polarity stratigraphy, and tectonics suggests that geologists might need to rethink their understanding of the formation of another famous mountain belt—the North American Cordillera, which runs from the Brooks Range in Alaska south to Mexico's Sierra Madre ranges and includes in its majestic sweep the U.S. and Canadian Rockies.
He has continued to work in Bolivia, where he may have found an answer for a long standing mystery—namely, why are the Andes Mountains narrow in the north and wide in the south? He has also worked on the Tibetan Plateau and in Iran's Zagros Mountains. Work in the latter region has been suspended indefinitely because of deteriorating U.S.-Iran relations.
Horton's work can best be summed up as a search for signatures. For over a hundred years, there has been a debate about how tectonic events and climatic events are actually recorded in the accumulation of sediments in sedimentary basins. Geologists have commonly looked at the stratigraphic layering of sedimentary deposits and made inferences about such events, but they're often little more than inferences. There is rarely a smoking gun.
"What I'm searching for are the stratigraphic signatures of tectonic and climatic processes," said Horton.
Maintaining Strength
In 2004, Horton received the Young Scientist Award from the Geological Society of America, an annual honor bestowed on a scientist 35 years or younger for "outstanding achievement in contributing to geologic knowledge through original research that marks a major advance in the earth sciences." Winners receive a gold Donath Medal and a cash prize of $20,000. The first person to receive this award was Mark Cloos in 1989, now a professor and Getty Oil Centennial Chair in the Jackson School.
In the fall of 2006, Horton joined the Jackson School with a dual appointment to the Department of Geological Sciences and the Institute for Geophysics. He spent his first year on sabbatical at the University of Potsdam in Germany conducting research related to tectonics and climate in Argentina. His year abroad was supported by an Alexander von Humboldt Foundation Research Fellowship.
The Jackson School attracted Horton for several reasons. He noted that it has a reputation as a world leader in sedimentology and that researchers such as Earle McBride and Robert Folk are legends in the field.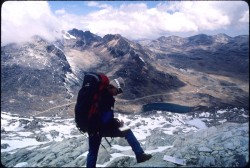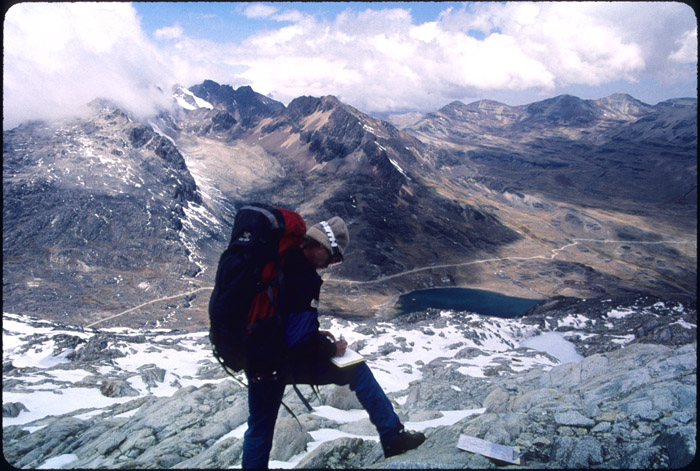 "I'm thrilled to be involved in maintaining and energizing that strong tradition in sedimentary geology and at the same time to help move it into exciting new directions," said Horton.
He noted that by splitting his time between the Department and Institute, he will have more opportunities for research than working solely in a single unit.
"I view it as a wonderful opportunity to interact with a larger number of geoscientists working on a vast array of different projects," he said. "Already in my first year away in Germany, I've been involved in five new proposals as a principal investigator along with other faculty in the Department or Institute."
Strong ties to industry and exposure to a large pool of talented graduate students were also benefits, he added.
"It was stunning this spring to see literally hundreds of applicants for graduate school and to be choosing amongst the best and brightest," he said.
Emerging Analog
There's a debate in the geological community over when the soaring mountains of the western U.S., as well as the rest of the North American Cordillera (NAC), reached their full height, said Horton. The classical theory was that most surface uplift occurred only a few million years ago. The Andes have been considered a modern analog for past processes in the NAC.
"My research on sedimentary basins in the central Andes suggests that mountain building, and by inference surface uplift, commenced much earlier than thought, by several tens of millions of years," he said. "Our data suggests initial mountain building and foreland basin development by early Cenozoic time, roughly 60 to 40 million years ago."
The difference is not trivial.
"It would have implications for how we understand mountain building in general because the North American Cordillera is the best studied mountain belt on Earth," said Horton. "It has served as the type example for many other mountain systems. So understanding its history is critical to how we apply knowledge elsewhere."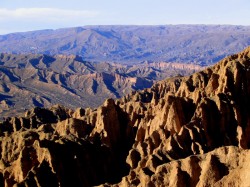 Horton thinks the Andes are an underappreciated analog for the evolution of certain kinds of mountain belts formed along ocean-continent boundaries. Both the Andes and the NAC formed as the result of oceanic crust subducting beneath continental crust. They're comparable in size; both are about 7,000 kilometers long.
"We go to the Andes because they are actively growing, so it's a recent phenomenon and we feel we have better potential to understand what is happening there presently or in the recent geologic past," he said. "So in that way it serves as a fundamental analog for certain types of mountain belts globally."
Chicken or Egg?
Horton's work in the Andes reflects another shift in thinking about the process of mountain building. In the past, geologists gave tectonics—the effects of Earth's shifting plates—most of the credit for building mountains. Climate and erosion were seen as forces that merely sculpted their final appearance, but having little to do with the underlying process.
"There's a growing population that believes that in fact it's erosion and climatic situations that help promote mountain building," said Horton. "So it's very much a shift in the thinking behind what's cause and what's effect. It's a chicken and egg problem."
Geologists have long recognized that the tectonic uplift of mountains has an impact on climate and erosion. For example, as mountains get taller, local climate becomes colder and glaciers can develop. Glaciers in turn are extremely effective at scouring rock and carving valleys. But how might climate and erosion control tectonics?
The Andes Mountains are actively being uplifted by the subduction of the Nazca oceanic plate beneath the South American plate. They're also expanding eastward toward the interior of the South American continent as the compressive force of the two colliding plates causes new faults to grow east of the mountains.
That eastward expansion isn't uniform, though. Pull out a map of Bolivia and you quickly see that the Andes mountains are narrow in the north and wide in the south. And not by just a little: they are twice as wide in the south. This has been a long standing mystery.
Horton thinks climate and erosion play an important role. He notes that the recent climate has been humid and rainy in the north and dry in the south.
"Where it's humid, you have high erosion. You effectively remove large amounts of mass from the interior of the mountain belt and the faults become stalled," said Horton. "And that compels the mountain belt to grow vertically rather than advance forward."
Out in the Field
Before his fellowship in Germany, Horton was an assistant professor at the University of California, Los Angeles (UCLA). With his new dual appointment at the Department and Institute, the balance of his work will shift towards research, but he will continue teaching.
"To me, the most rewarding aspect of teaching is instructing students in the field," he said. "What's amazing is that students are always making connections in the field from different parts of their coursework that they wouldn't make in the classroom. They put things together in a useful, meaningful way."
As a student, Horton took field courses in New Mexico and Colorado. Later, as a professor, he taught field courses at UCLA and even took students on a 3-week trip to Bolivia.
"I bet if you talked to 100 geologists like me at this level, 90 of them will tell you that field camp was the best time of their life," he said. "It's really challenging physically and mentally, but most people find it a lot of fun."
Next spring, he will co-teach a course in field methods and stratigraphy that will involve a series of field trips around Texas. Ultimately, he would like to take students longer trips to the western U.S. and South America.
For more information about the Jackson School contact J.B. Bird at jbird@jsg.utexas.edu, 512-232-9623.