Faults & Fractures: Peter Eichhubl's research addresses coupled structural and diagenetic processes
December 19, 2006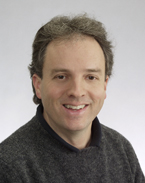 Peter Eichhubl joined the Bureau of Economic Geology in the University of Texas at Austin's Jackson School of Geosciences as a research scientist in January 2006.
Eichhubl's research addresses the formation of faults and fractures, their effect on flow of water and hydrocarbons in the subsurface, and the chemical interaction of these fluids with rock and minerals. His research is of applied interest to groundwater management and the exploration and production of oil and gas.
Fundamental aspects of the research have implications for the seismic and non-seismic deformation of the Earth's upper crust and for the interaction of subsurface fluids with the atmosphere and biosphere. "I hope to make UT Austin an internationally recognized center for research on coupled structural and diagenetic processes, from the grain or pore scale to the regional or reservoir scale," said Eichhubl.
Eichhubl received his master's degree from the University of Vienna in Austria and his doctor's degree in geology from the University of California, Santa Barbara. Prior to joining the Bureau, he was a postdoctoral fellow at the Monterey Bay Aquarium Research Institute, a staff scientist at Stanford University, and an assistant professor at Texas A&M University-Corpus Christi.
He became a scientist because of his interest in interactions: "I am interested in understanding how natural systems interact— such as various geologic systems with each other and with life—and also in the interaction of humanity with nature.
For example, how do humans respond to geologic processes, or how do we analyze and comprehend natural systems given our intellectual and observational capabilities?"
Eichhubl's appointment to the Bureau was made possible by a Jackson School Initiative titled, "Fracture Opening Processes: Chemical/Mechanical Evolution of Fracture Systems." The initiative is funded by the U.S. Department of Energy with matching funds from the Jackson School.
For more information about the Jackson School contact J.B. Bird at jbird@jsg.utexas.edu, 512-232-9623.