Field Camps
GEO 660
After two years of pandemic disruptions, GEO 660 students returned to the usual six-week field camp. It was a fitting return to form for the final field camp led by Mark Helper, who retired this year after 27 years as field camp director (Read more, Mark Helper: Distinguished Senior Lecturer Emeritus). This year's camp traveled to New Mexico, Utah, Wyoming and Montana. Wildfire risks led to the closure of some sites in New Mexico, but instructors successfully rerouted to safer alternatives, and students were able to complete their field projects as planned.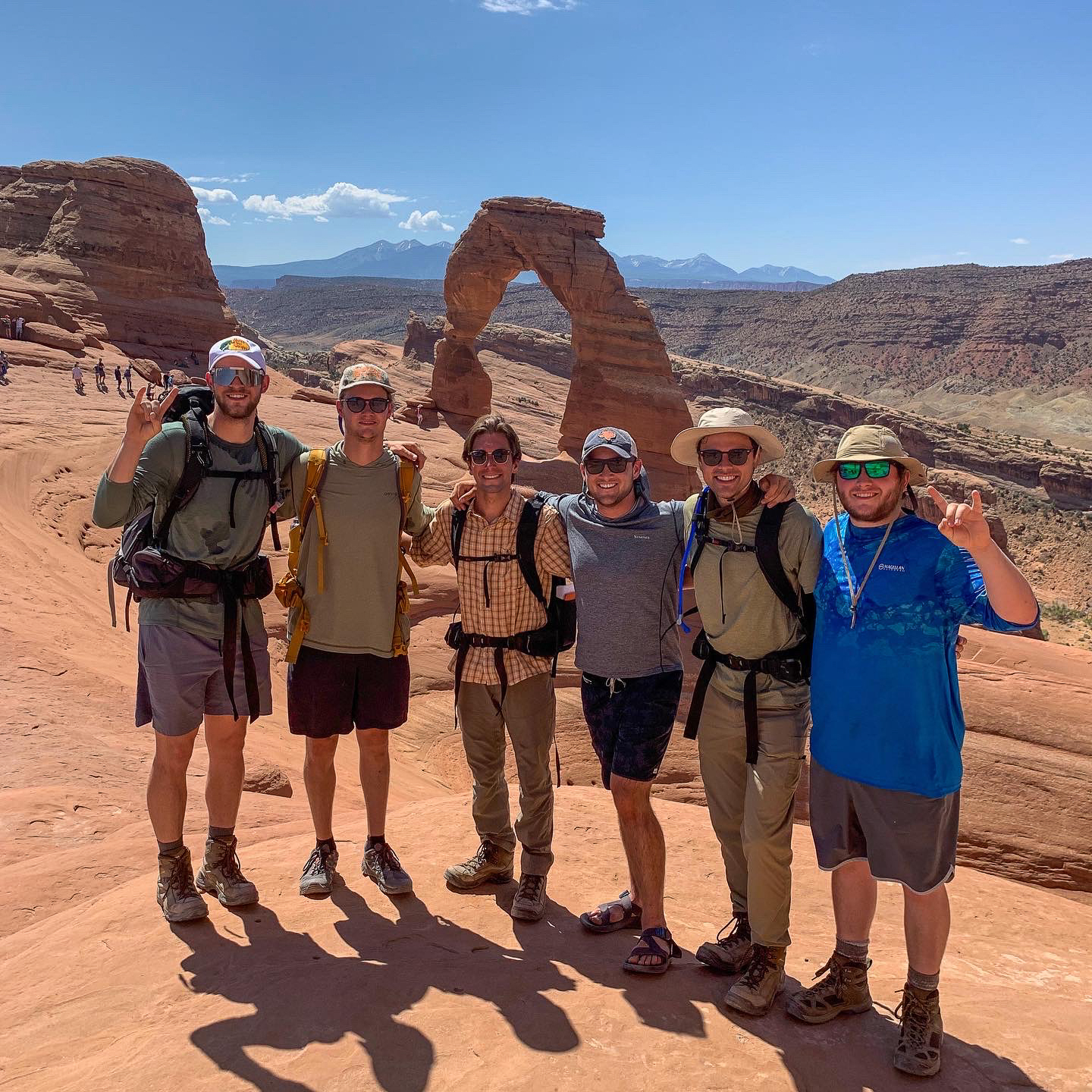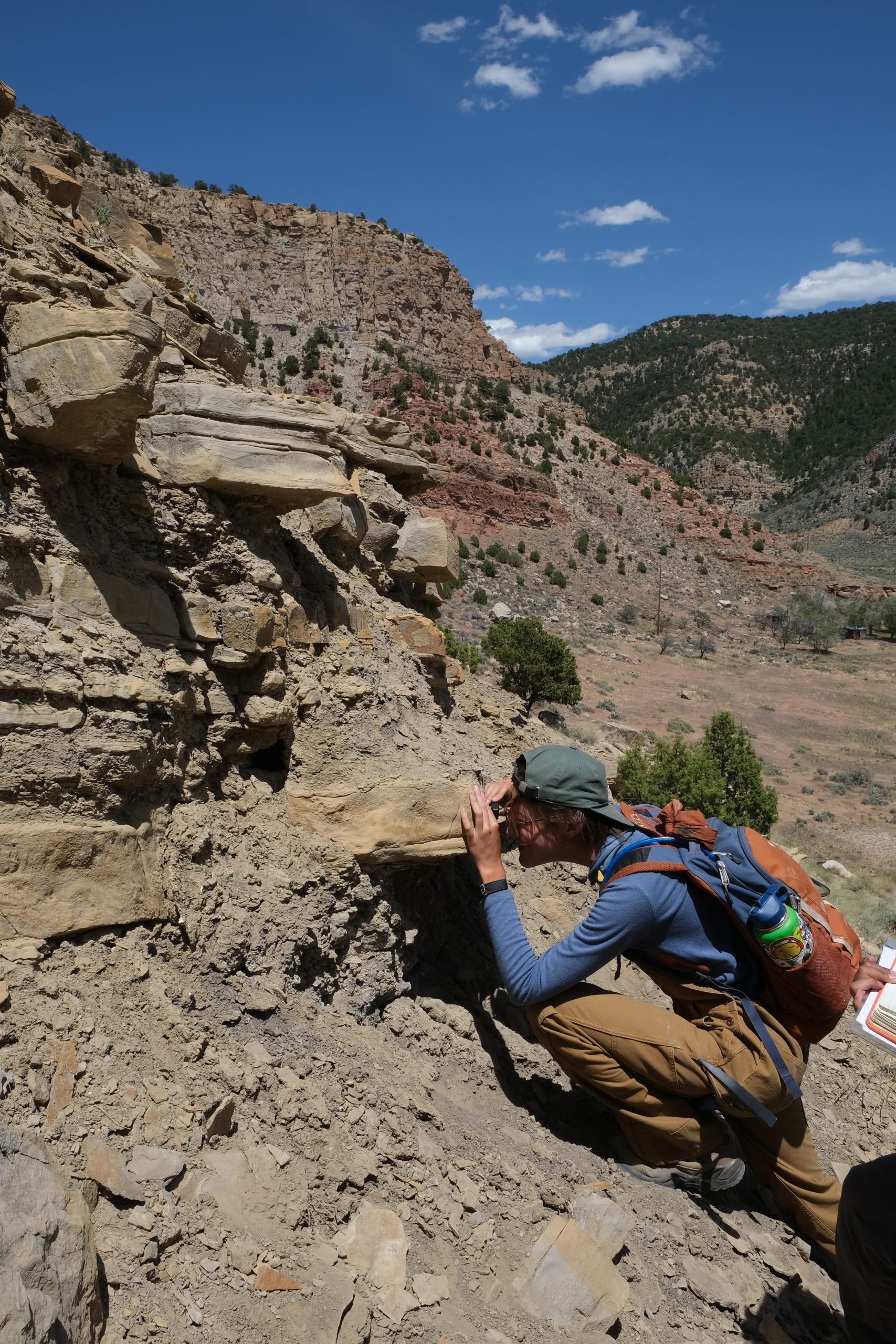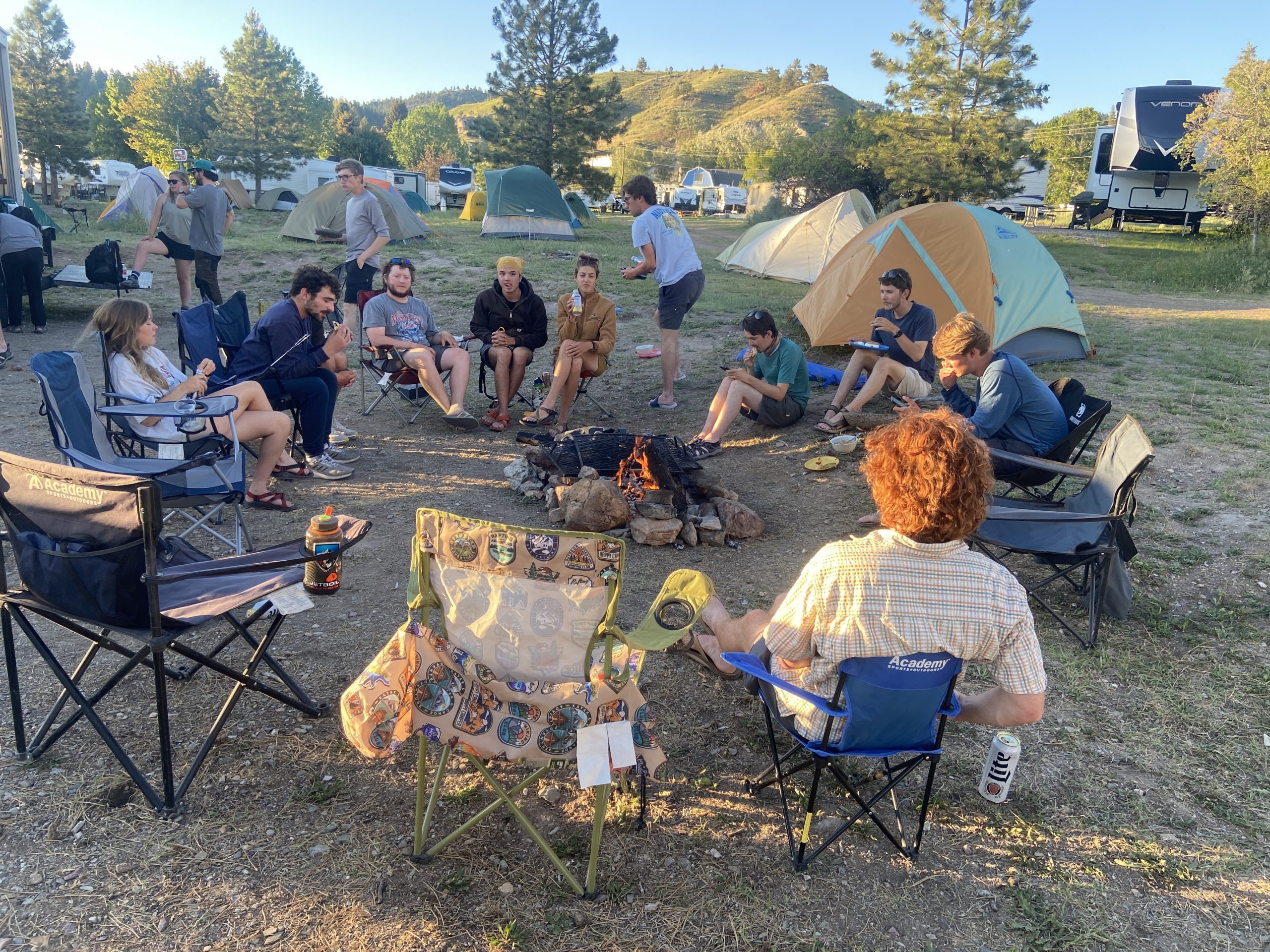 TOP Left to right: Braden Vines, Matthew Riley, Warren Wegener, Cole Carrabba, Seth Coleman and Joshua Miller at Delicate Arch, Arches National Park, on a very hot day otherwise devoted to studying the Moab fault. LEFT Glen (Bailey) Glenewinkel takes a close look at shoreface sandstone near Alcova Reservoir, Central Wyoming. RIGHT Dinner at camp after a day of mapping in the Big Belt mountains, near Helena, Montana.
Instructors Sean Gulick (far left) and Jingxuan Wei (far right) supervise students processing data on shore. Credit: UTIG
MG&G
The class traveled to Port Aransas to study coastal geology aboard the R/V Katy, the UT Marine Science Institute's research vessel. The class also explored Packery Flats near Corpus Christi, looking for damage done to salt marshes by storms and rising seas.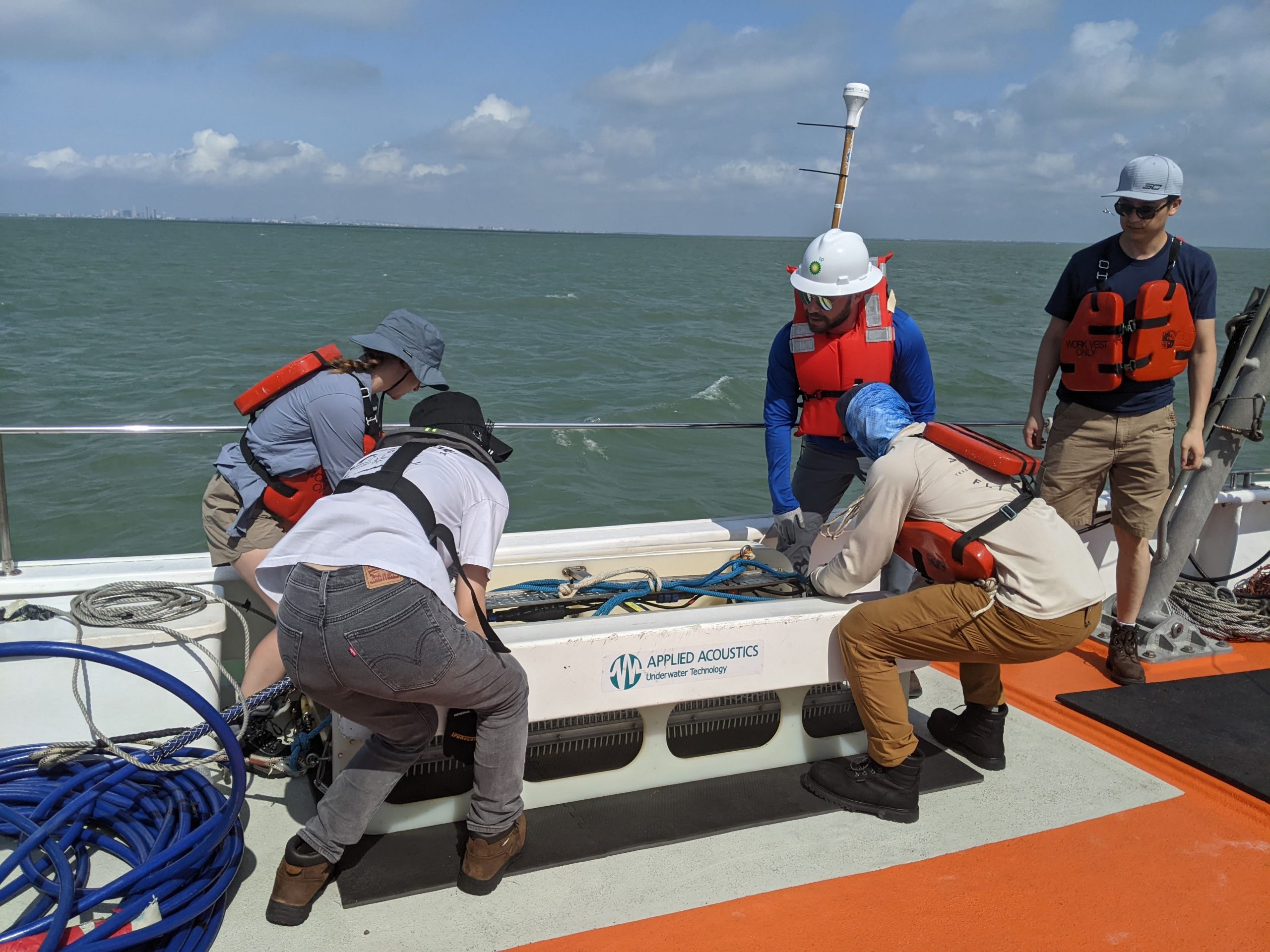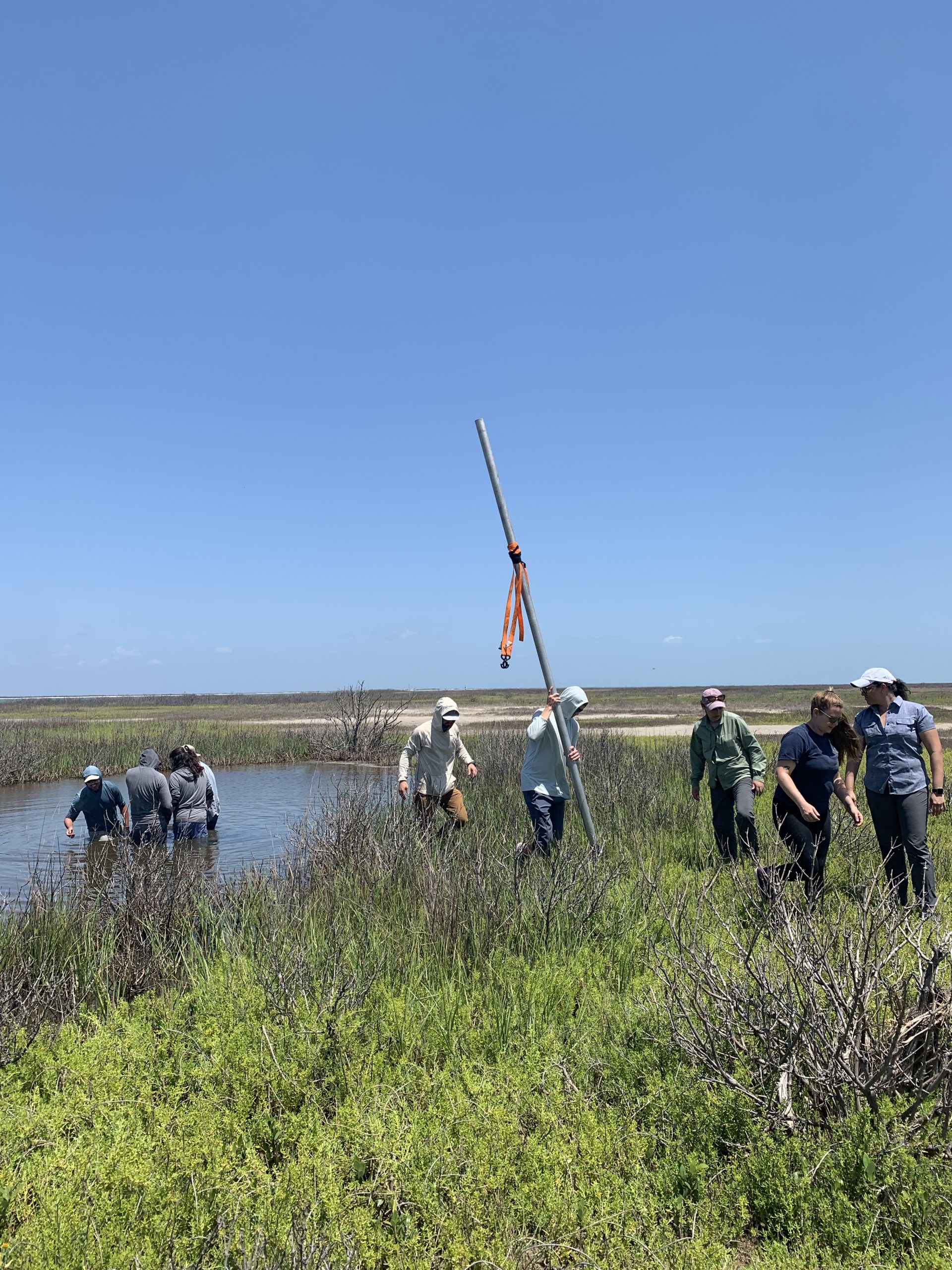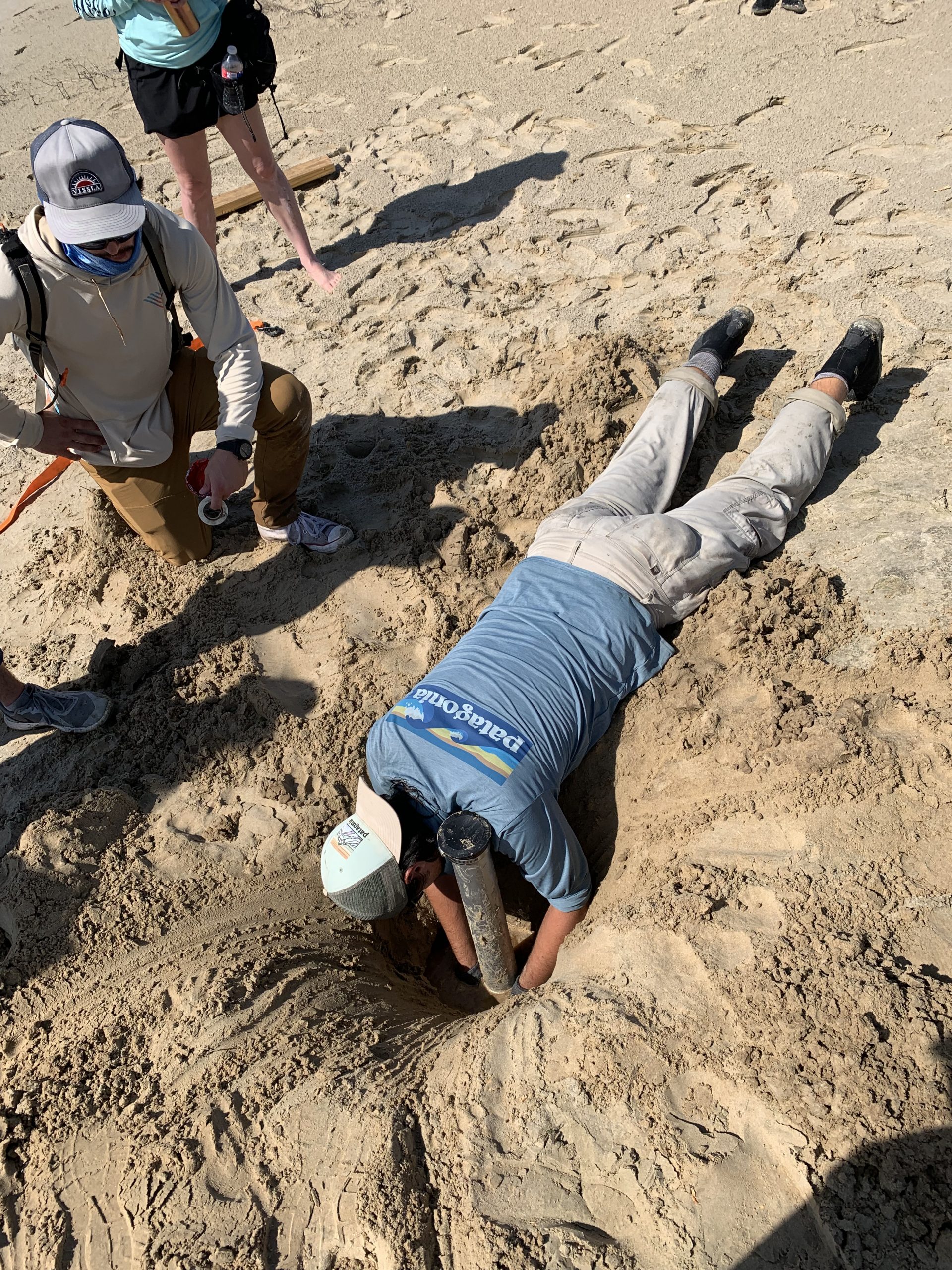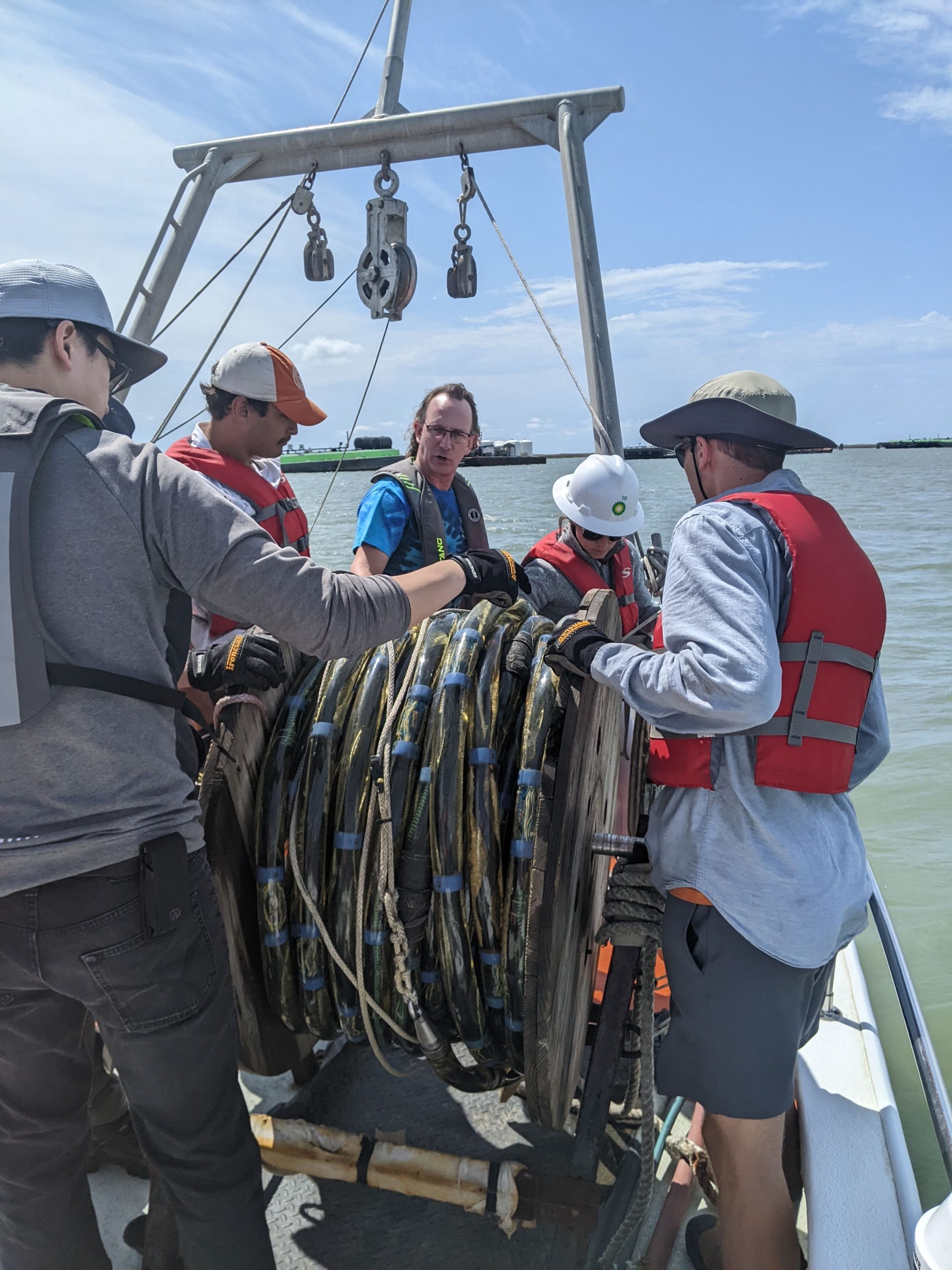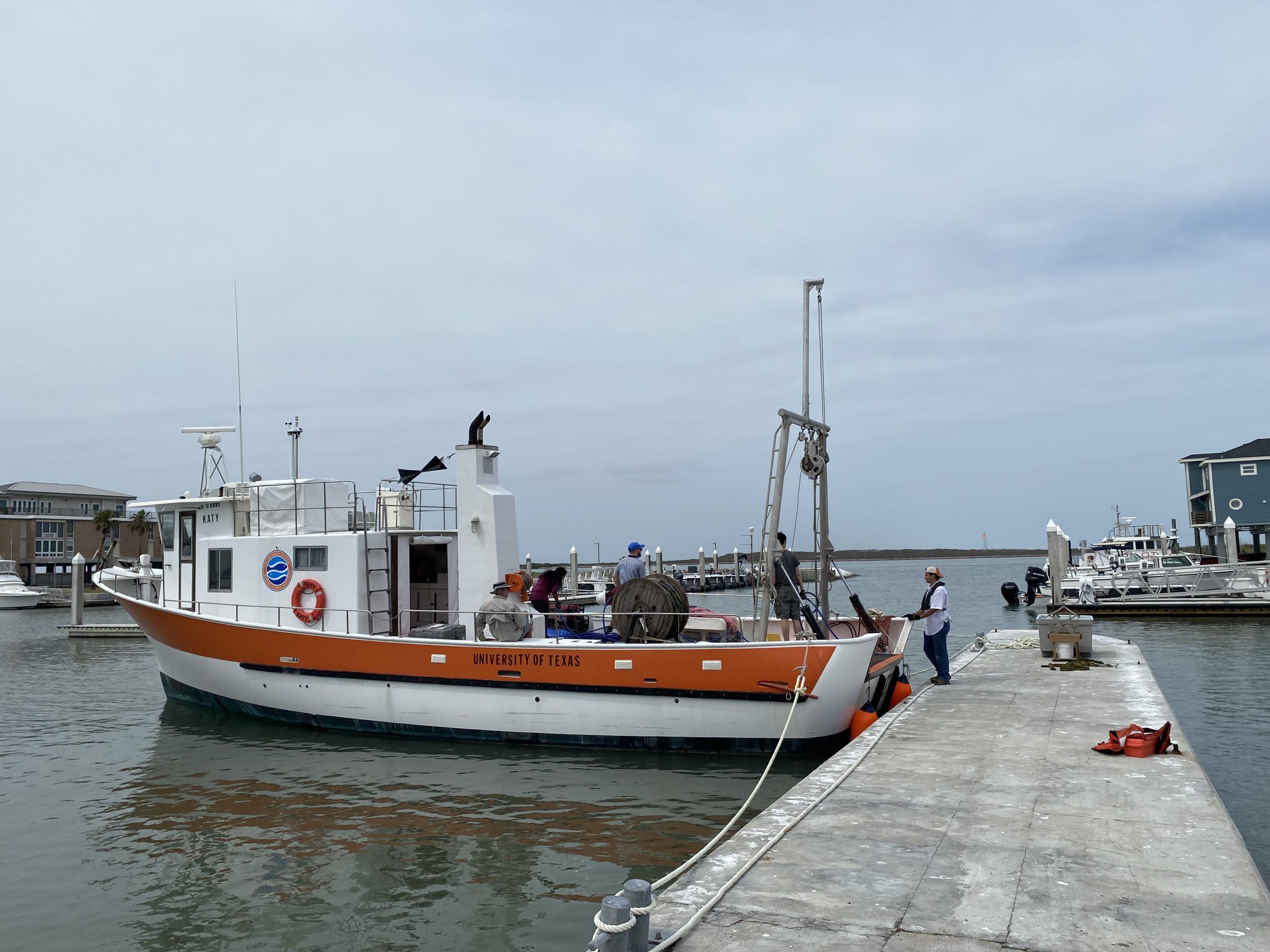 TOP Students recover a seafloor imaging device called a SPARKER. LEFT The swamp coring team recovers a sample while battling heat and bugs. CENTER Instructor Zach Sickmann demonstrates how to free a jammed vibracore. RIGHT A student team prepares to unreel the boat's seismic streamer. BOTTOM The class loads up on the R/V Katy before setting out to map the seafloor and gather sediment cores. Credit: UTIG
Students gauging the streamflow of South Onion Creek at the White Family Outdoor Learning Center. L-R: Cameron Defabry, Suvan Cabraal, Cole Carrabba and Philip Lupton. Credit: Jackson School
Hydro
The hydrogeology field camp travelled to three sites around Texas: Hornsby Bend, Port Aransas and the Jackson School's White Family Outdoor Learning Center in Dripping Springs. At the learning center, students watched well drilling in action guided by alumnus Pat Goodson and his company Geoprojects International. They also heard from alumnus Marcus Gary of the Edwards Aquifer Authority.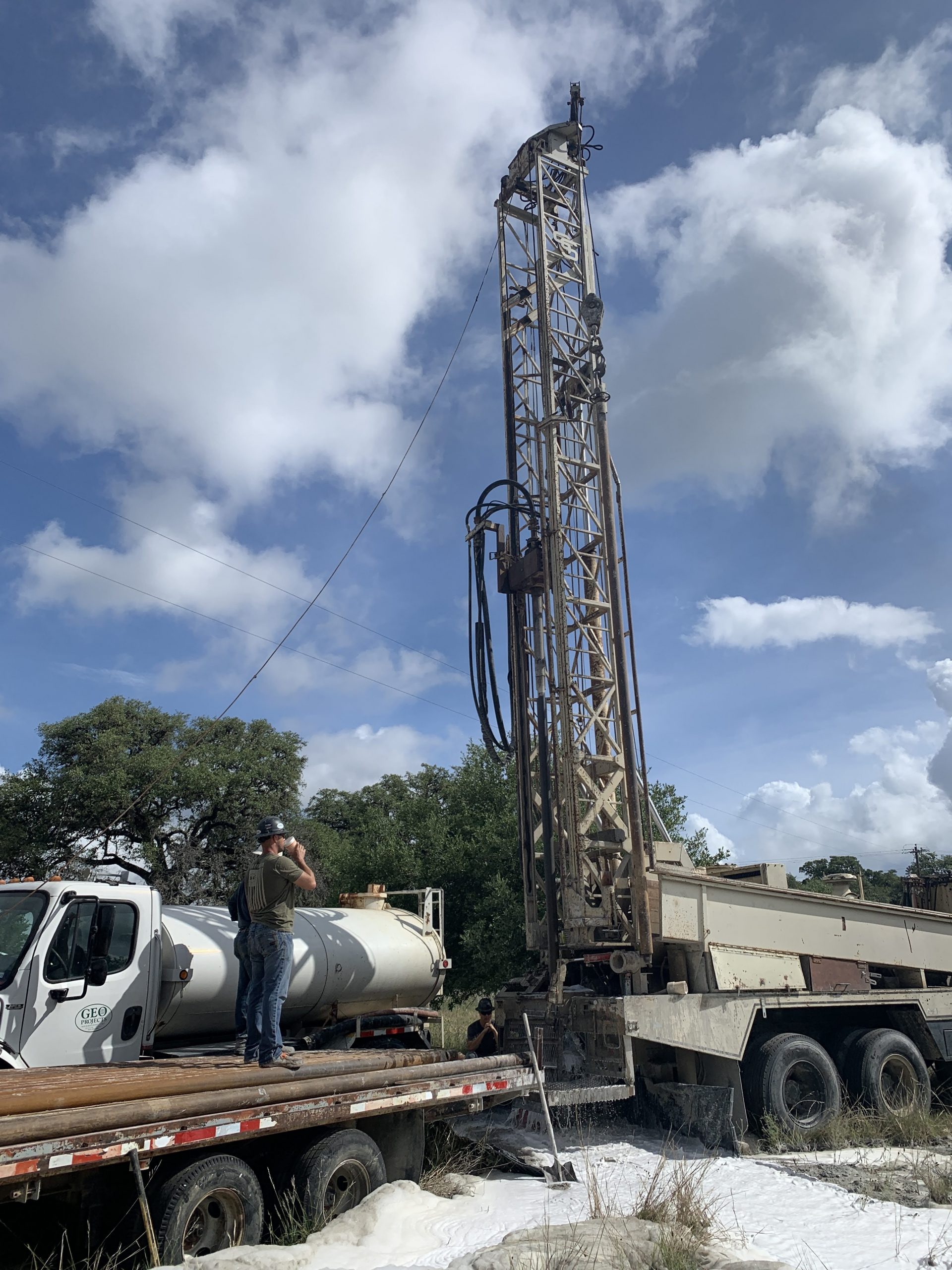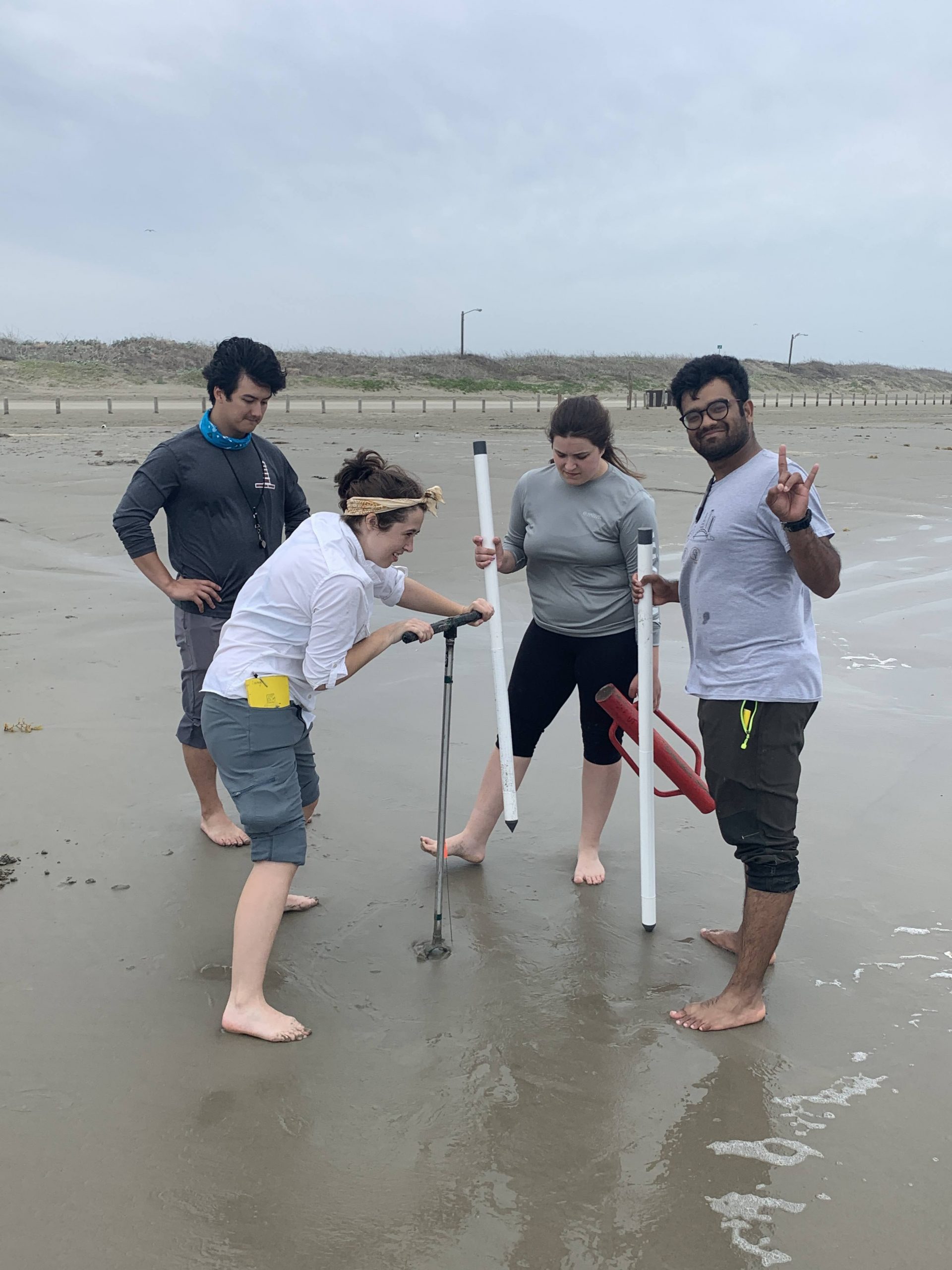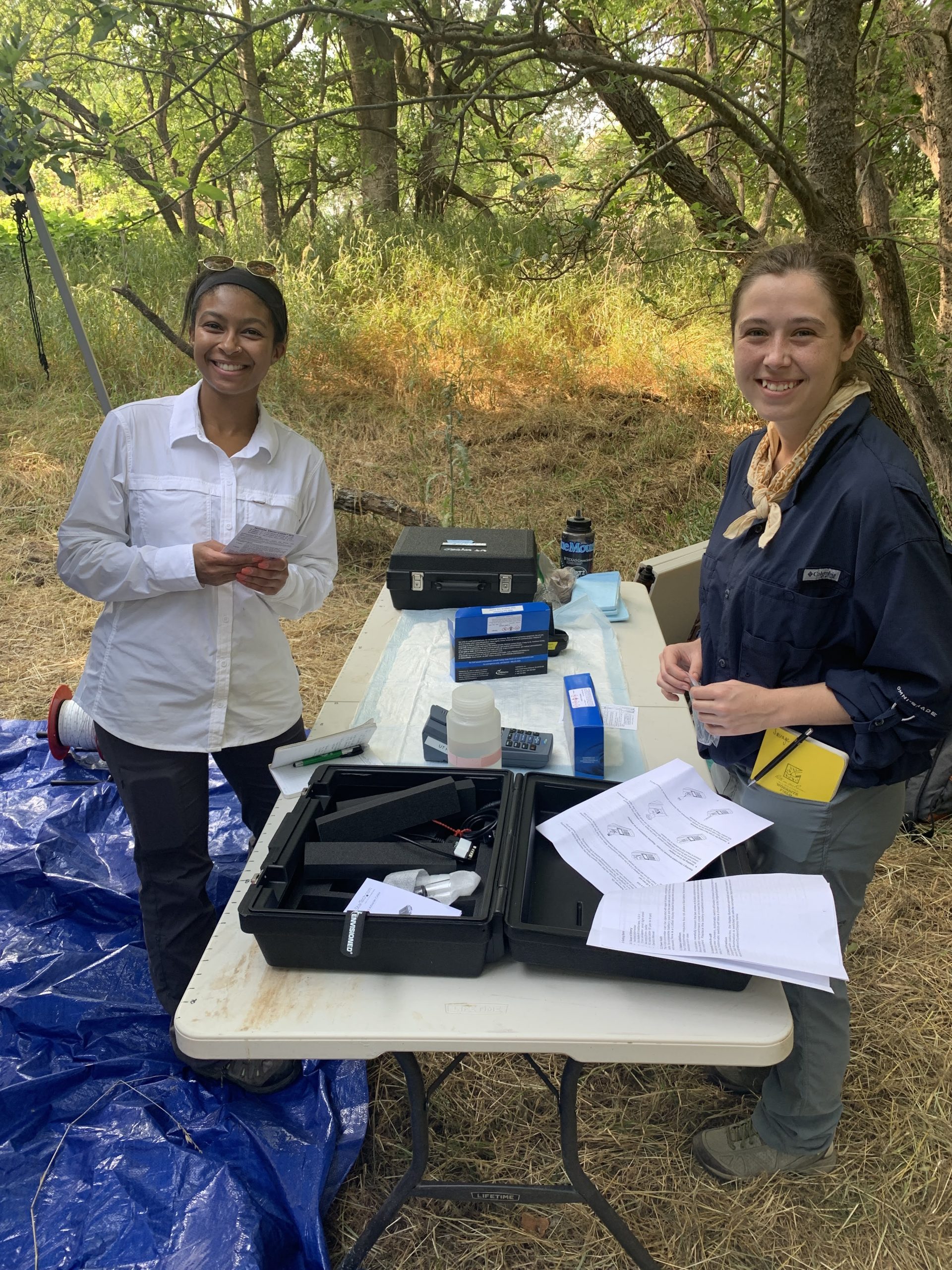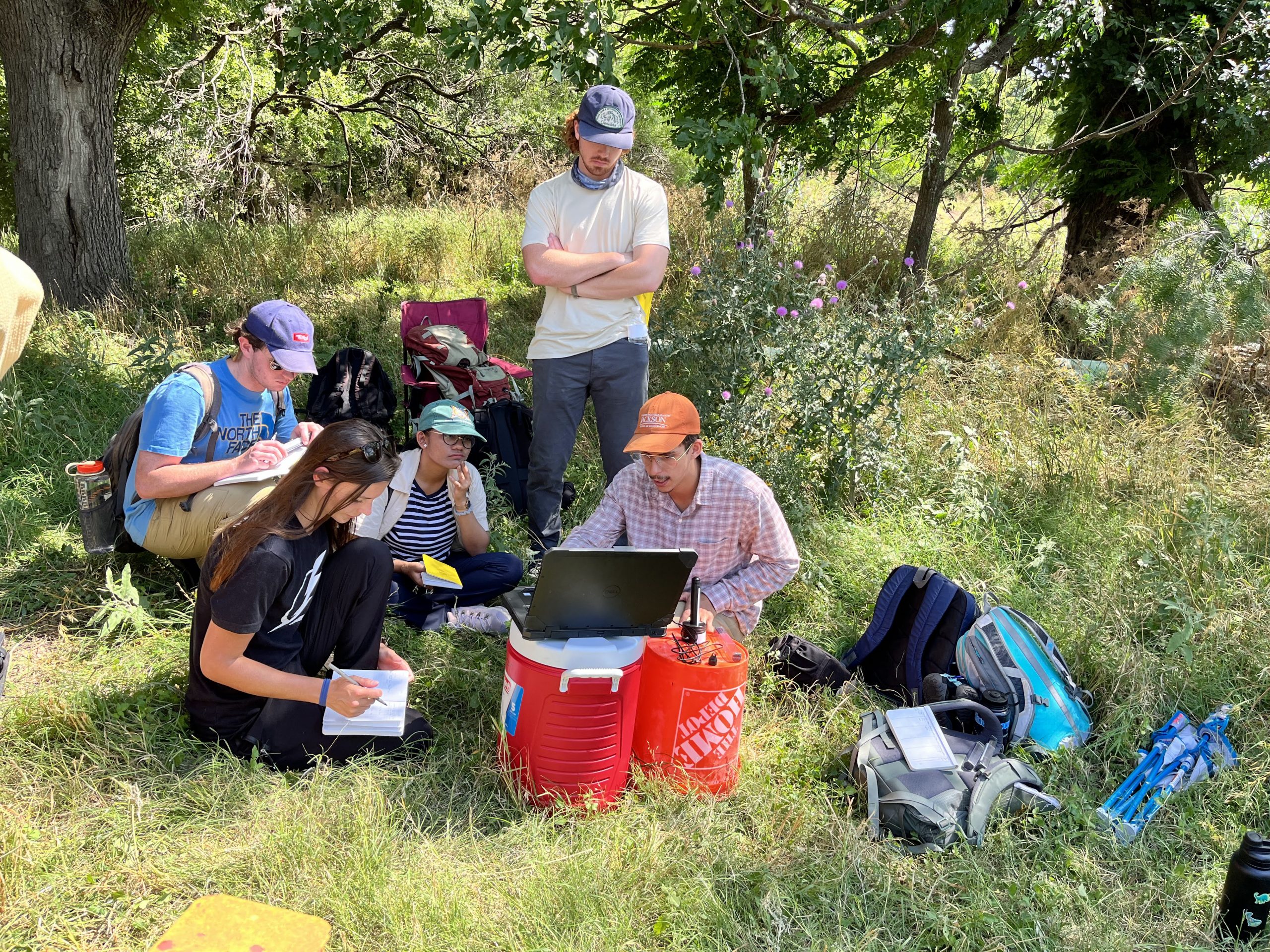 LEFT Drilling into the Cow Creek formation courtesy of Pat Goodson and GeoProjects. The borehole, and soon to be a well, is at the White Family Outdoor Learning Center. CENTER Manually installing piezometers on the beach in Port Aransas to map groundwater flow to the coast. L-R: Alec Slight, Addison Savage, Emma Pustejovsky and Neelarun Mukherjee. RIGHT Graduate students Ebony Williams (left) and Addison Savage measuring water quality of the lower Colorado River with a field spectrophotometer. BOTTOM Students getting ready to deploy pressure transducers in groundwater wells. L-R: Aidan Foley, Jojo Sananda, Aya Shika Bangun, Philip Lupton and Logan Schmidt.