Bader calls the entire concoction the "The Mummy's Curse" – the curse being the tedious work that's ahead of him. He is currently in the process of sorting through the bones, determining which type of rodent they belong to, and re-assembling the tiny skeletons.
Once complete, the skeletons will be added to the rest of the 15,000 (and growing) specimens held in the contemporary collections. From aiding in fossil identification, to helping map out where different species lived over time, modern bones can be a priceless tool when doing paleontological or biological work.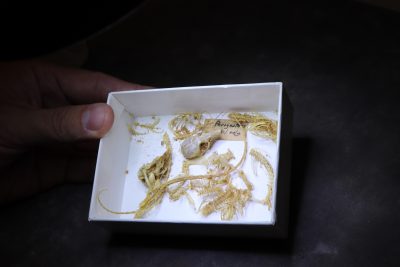 But before that can happen, Bader has to break the curse.
Bader has pulled two kangaroo rat skeletons from the collections to help with the identification process. The rodent's distinct skull, with its bulbous heart-shaped back tapering into a narrow snout, is easy to pick out. But ribs, limbs, and vertebrae will take more work, and there's no guarantee that some bones haven't gone missing (potentially carried away by wild dermestid beetles) or disintegrated into dust over the years.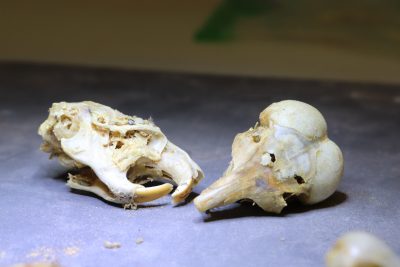 Adding to the challenge is the uncertainty that comes from human error. According to the field notes, the rodents were collected during a student field trip. And although the students diligently identified their caught specimens, it appears that, in some cases, they didn't know their rats from their mice.
Nevertheless, Bader is confident he can make sense of most of the bones. And although the scrambled specimens may be a mess, he doesn't really consider them a curse. Bader is a big fan of puzzles. He considers the rodent bones his latest one.
"It's like a puzzle, it's fun," he said.  "And although it can be a little frustrating, I have learned over the years that data gets lost, information gets lost. You complete what you can, and move on to the next one."